An easy & delicious Strawberry Champagne fit for every special occasion!
It's almost Valentine's Day 😉 Are you celebrating already? We had our Valentines early this year, as we were compensating for poor Christmas holidays (we were ill during the entire time!). We also had an unused champagne leftover (because we were in no mood to drink with a high temperature) and decided to use it for Valentine's instead.
So we got some frozen strawberries (fresh are so out of season and used only for decoration in the photos), pureed them, added some lime juice and champagne. Aren't the colors just lovely?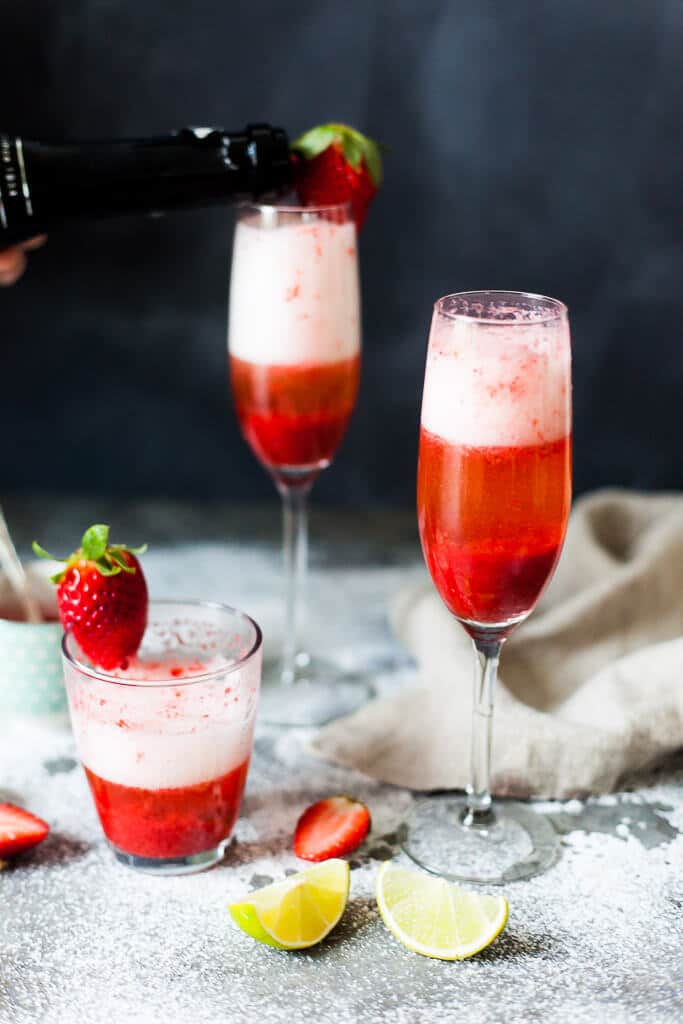 This Strawberry Champagne has no added sugars and is quick & easy to make. You can absolutely add a bit of sugar if you fancy so, but we're not very keen on it, so we had ours without. We are not very expert drink pourers, or better, we are quite clumsy and we ended up spilling some of the champagne all around 🙂 But, we don't mind the occasional spill or imperfection. It's the taste that counts! And having fun. That, too.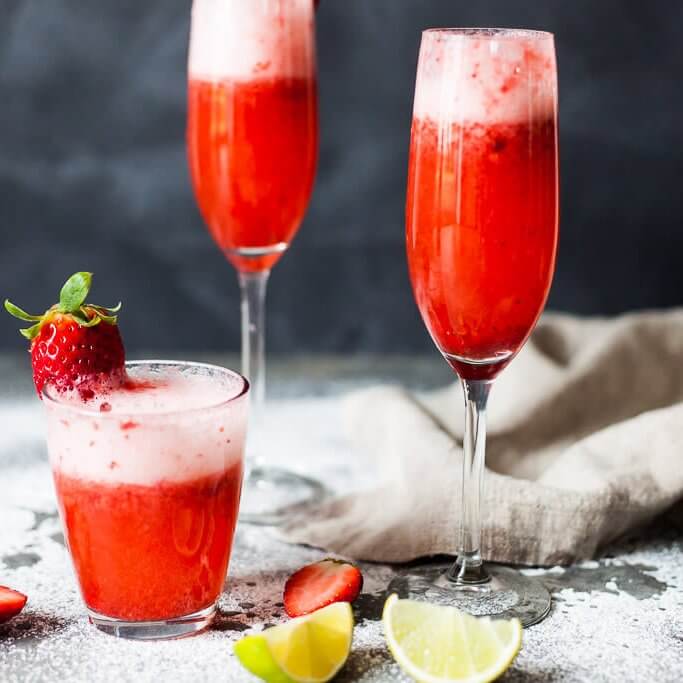 Valentine's Strawberry Champagne
Celebrate Valentine's with this easy & delicious Strawberry Champagne! Mix champagne with strawberry puree for a delightful drink.
Ingredients
1 bottle champagne
1 cup strawberries, fresh or frozen
1 lime
Instructions
If you're using frozen strawberries, defrost them. Wash and dry fresh strawberries. Puree strawberries with a stick blender until smooth. Squeeze juice of the lime and add to the puree.
Place strawberry puree in tall glasses, about an inch high.
Pour champagne over strawberry puree, then give the drinks a stir. Decorate with fresh strawberries and serve.
Nutrition Information:
Amount Per Serving:
Calories:

113.96
Total Fat:

0.1g
Saturated Fat:

0.01g
Sodium:

6.73mg
Carbohydrates:

6.37g
Fiber:

0.82g
Sugar:

2.63g
Protein:

0.34g
Like this recipe? Let us know in the comments below or on social media using #vibrantplate and tag us @vibrantplate.
You can connect with us on our Instagram and Facebook account or on Pinterest. Don't forget to sign up to our newsletter & stay up to date with our latest recipes 😉