These Grilled Chicken Tacos are a healthy and easy meal for every day!
Who's excited about tacos? 🙂 Well, we sure do love them! It's actually a rare occasion when we fire the grill and an absolute no-go in the winter. But, we do have an excellent indoor alternative, and that is the cast-iron grill skillet! True, I find a prolonged use smokes up the house real nice (sarcasm off) and the pan is a bit of a chore to maintain (read: wash immediately, dry up immediately, coat with oil and fire it up again until smoking to set the pan). But, when I do take the time to actually use it, the food is simply delicious, real close to an outdoor grill.
So I made these delicious Grilled Chicken Tacos over the weekend, when I had more time at my disposal to prepare, grill and clean up the pan. I also find the onion-marinated chicken to be fantastic, not at all bland and when you combine that with cooking on the cast-iron, absolutely divine. That's actually what grilled chicken is supposed to taste like! So please, never skip the marinating, as it really adds to the flavor.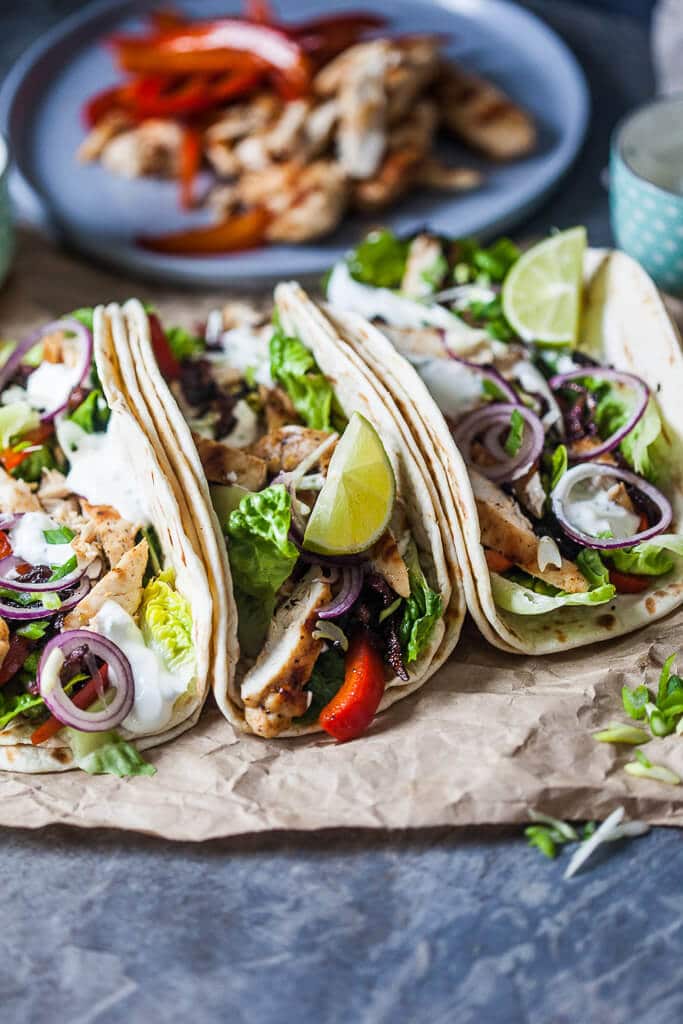 These easy Grilled Chicken Tacos are also an excellent to-go meal for the office and a real crowd-pleaser! You can absolutely make these beauties ahead, pack for the office and enjoy a healthy and delicious lunch. These tacos will be gone before you can even blink!
Actually, I may just go make me some tacos right now.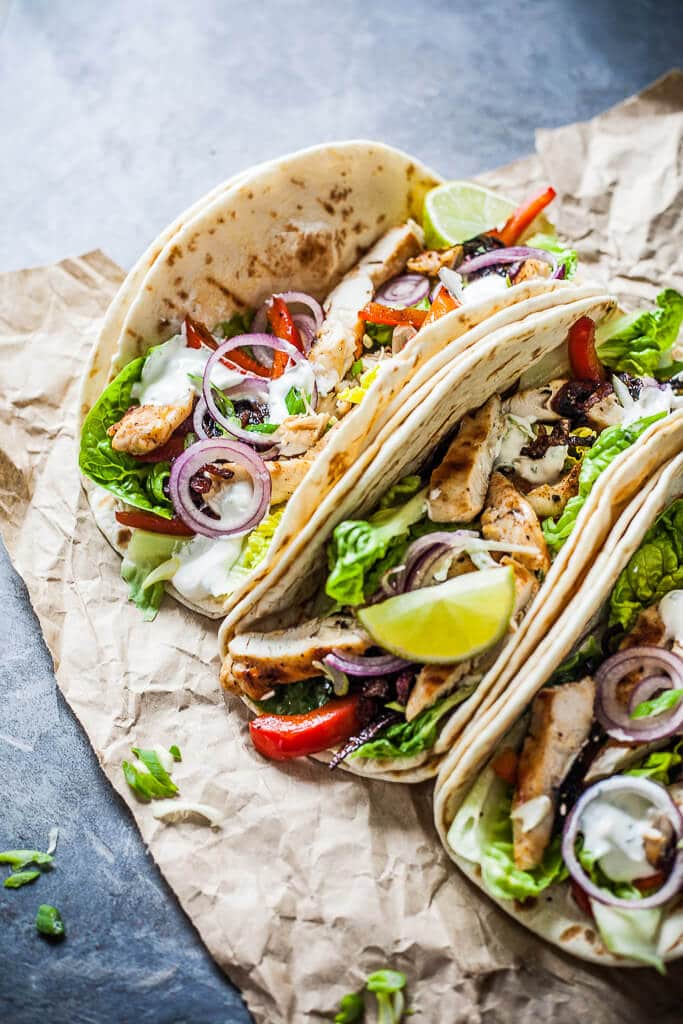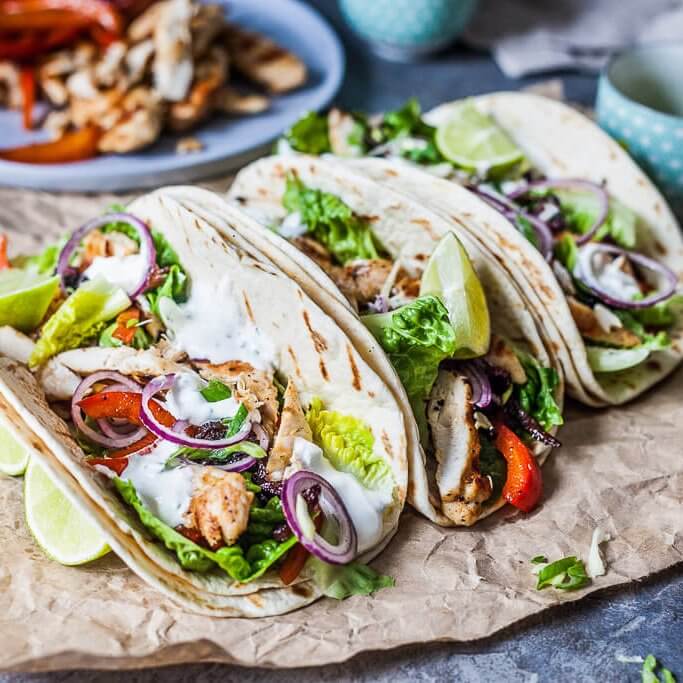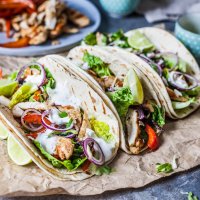 Grilled Chicken Tacos
Grilled Chicken Tacos are a healthy and easy meal for every day. Also an excellent to-go meal for the office and a real crowd-pleaser!
Ingredients
400 grams chicken breasts
1 large red bell pepper
2 red onions
2 cups shredded lettuce
salt, pepper to taste
paprika to taste
thyme to taste
olive oil
balsamic vinegar
1 lime
2 spring onions
1/2 cup sour cream
fresh chives, finely chopped
tortillas
Instructions
Prepare chicken: wash and dry chicken meat (I used chicken breast meat). Season with salt, pepper, paprika and thyme. Massage the spices into the meat and cover evenly. Peel and finely slice an onion and add to the chicken meat. Lastly, add a tablespoon of olive oil and spread across the meat, covering it evenly. Set aside to rest in an airtight container for an hour or overnight.
Prepare vegetables: Wash and dry bell pepper, then cut into slices and season with salt and pepper. Add a sprinkle of olive oil and coat evenly. Peel and finely slice an onion. Wash and shred lettuce and spring onion. Cut lime into quarters.
Put sour cream into a jar, season with salt & pepper and add finely chopped chives. Combine well.
Preheat the grill or a grill cast iron skillet (this is what I used). Remove onions from the chicken meat, but don't toss. When the grill is hot, place chicken meat on grill and cook on medium for about 8 minutes, then turn and cook on the other side for an additional couple of minutes, until the meat is cooked through. While the chicken is cooking, heat a pan on medium and add the marinated sliced onions. Cook on medium, stirring frequently, until the onions become crisp. Then, add a splash of balsamic vinegar, combine well and remove from heat. Remove chicken from grill and set aside to rest. Place bell peppers on the grill and cook until they soften and begin to blacken on the edges. Remove and set aside. Warm tortillas on the grill for a minute on each side.
Cut chicken meat into smaller pieces or slices. Place a handful of shredded lettuce on a taco, add grilled chicken, grilled bell pepper, crispy onion slices and sliced red onion, a spoon of sour cream and a piece of lime. Repeat and serve.
Nutrition Information:
Yield:

4
Serving Size:

1
Amount Per Serving:
Calories:

339
Total Fat:

14g
Saturated Fat:

5g
Trans Fat:

0g
Unsaturated Fat:

7g
Cholesterol:

102mg
Sodium:

294mg
Carbohydrates:

19g
Fiber:

3g
Sugar:

6g
Protein:

34g
Like this recipe? Let us know in the comments below or on social media using #vibrantplate and tag us @vibrantplate.
You can connect with us on our Instagram and Facebook account or on Pinterest. Don't forget to sign up to our newsletter & stay up to date with our latest recipes 😉