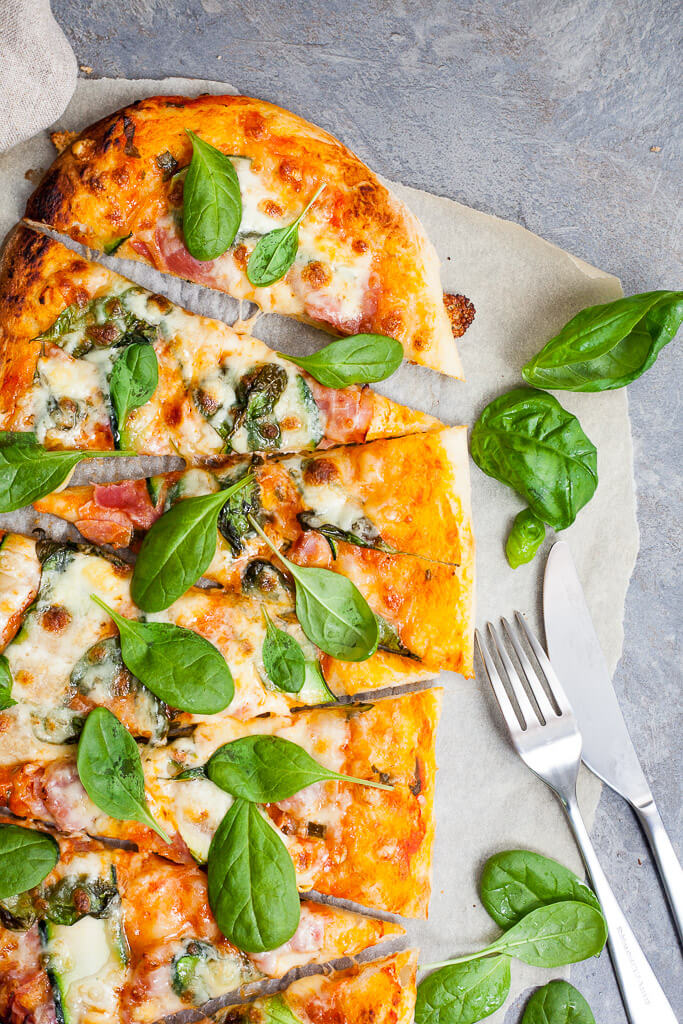 This delicious Spinach & Zucchini Spelt Flour Pizza is made with spelt flour, ham, zucchini and spinach for a healthier pizza option.
Did you now it was #pizzaday yesterday? That's right! And how do you celebrate pizza day, if not by eating pizza? 🙂
This post is sadly a day overdue, but there is absolutely no reason not to celebrate today, or even tomorrow. I mean, we are talking pizza here. Pizza is always a good idea!
This Spinach & Zucchini Spelt Flour Pizza does not take a lot of time to make, which is perfect for busy days, plus it's made with spelt flour, which is richer is nutrients than wheat flour but also contains gluten that helps with the dough texture. You can absolutely make this pizza completely vegetarian, by omitting ham as a topping.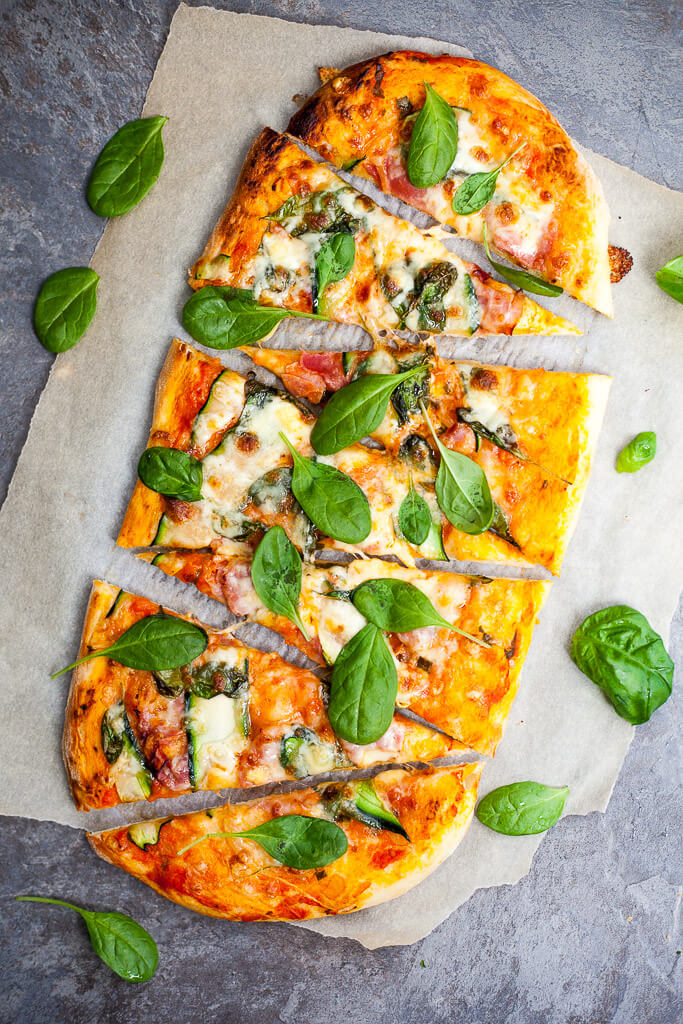 Spinach & Zucchini Pizza
Author: Kristina Jug

Yield: 3-4
Ingredients
250 g spelt flour
200 ml luke-warm water
5 g dry yeast
pinch of salt
2 tbs olive oil
1 cup tomato sauce
100 g ham
1 medium-size zucchini
1 cup raw spinach
1 cup grated cheese
1 cup grated mozzarella
Instructions
Prepare the dough: add luke-warm water to dry yeast and add a teaspoon of flour. Mix well, cover with a cloth and let rise for about 10 minutes. In a separate bowl, place flour and a pinch of salt. When the yeast rises, add it to the flour. Add olive oil and combine well with a fork, then proceed to kneading the dough by hand for about 10 minutes, until the dough is smooth and flexible. Cover with a cloth and let rise for an hour.
After an hour, knead out the dough and divide into 2 pieces. Roll each dough piece out into a pizza shape (round, rectangle or free-style).
Cover baking tray with baking paper to prevent sticking. Preheat oven to 220°C / 428°F. Place pizza dough on baking tray. Spread tomato sauce onto the dough, then top the pizza with ham, sliced zucchini, spinach leaves, grated cheese and mozzarella.
Place pizza in preheated oven and bake for about 12-16 minutes, or until the pizza dough is golden brown. Remove from oven and serve hot.
Nutrition information (per serving):
Calories: 718.91 kcal

Fat: 35.59 g

Saturated fat: 14.88 g

Carbs: 68.51 g

Protein: 37.74 g

Fiber: 11.9 g

Sugar: 10.76 g

Sodium: 1268.24 mg

Trans fat: 0.44 g

Cholesterol: 86.91 mg

Text and images copyright Vibrantplate.com © All rights reserved.
Like this recipe? Let us know in the comments below or on social media using #vibrantplate and tag us @vibrantplate.
You can connect with us on our Instagram and Facebook account or on Pinterest. Don't forget to sign up to our newsletter & stay up to date with our latest recipes 😉