This easy No-Bake Vegan Blueberry Pie recipe is the perfect summer dessert. Made with cookie crust and a creamy and rich blueberry filling, this pie will make you go for seconds!
It's the height of Summer and with yet another heatwave underway, I am not turning on my oven, not even for cake.
So it's fitting I made a No-Bake Vegan Blueberry Pie for my recent birthday, and you're more than welcome to the recipe below.
This blueberry pie is creamy, fruity, and with a chocolaty cookie crust that holds the pie together. This fully plant-based recipe is simple and straightforward and only needs basic vegan ingredients.
Give it a try! If you have any questions we're here to answer, just leave us a comment down below.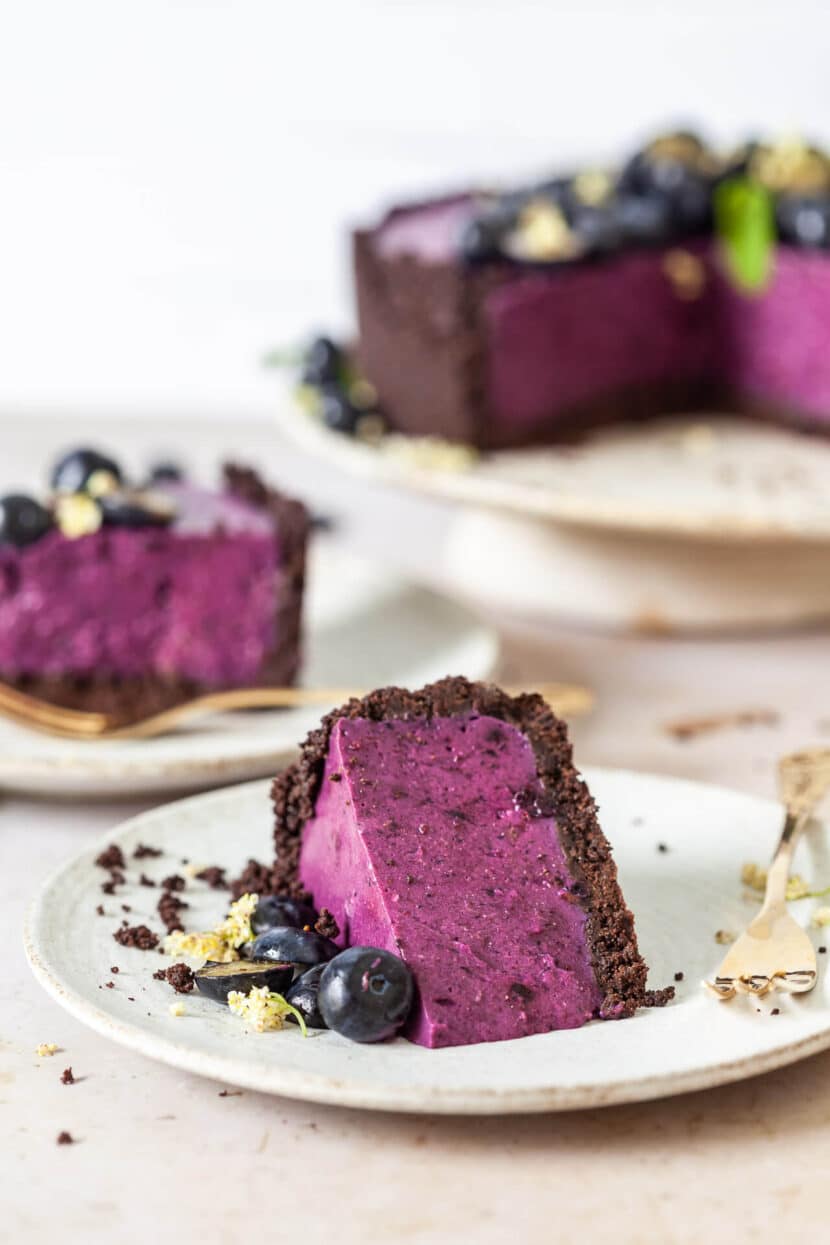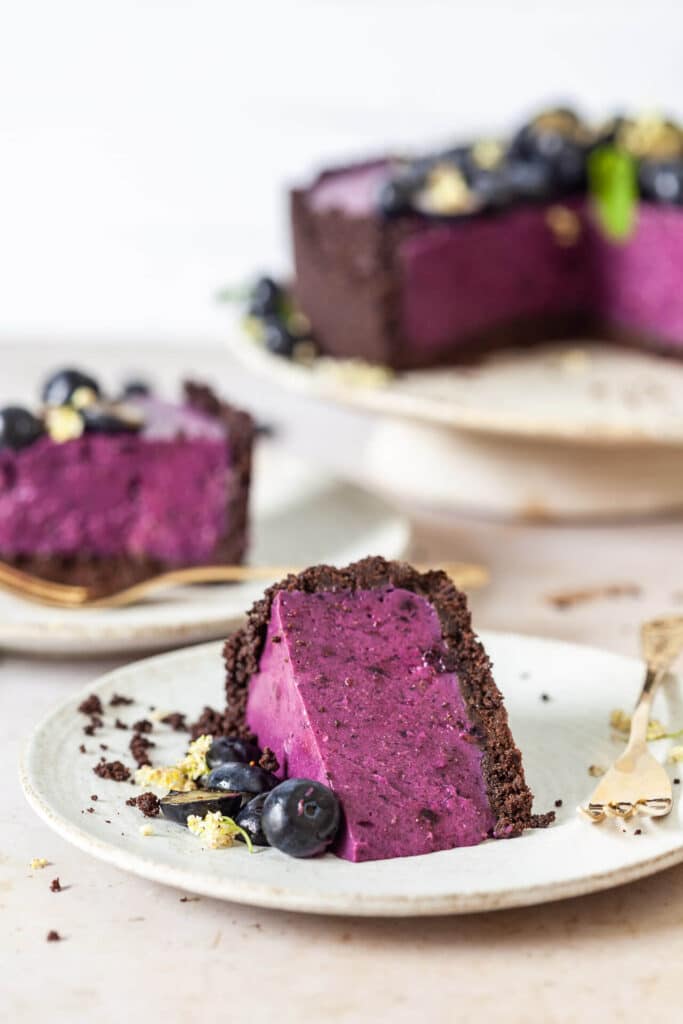 Ingredients
To make the crust you will need:
oreo cookies, these will give you a nice dark crust, but in a pinch, you can substitute with graham crackers or butter cookies, and add some cacao powder for the dark color and chocolate taste
vegan butter, we do recommend using butter (or margarine) in this recipe and not coconut oil. Coconut oil will make for a really hard crust that will not look very nice (we tried).
To make the blueberry sauce you will need:
blueberries, for best results and the most beautiful color we recommend using the small wild blueberries, either fresh or frozen.
lemon juice
sugar
To make the cream filling you will need the blueberry sauce, and also:
silken tofu, do not use extra-form tofu, but the silken variety for best results
coconut milk, we will need the solid cream, so stick a can of coconut milk in the fridge the day before, so the cream has time to solidify
icing sugar
coconut yogurt, or another plant-based yogurt, you could use a natural flavored one, or try for a vanilla or blueberry flavor
lemon peel, we recommend using an organic lemon when using the peel. Orange would also work.
agar-agar, this will help thicken the cream and make it firm. If you're not vegetarian, you could also use gelatin
water
To decorate the cake we just used some fresh blueberries, mint leaves, and elderflower florets.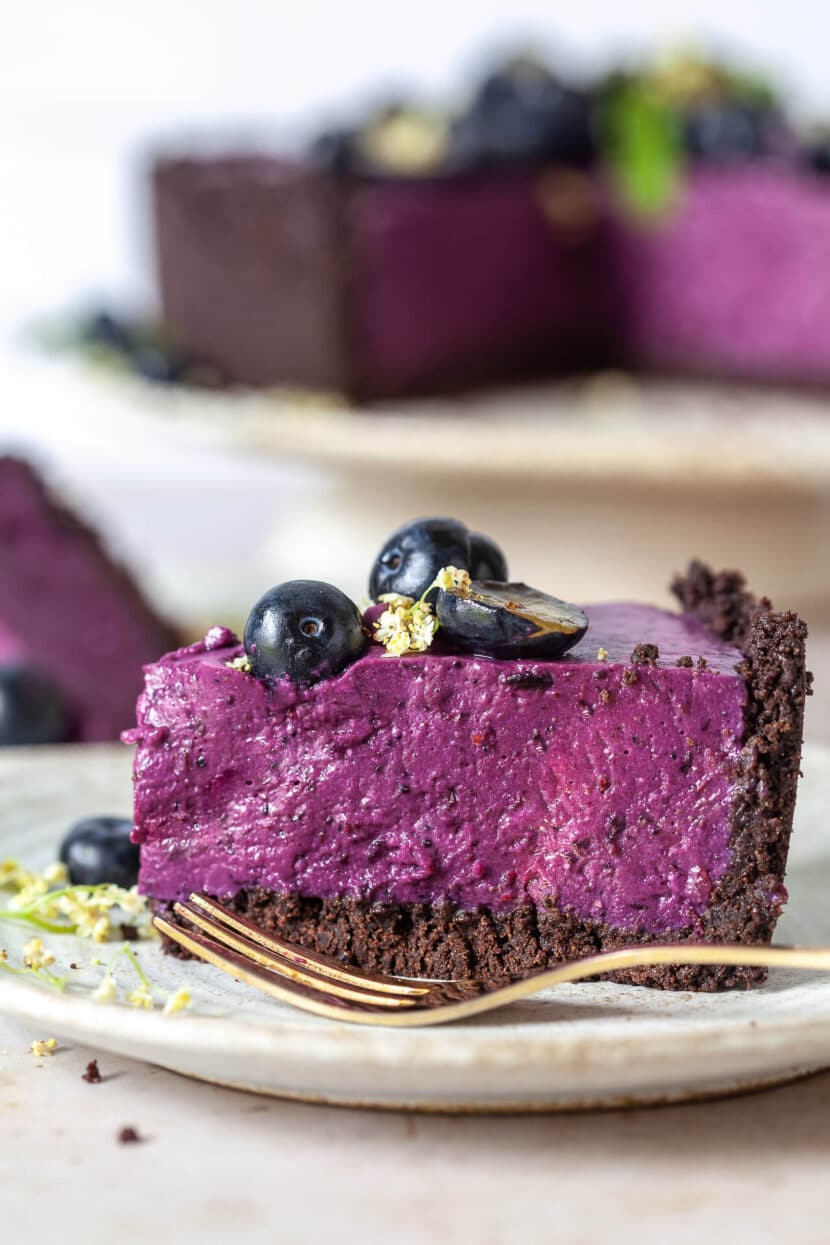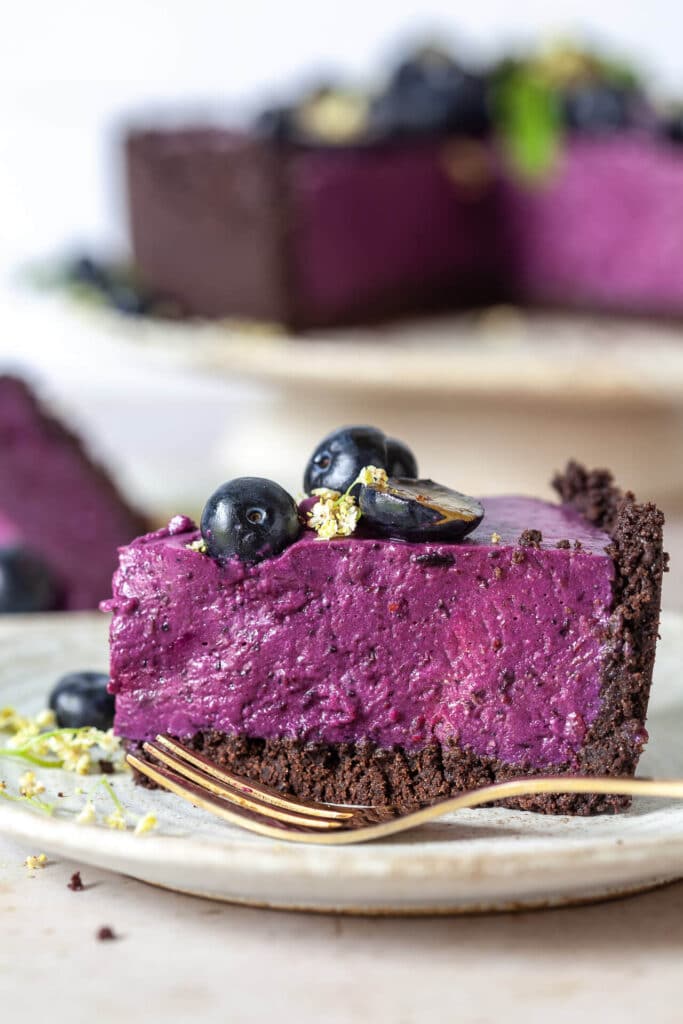 How to make this No-Bake Vegan Blueberry Pie
For this recipe, you'll need a standard round 8 inches / 20 cm springform pan (cake pan with removable side). Line the bottom of the pan with parchment paper, close the springform, then lightly grease the sides and line the sides with parchment paper as well. The grease will help keep the paper in place.
Make the crust
Crush your cookies and add them to a food processor bowl. Pulse until the cookies turn into crumbs.
Melt the vegan butter, add it to the crumbs and combine. Then, transfer the cookie crumbs to the cake pan and press it into the bottom, and up the sides. Pack it nice and tight, so the cookies will keep the shape, then place into the refrigerator to set.
Make the blueberry sauce
Add blueberries, lemon juice, and sugar to a saucepan and bring to simmer. Stirring occasionally, cook on low to medium until the sauce thickens, then remove from heat and let it cool down to room temperature.
Make the creamy filling
Add the coconut cream to a bowl and whisk until fluffy. Mix in icing sugar, silken tofu, coconut yogurt, and lemon peel. Once the cream is uniform and thick, fold in the blueberry sauce. If your cream is very cold, let it come to about room temperature, otherwise, the agar-agar may work too quickly.
Meanwhile, prepare the agar-agar according to package instructions: combine with water and boil for a few minutes. Then, pour it into the blueberry cream and stir to combine.
Pour the cream filling into the cake pan, level it out then refrigerate the pie overnight, or at least 6-8 hours.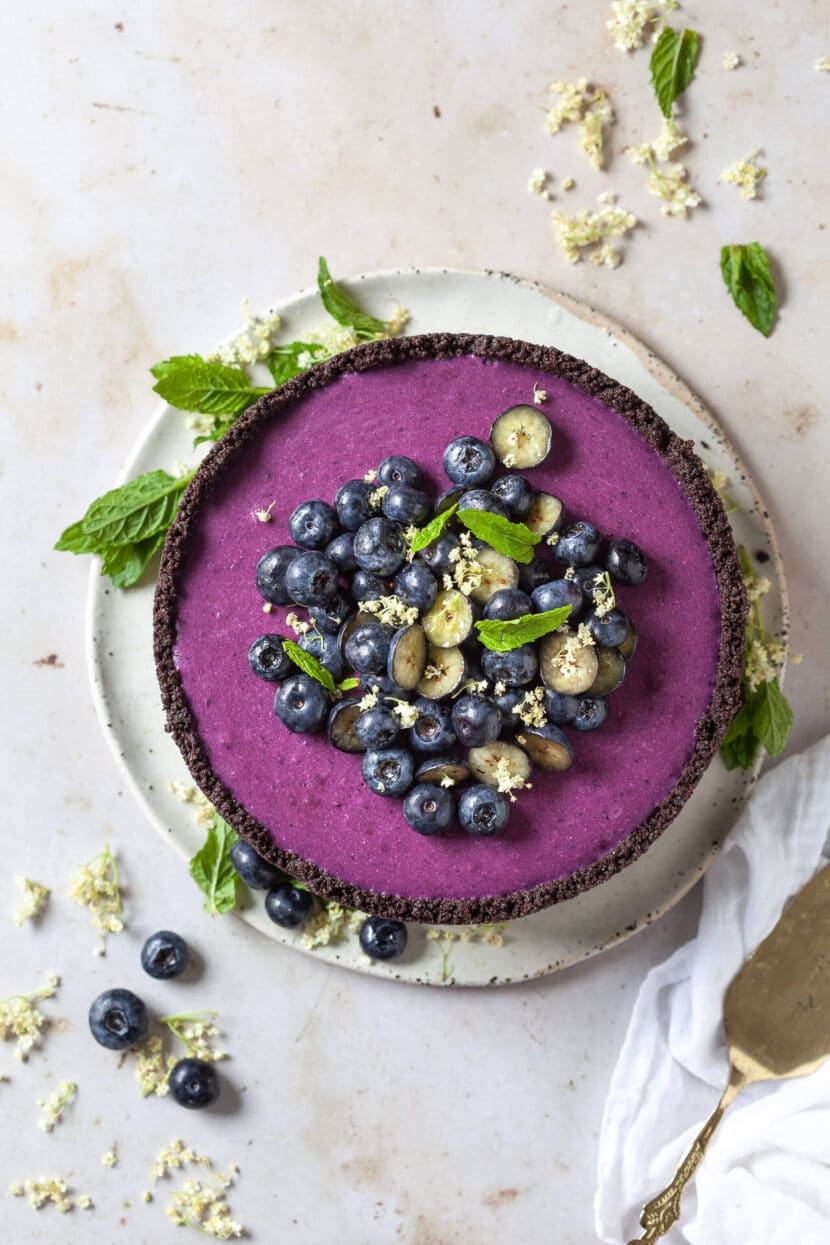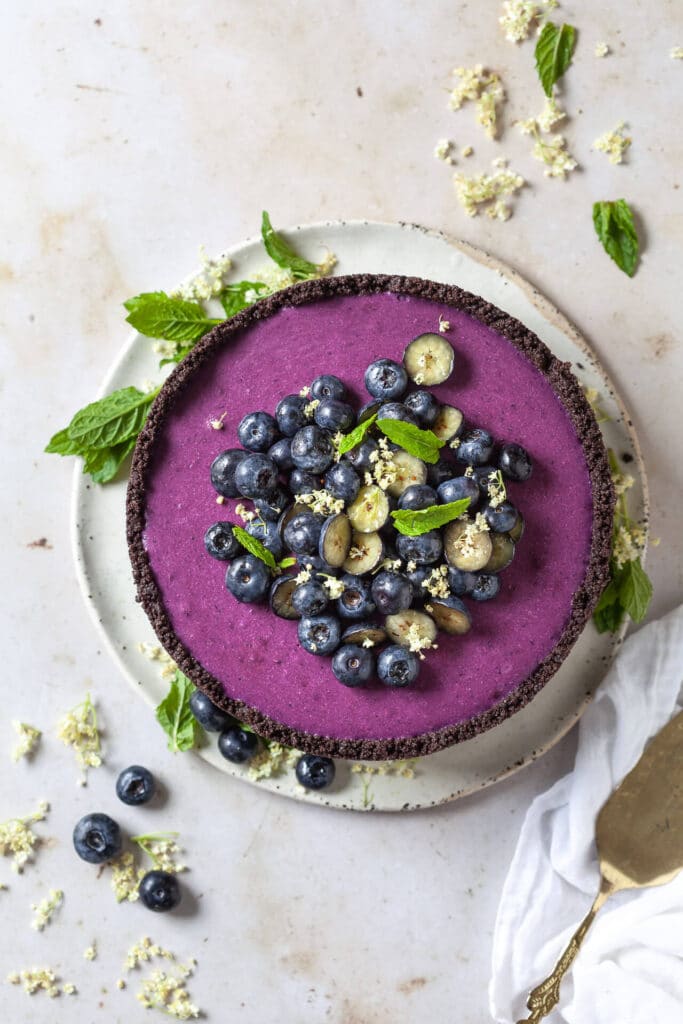 Serving
Once the pie is set and firm, remove it from the fridge, decorate to your liking, and serve. This pie is rather filling and calorie-dense so be mindful about the slice size if you're counting calories. Otherwise, just go to town and eat your fill!
Storage
Keep the pie covered and refrigerated. The pie will keep refrigerated in an air-tight container for up to 3-4 days.
I do not recommend freezing this cake, as freezing will change the texture of the cream dramatically (and not in a good way, we tried).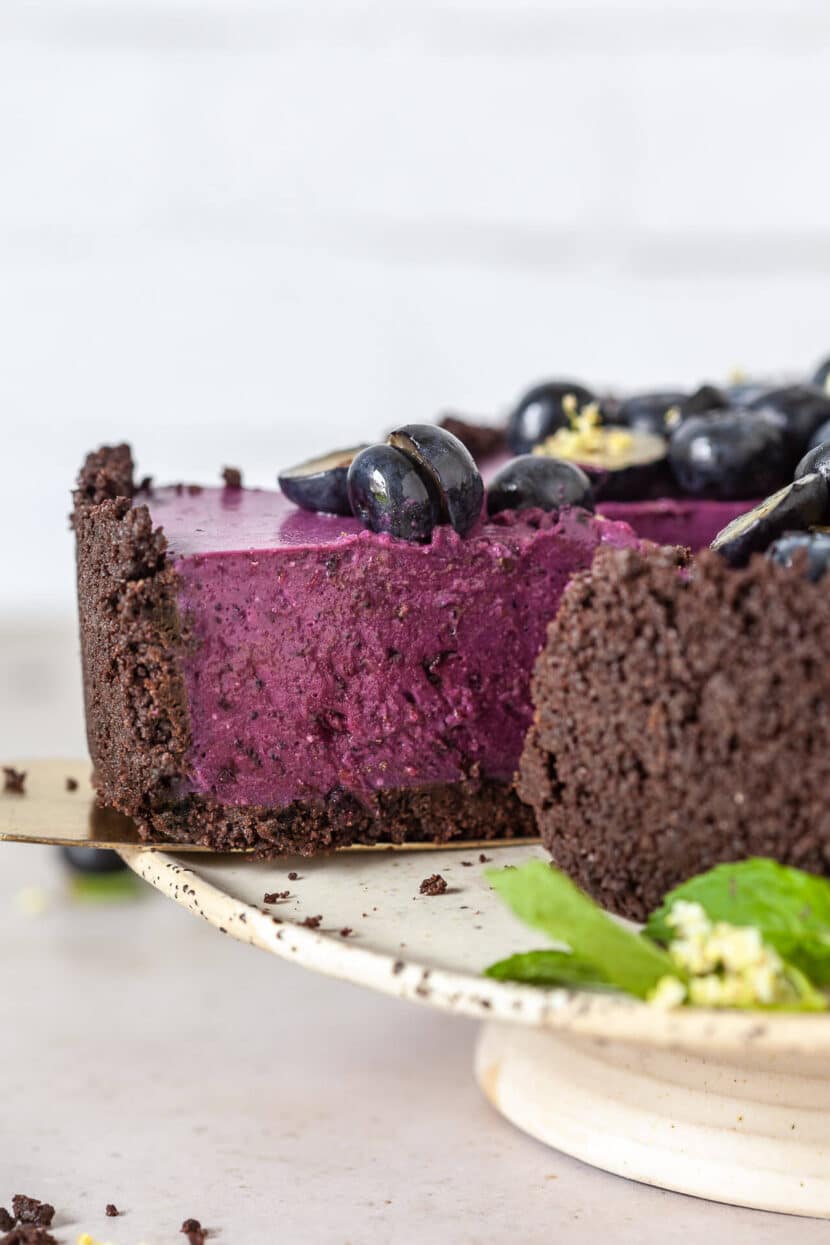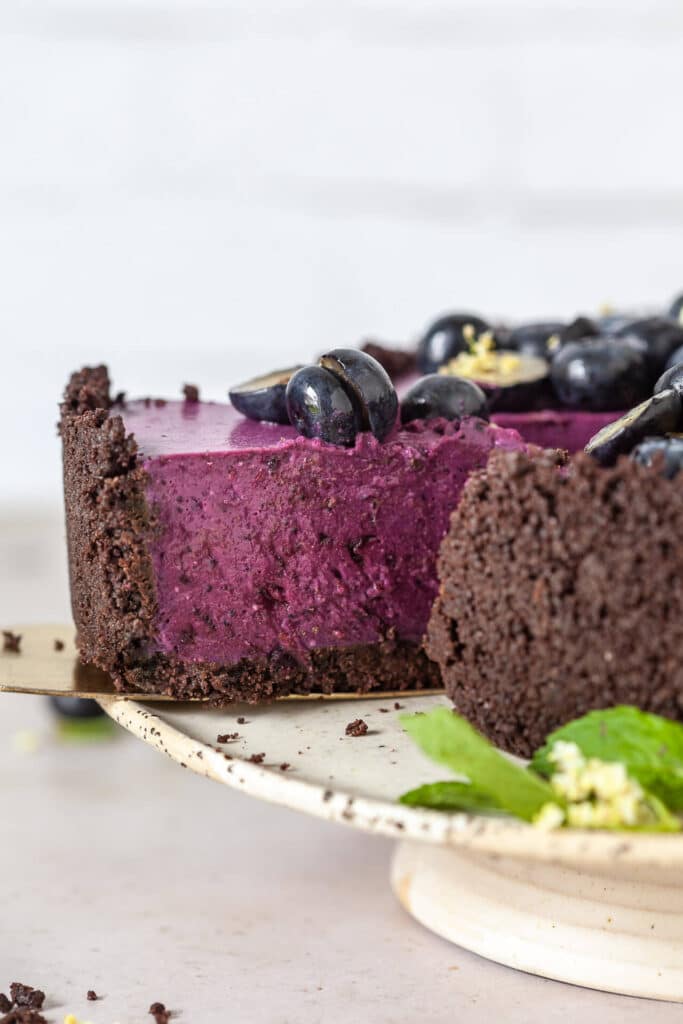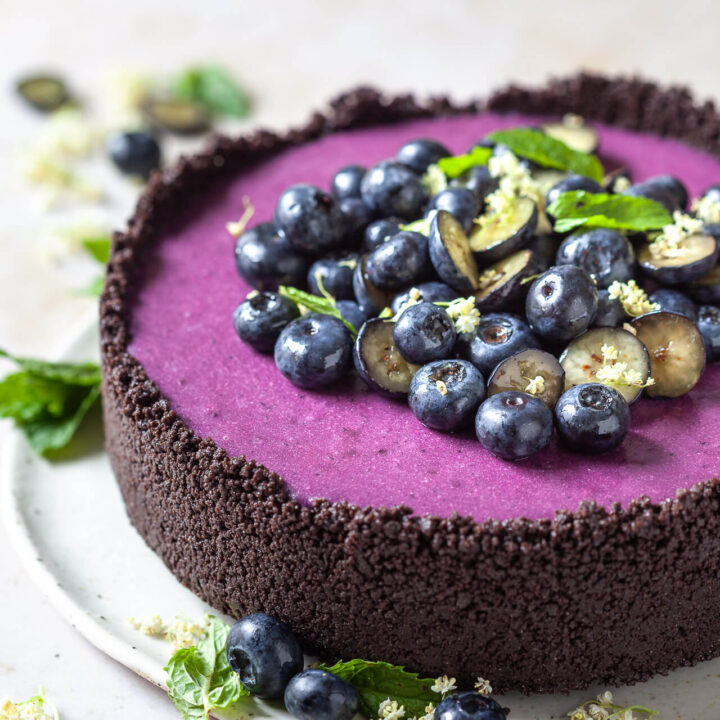 No-Bake Vegan Blueberry Pie
Total Time:
6 hours
50 minutes
This easy No-Bake Vegan Blueberry Pie recipe is the perfect summer dessert. Made with cookie crust and a creamy blueberry filling.
Ingredients
Crust:
360 grams oreo cookies
80 grams vegan butter
Blueberry sauce:
250 grams blueberries (use wild blueberries from frozen for best results)
1 lemon, juice
1/4 cup sugar
Cream:
400 grams silken tofu
400 grams coconut milk (1 can, refrigerated overnight)
3 tbsp icing sugar
200 grams coconut yogurt
1 lemon, peel, grated
1 tsp agar-agar
1/4 cup water
Decoration:
200 grams blueberries, fresh
Instructions
Line a round 8 inch / 20 cm springform pan with baking paper - line the bottom and the sides.
Prepare the crust: roughly crush 360 grams of oreo cookies and add them to a food processor bowl. Pulse until the cookies resemble breadcrumbs in texture. Melt 80 grams of vegan butter and add them to the food processor. Blend shortly until just combined. Transfer the blended cookies to the lined cake tin and proceed to press the crumbs into the bottom, and up the sides, of the prepared pan, making sure to pack it in tightly. Place into the refrigerator to set.
Prepare the blueberry sauce: To a saucepan, add 250 grams of blueberries (use wild blueberries from frozen for best results), the juice of 1 lemon, and 1/4 cup of sugar. Heat on medium, until the blueberries start melting. Stir occasionally and bring to a simmer. Cook on low to medium for about 10 minutes, until the sauce reduces and thickens a bit, then let it cool down. It will continue to thicken while cooling.
Once the blueberry sauce is at room temperature, you can prepare the cream: To a bowl, add the solid part of the refrigerated coconut milk (save the liquid for smoothies). With an electric mixer whisk the coconut cream until fluffy and peaks start to form. Mix in 2 tbsp of icing sugar, then also mix in 400 grams of silken tofu, and 200 grams of coconut yogurt. Whisk for a couple of minutes until a uniform cream is achieved. Next, mix in the grated peel of a lemon and one more tablespoon of icing sugar, if needed. Lastly, fold in the cooled blueberry sauce and mix to combine.
Prepare your agar-agar according to package instructions: to 1/4 cup of water add 1 tsp agar-agar. Bring to a boil and let boil for 4 minutes, then, immediately pour the melted agar-agar into the blueberry cream and stir to combine. The cream must be room temperature and not refrigerated cold, otherwise, the agar-agar will work too quickly.
Pour the cream into the cake tin on top of the cookie crumb crust, level it evenly, and place the pie back into the fridge to cool overnight (at least 6-8 hours so it sets and firms).
Once the pie is set, remove it from the fridge, and release it from the spring-form pan. Remove the parchment paper and decorate the cake with fresh blueberries.
Serve immediately.
Nutrition Information:
Yield:

16
Serving Size:

1
Amount Per Serving:
Calories:

251
Total Fat:

15g
Saturated Fat:

9g
Trans Fat:

0g
Unsaturated Fat:

5g
Cholesterol:

11mg
Sodium:

133mg
Carbohydrates:

28g
Fiber:

1g
Sugar:

19g
Protein:

4g
Nutrition data is automatically calculated using Nutritionix and may not be accurate.
This recipe is brought to you by Hofer Slovenija.
Fan of chocolate pies? Try our no-bake vegan chocolate pie 🙂
Find more cake & pie ideas here!
Did you make this recipe? Let us know in the comments below or on social media by using #vibrantplate and tag us @vibrantplate. We're always happy to read your feedback and LOVE seeing your take on our recipes.
Don't forget to connect with us on Instagram, Facebook, or Pinterest. We share many behind-the-scenes photos and step-by-step recipes in our Instagram Stories, so be sure to check it out!