Easy Chicken Caesar Salad with Worry-Free Dressing is a lightened-up version that uses no eggs or anchovies.
As much as we like our salads, there is one that we enjoy almost exclusively on holidays, and that's the Chicken Caesar Salad. When traveling during our summer holidays, we often pick a salad as a quick and light lunch, that is refreshing in the summer heat and it's easy to pick up on the go from the grocery store.
We like to enjoy the salad somewhere on the road, like in a river bank or in a park. Just taking a couple of minutes off, having a bite and relaxing.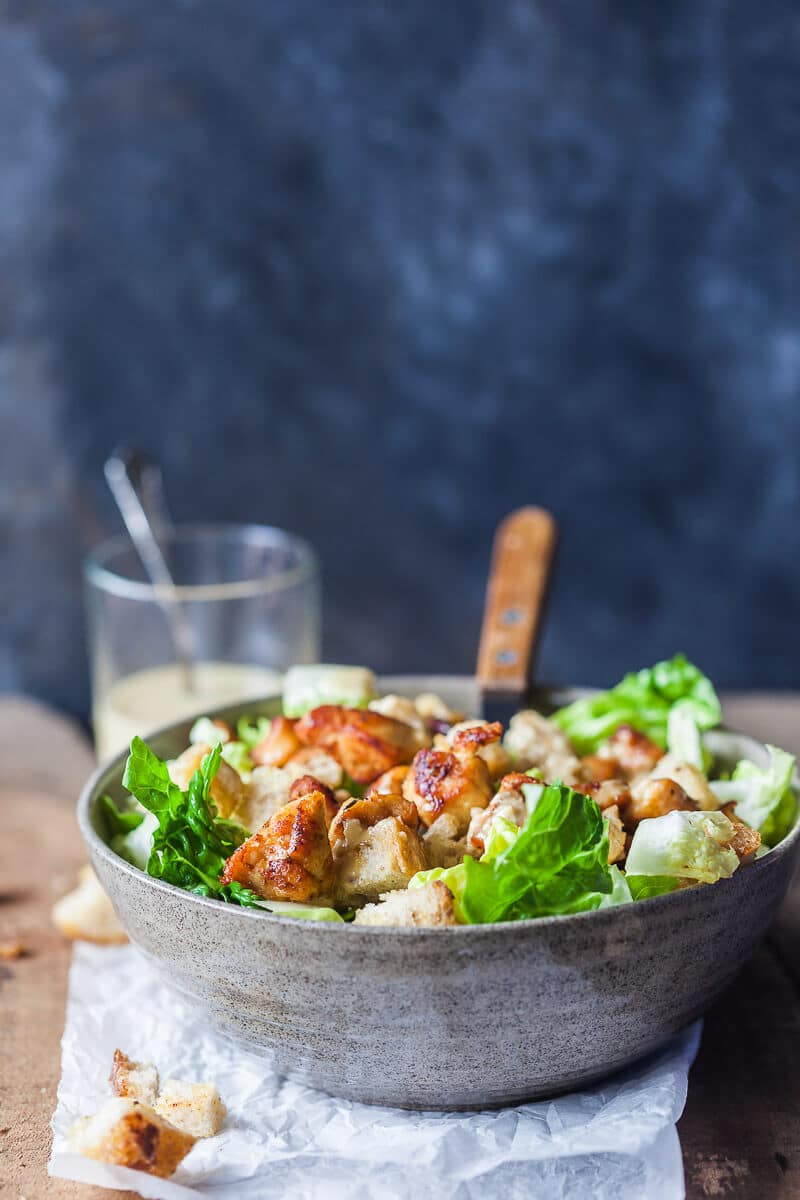 So this salad is usually like our go-to traveling meal and we rarely eat it while home. Being the dead of winter, summoning up some holidays memories seems like the right thing to do right now!
Making this Chicken Caesar Salad is really easy, as most salads are. It all comes down to toppings and a delicious dressing. Now, the original Caesar dressing is rich and creamy, with eggs and anchovies that give it that distinct flavor.
But we are not very keen on raw eggs in the dressing, nor anchovies, so I modified the dressing to make it worry-free, but still creamy, rich and delicious.
Not standard for our recipes, but this time we decided to include Parmesan Cheese, despite my dairy allergy (I was alright!)… and this Chicken Caesar Salad was a winner!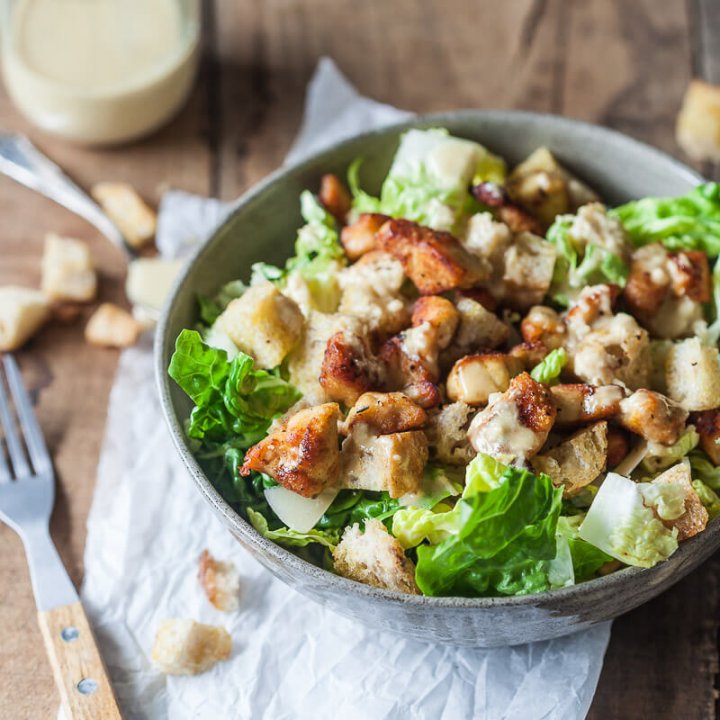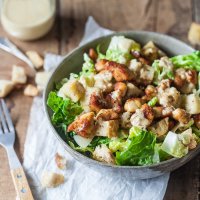 Easy Chicken Caesar Salad with Worry-Free Dressing
Easy Chicken Caesar Salad with Worry-Free Dressing is a lightened-up version that uses no eggs or anchovies.
Ingredients
3 hearts romaine lettuce
400 grams chicken breasts
3 slices stale bread
Parmesan
Toasted pinenuts
DRESSING:
1 ts mustard
2 tbs lemon juice, squeezed
2 cloves garlic, finely diced or grated
2 tbs vegan mayonnaise
1 ts soy sauce
Salt, pepper
2 tbs olive oil
1 tbs sunflower oil
1 tbs grated Parmesan
Instructions
Cut lettuce into pieces, wash and drain well. Make sure it has as little water left over as possible to make the dressing stick better.
Cut chicken into dices and marinate with a spoon of oil, a pinch of salt and pepper, some red paprika, turmeric and thyme. Heat a pan to medium, add chicken and cook until golden brown and crispy. Remove from pan and set aside to cool.
Cut bread into dices, drizzle with some olive oil and bake until crispy, either in an oven or in a pan on the stove.
Prepare the salad dressing: in a container, place mustard, lemon juice, garlic, vegan mayonnaise, soy sauce, season with salt and pepper. Add olive oil, sunflower oil and grated Parmesan. Whisk until well combined.
Place lettuce in a bowl, add chicken, bread croutons, some Parmesan shavings, toasted pine nuts and coat with the dressing until well combined. Serve.
Nutrition Information:
Serving Size:

390 grams
Amount Per Serving:
Calories:

789.46
Total Fat:

48.12g
Saturated Fat:

10.14g
Sodium:

1588.4mg
Carbohydrates:

36.76g
Fiber:

9.44g
Sugar:

7.53g
Protein:

54.14g
Need more salad ideas? Get the recipes here >
You can connect with us on our Instagram and Facebook or on Pinterest. We share many behind-the-scenes photos and step-by-step recipes in our Instagram Stories, so be sure to check it out!
If you like this recipe, you can let us know in the comments below or on social media using #vibrantplate and tag us @vibrantplate. We're always happy to read your feedback and LOVE seeing your take on our recipes.