Homemade Almond Milk in just 5 minutes! This is a delicious Vegan & Gluten-Free plant-based milk and a great dairy-free alternative.
Homemade Almond Milk must be our top find of the year so far! It's delicious, easy to make and with a bit of pre-soaking, ready in just about 10 minutes.
Why make your own almond milk? Sure, store-bought is convenient, but it is also expensive and you have no control over the taste and ingredients. But just 1 cup of raw almonds, will give you 4 cups (or a whole liter!) of delicious, fresh almond milk, no additives!
Plus, if you're smart about it, you'll also have about a cup of leftover almond pulp to use up in snacks or dry out for almond flour.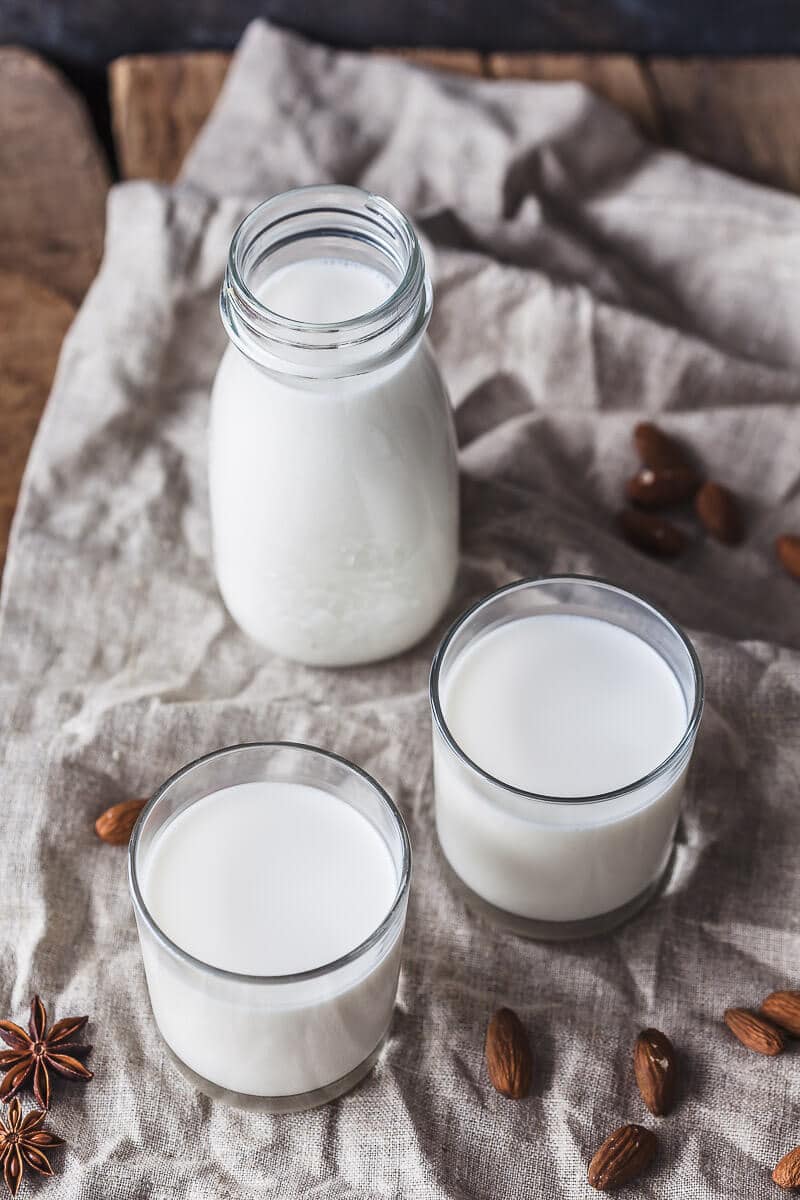 But, the real reason I started making my own homemade almond milk is portion control.
I am mostly only able to get 1 liter (4 cups) containers of almond milk in stores, which I can rarely finish by myself in a couple of days. Plenty of times, I'd have half a container left over of spoiled almond milk, so that's money right down the drain.
When you make your own almond milk, you can control the quantity, and only make what you will end up using in about 3 days' time. Plus you can also control your ingredients, make it more or less sweet, or add any other flavors to it, like chocolate, vanilla, or cinnamon!
One more thing. Since I started making my own almond milk, I take more care in actually using it up to avoid waste. I'll use it to make overnight oats or chia pudding for breakfast, pancakes or just make myself a cup of cocoa!
Ready to give it a try?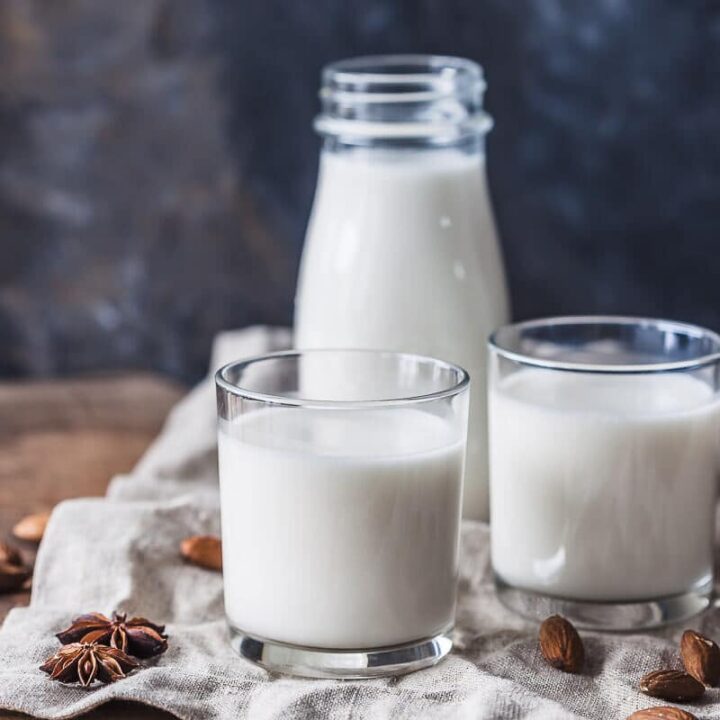 Homemade Almond Milk
Homemade Almond Milk in just 5 minutes! This is a delicious Vegan & Gluten-Free plant-based milk and a great dairy-free alternative.
Ingredients
1 cup almonds
4 cups water
OPTIONAL:
Small pinch of salt
1 ts agave nectar or 2 dates for sweetness (skip to keep sugar-free)
drop of vanilla extract
Instructions
Soak almonds (skin on) covered in water, overnight.
In the morning, drain and wash. We recommend peeling the almonds, if you'll be saving the pulp for reuse. To peel the skin off, pour over a cup of boiling water, cover with a dish and let sit for 5 minutes. After that drain the water and just pop the almonds out of the skin.
Place soaked (and skinned) almonds in high-speed blender. Add 4 cups of water. Optionally add in a pinch of salt and a quick drizzle of agave syrup or a couple of dates for sweetness. Skip sweetener to keep the almond milk sugar-free.
Blend on high for about a minute, until everything is well blended. The milk will look foamy.
Take a cheesecloth, or a clean thin dishtowel, place over a tall bowl and pour in your almond milk. Take the sides up and proceed to tighten the cloth to squeeze the milk out as best you can.
Pour your almond milk in an air-tight bottle and keep refrigerated for up to 3 days. Your milk will separate in a while, but there is nothing wrong with this. Just shake the bottle well before pouring yourself a glass of milk.
Nutrition Information:
Yield:

4
Serving Size:

1
Amount Per Serving:
Calories:

229
Total Fat:

18g
Saturated Fat:

1g
Trans Fat:

0g
Unsaturated Fat:

16g
Cholesterol:

0mg
Sodium:

215mg
Carbohydrates:

12g
Fiber:

4g
Sugar:

6g
Protein:

7g
And what to do with the leftover pulp??
PLENTY!
We recommend drying it out and grinding it into almond flour or making these cute No-Bake Almond Pulp Energy Bites:
You can connect with us on our Instagram and Facebook or on Pinterest. We share many behind-the-scenes photos and step-by-step recipes in our Instagram Stories, so be sure to check it out!
If you like this recipe, you can let us know in the comments below or on social media using #vibrantplate and tag us @vibrantplate. We're always happy to read your feedback and LOVE seeing your take on our recipes.