Couscous Stuffed Eggplant topped with a fresh Lemon Tahini Sauce is a delicious way to serve eggplants. Vegan and Dairy-Free!
So it's been a while since my last post. I honestly thought I'd be able to post sooner, had a schedule and all! And then our health got worse, we were both coughing and feeling miserable for over a week. I guess that's the price you pay for returning from a beautiful 2-weeks Italian holiday to the miserable rainy weather back home. To top, yesterday Mitja left for California and we just unpacked, washed, ironed and packed everything back up again.
So I am settling into an "alone" lifestyle for the next couple of weeks, but work does not stop, so I'm also thinking up and planning fall recipes. Well, planning is all I've done so far. Made up a nice list, went to the store, stocked up the fridge, and then I ate Chinese takeout for 2 days straight. Because who has the will to cook for one? Or maybe there's an opportunity right there and there are plenty of (currently) alone souls like me out there just looking for ideas to eat healthy while not spending a whole day in the kitchen.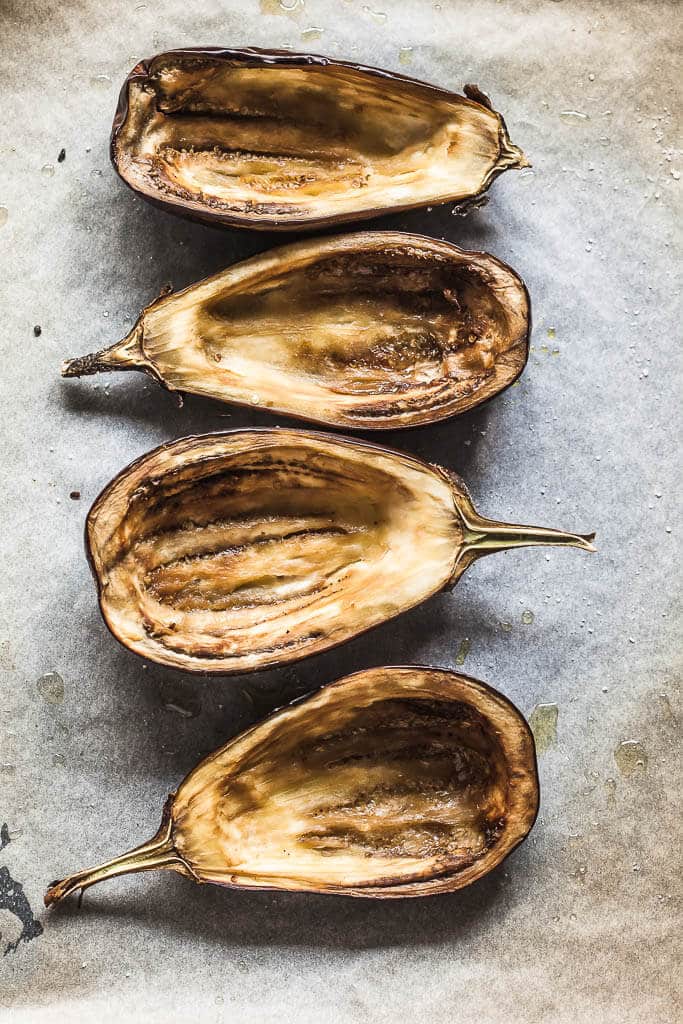 So. While this Couscous Stuffed Eggplant with Lemon Tahini Sauce was made for two back when I was still in a 2-people household, you could just use 1 eggplant and – depending on how hungry you are – having it for lunch or save some for later (and spare yourself another cooking session).
This Couscous Stuffed Eggplant is easy to make, though it does take a while to bake and assemble the stuffing. But, it's so worth it! The eggplant is tender and delicious, and the couscous filling provides a nice side to the vegetable. The Lemon Tahini Sauce drizzle on top helps keep the dish hydrated and adds a zing to the overall taste.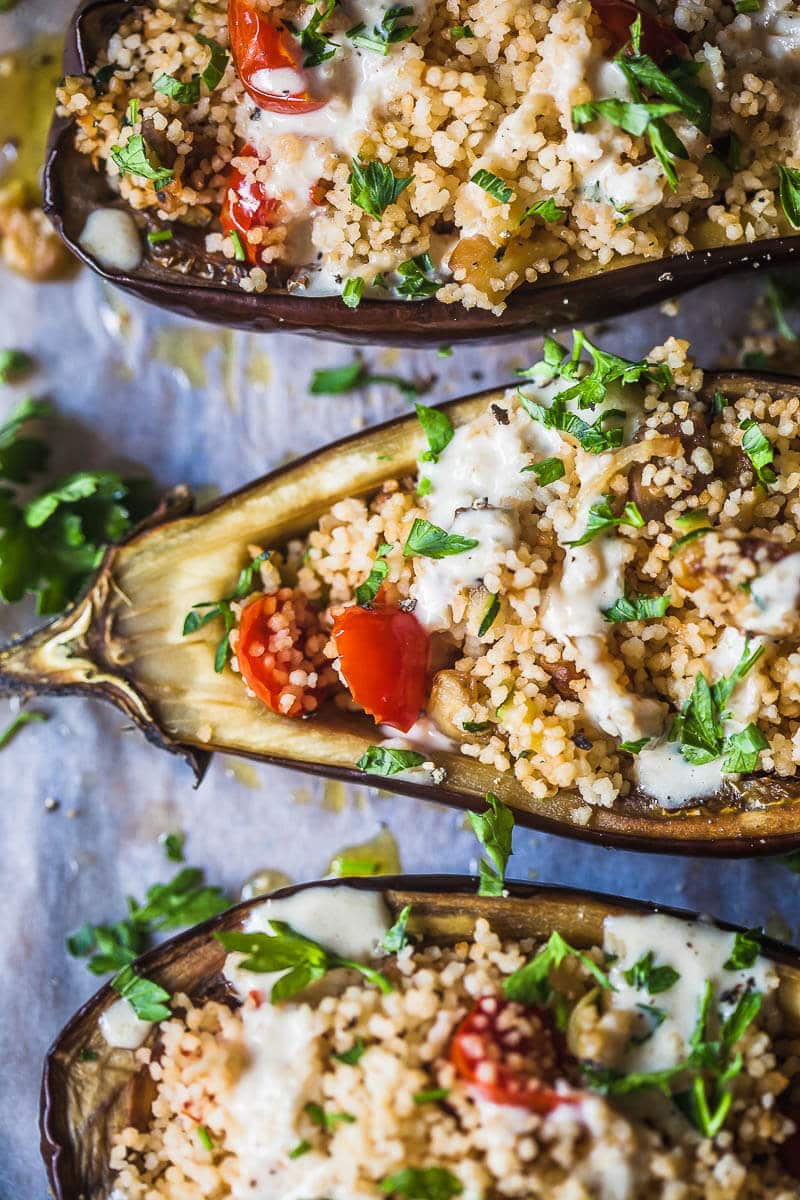 To make this Stuffed Eggplant you'll first need to carve the flesh out to make a shell. Then you season the eggplant shells and place them in the oven to bake for about half an hour. While the eggplant is baking, you assemble the stuffing – you make couscous and fry the vegetables, then combine everything and scoop it into the eggplant shells. A quick drizzle of the delicious lemon tahini sauce and you're ready to serve!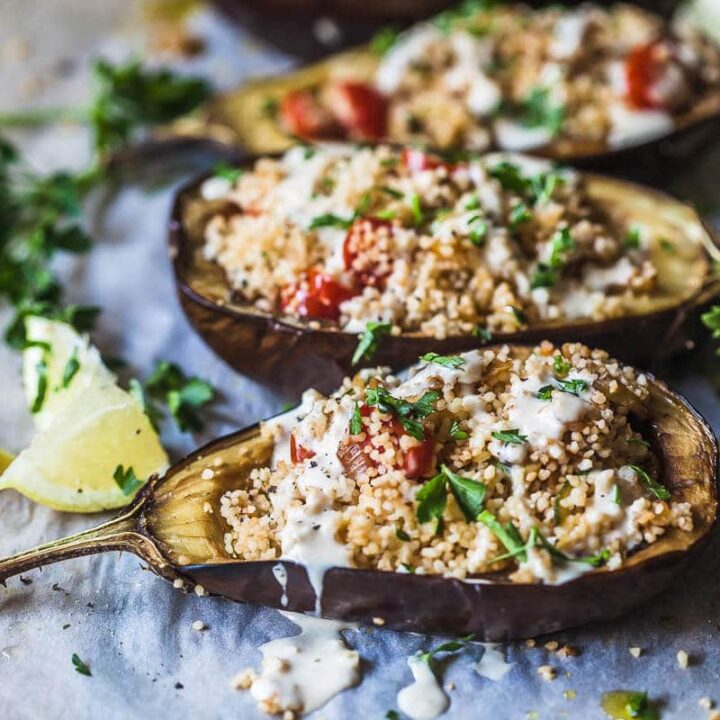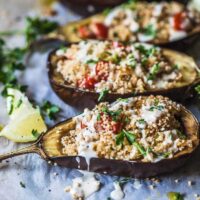 Couscous Stuffed Eggplant with Lemon Tahini Sauce
Couscous Stuffed Eggplant topped with a fresh Lemon Tahini Sauce is a delicious way to serve eggplants. Vegan and Dairy-Free!
Ingredients
2 large eggplants
1 cup couscous
lemon tahini sauce
olive oil
1 onion
3 cloves garlic
1/2 cup cherry tomatoes
1 small zucchini
1/4 cup tahini
1 clove garlic, minced
1/2 cup water
1 lemon, juice
salt, pepper
fresh chopped parsley
Instructions
Preheat oven to 200°C / 392°F.
Cut 2 eggplants in half length-wise and with a spoon scoop out the flesh to make shell-like shapes. Set the scooped flesh aside. Season eggplant shells with salt, drizzle with olive oil, place on a baking tray lined with baking paper and put in preheated oven to bake at 200°C / 392°F for about 30 minutes.
Prepare your lemon tahini sauce: in a bowl (or food processor) place tahini, minced garlic, juice of 1/2 lemon, salt and pepper to taste and a bit of water. Mix well, and add more water as needed, depending how thick you want your sauce.
Prepare couscous as per package instructions. Place 1 cup of couscous in a bowl and pour over 1 cup of salted boiling water. Cover with a lid and let sit for about 5 minutes, or until the couscous has soaked up the liquid. Run through with a fork to loosen it and set aside.
Take leftover scooped eggplant flesh and chop into smaller chunks. Peel and finely chop onion and garlic cloves. Wash and dry cherry tomatoes and zucchini. Cut cherry tomatoes in half and grate zucchini.
Heat a pan on medium and add a table spoon of olive oil. Add onion and garlic and stir-fry for a couple of minutes, until the onion turns translucent. Add chopped eggplant flesh, cherry tomatoes and grated zucchini. Season with salt and pepper and cook until soft. Add couscous and drizzle with lemon juice, combine well and remove from stove.
When the eggplant shells are baked and soft to the touch, remove from oven and fill with the couscous and vegetable mixture. Set on plates, drizzle with tahini sauce and sprinkle with finely chopped parsley. Top with a drizzle of olive oil and serve.
Nutrition Information:
Yield:

4
Serving Size:

1
Amount Per Serving:
Calories:

431.4
Total Fat:

16.4g
Saturated Fat:

2.34g
Sodium:

1250.45mg
Carbohydrates:

63.84g
Fiber:

15.39g
Sugar:

15.19g
Protein:

12.67g
Looking for more vegan recipes? We have
plenty more here >
New in! We made a special FREE cookbook with 15 our favorite recipes, including a delicious Vegan Pasta Salad in a Jar exclusive recipe that you can get when you sign for our newsletter. How cool is that? Just find the signup form on the page and get your free copy now 😉
If you like this recipe, you can let us know in the comments below or on social media using #vibrantplate and tag us @vibrantplate. We're always happy to read about your feedback and if you liked the dish:)
You can connect with us on our Instagram and Facebook or on Pinterest. We share many behind-the-scene photos in our Instagram Stories, so be sure to check it out!