This Homemade Apple Pie is rustic and classic, just like grandma used to make it. Just like a good homemade pie is supposed to be.
What good is it for the cold and fog outside if not for eating comfort food? Apple pie is not a dish we make often because in season we usually receive apple strudel from either one of our moms. So we are well provided with apple desserts and rarely feel the need to make extra, as one can only eat so much.
But just recently I had a couple of home-grown apples of an unidentified variety rolling around the kitchen. The apples were large, juicy and just sour enough to make me want to turn them into a dessert.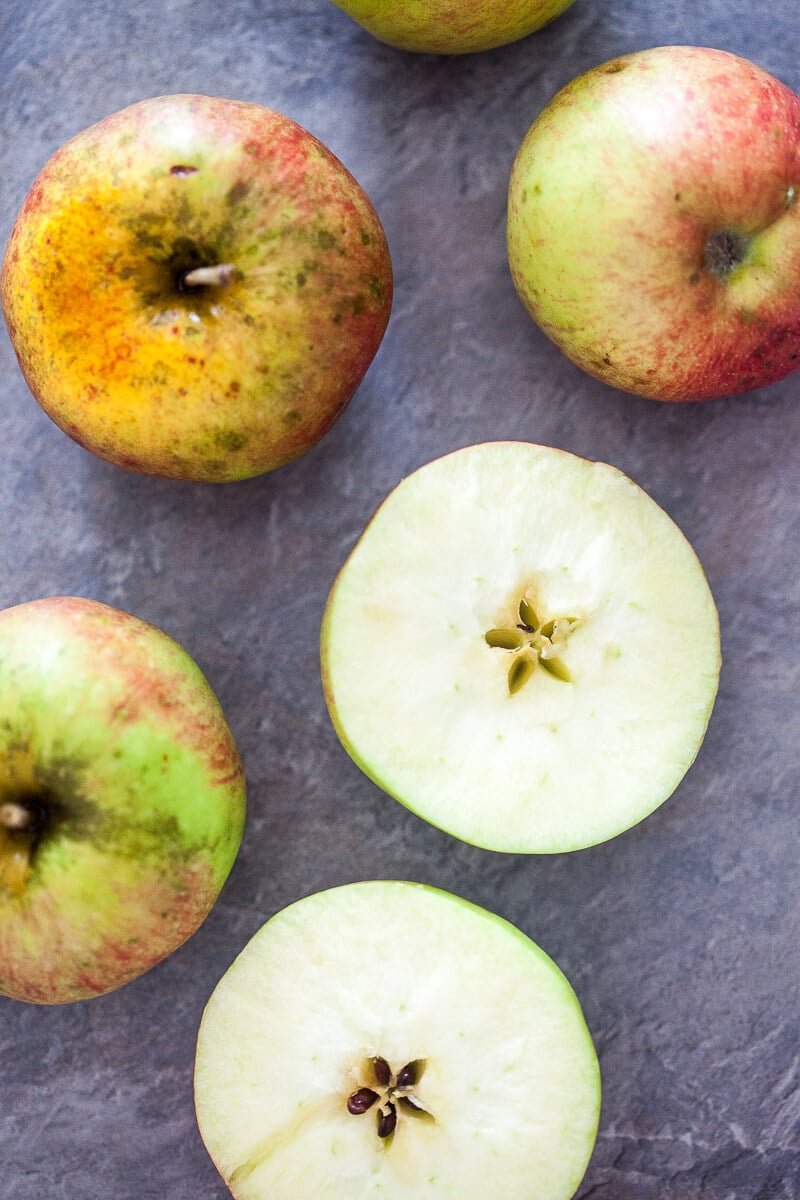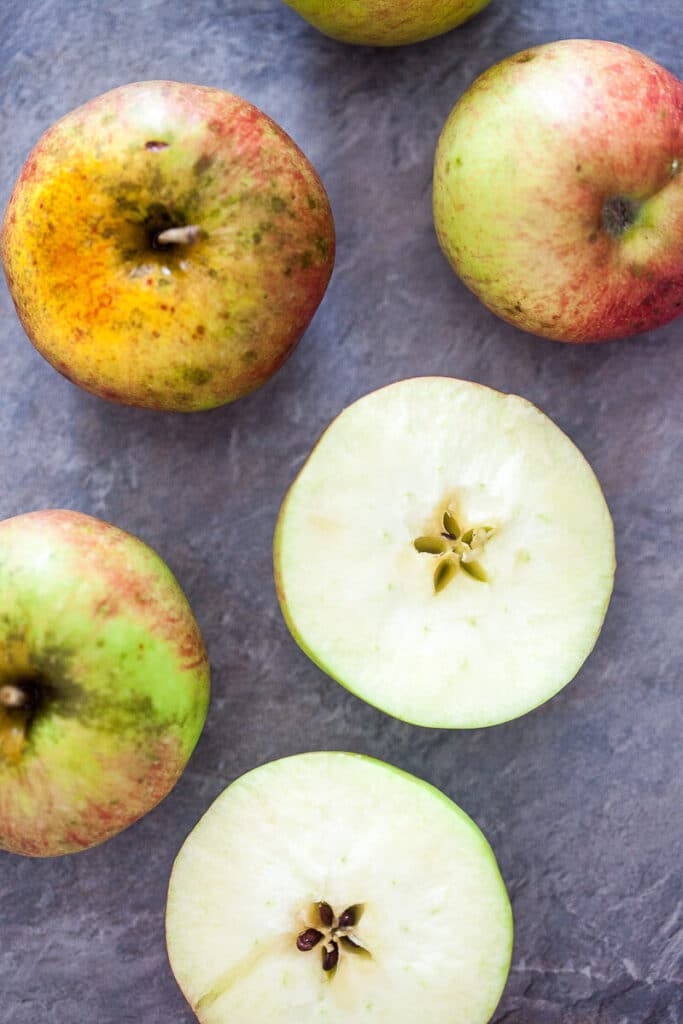 I usually prefer a good Apple Strudel, but I am not very good at making it, sadly. I guess I still have some learning to do. But I could always find my way around the pie. For this pie, I used a most basic no-fuss pie recipe. I grated my apples because I wanted to be done quickly, but if you take the time to slice them thinly or chop into tiny pieces, you'll get better results and more flavor.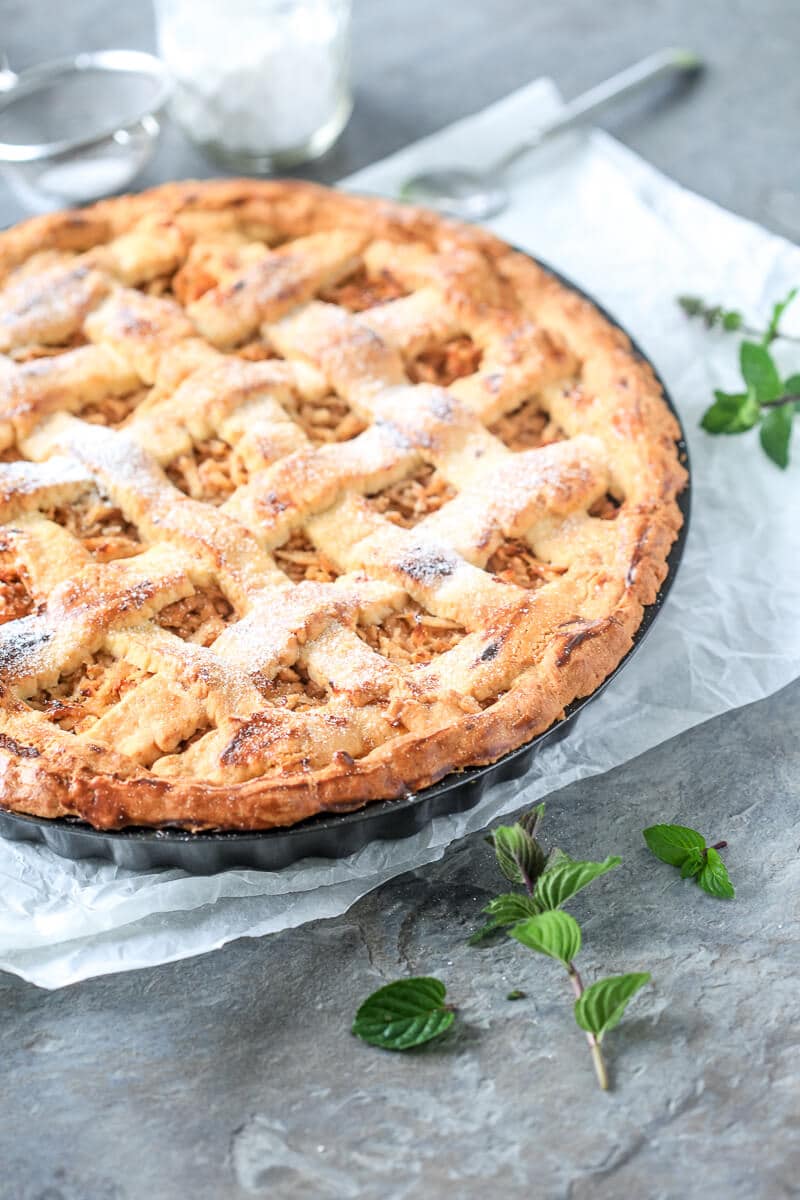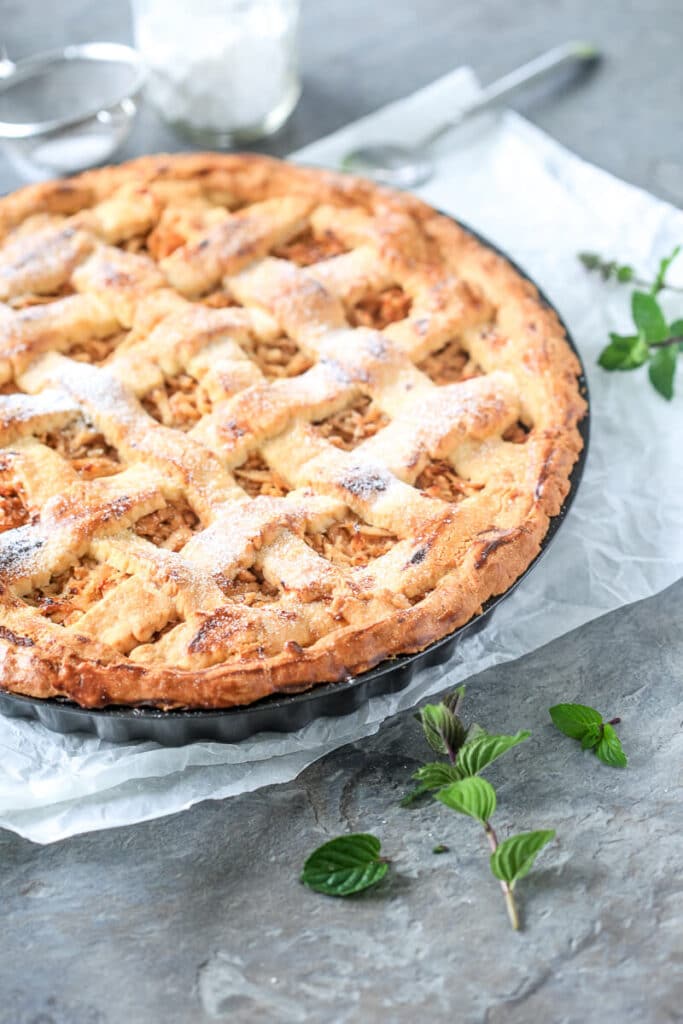 By the way, did you check out new feature post – October favorites? You can read more personal stuff, including our favorite recipes and a sneak peek into our recent holidays to Tenerife 🙂 Check it out here >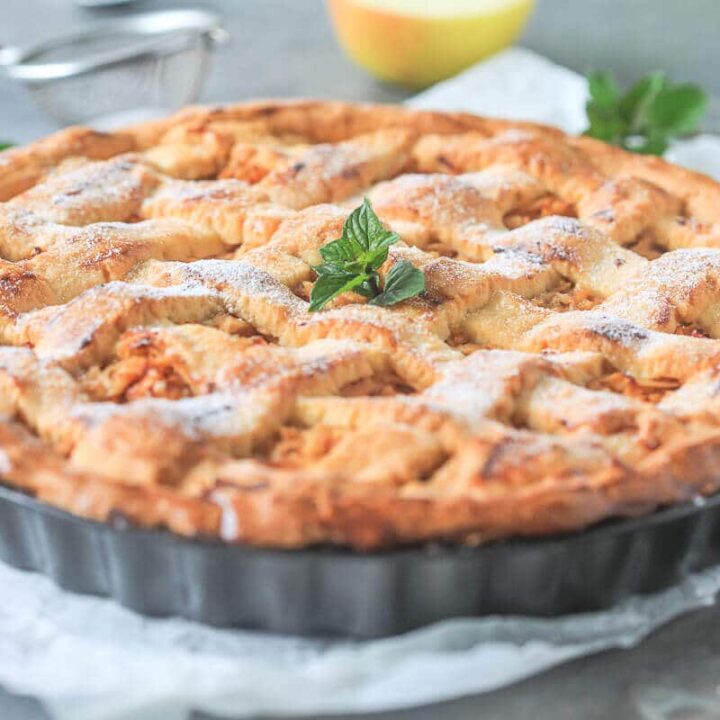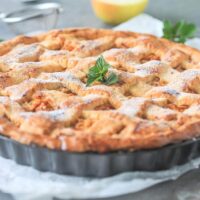 Homemade Apple Pie
Total Time:
1 hour
5 minutes
This apple pie is rustic and classic, just like grandma used to make it. Just like a good homemade pie is supposed to be.
Ingredients
400 g all-purpose flour
200 g butter
100 g powdered sugar
pinch of salt
1 tsp baking powder
1 vanilin sugar
2 egg yolks
2 tbsp sourcream
1 kg sour apples
2 tbsp sugar
1 tsp rum
cinnamon
50 g butter
2 tbs breadcrumbs
Instructions
For the pie dough: Add butter to a large bowl and knead with your hands until it softens. Add flour, baking powder, a pinch of salt, sugar and vanilin sugar. Knead everything into a loose dough with lumps, then add egg yolks and sourcream. Combine quickly into a firm ball of dough, cover with cling film and refrigerate for at last half an hour.
In the meantime prepare the filling: Peel apples and grate them (or cut into small pieces). Add sugar, rum, cinnamon and butter-toasted breadcrumbs, and combine thoroughly. If your apples are too juicy, squeeze out some of the moisture.
Preheat oven to 180°C. Coat pie pan with butter or oil.
Take the dough out of the fridge and divide: one cut 2/3 (for the bottom), one 1/3 (for the top). Roll out the larger dough cut into a flat circle, about 0,5 cm thick. Do that on a large towel, dusted with flour, or on cling film. Then, carefully place the dough on top of the pie pan and push the dough down and into the sides to form the crust.
Cover the dough with apple filling generously.
Take the remaining 1/3 dough, roll it out into a circle, then with a knife cut into strips about 1 cm in size. Place the dough strips on top of the apple filling in a net pattern. Rub the dough net with sourcream and then place in the preheated oven to bake for about 45 minutes.
When baked, remove from oven and let it cool completely before serving. Optionally, dust with powdered sugar.
Nutrition Information:
Amount Per Serving:
Calories:

554.74
Total Fat:

27.04g
Saturated Fat:

16.51g
Sodium:

101.74mg
Carbohydrates:

73.61g
Fiber:

4.79g
Sugar:

29.17g
Protein:

6.54g
Like this recipe? Let us know in the comments below or on social media using #vibrantplate and tag us @vibrantplate.
You can connect with us on our Instagram and Facebook account or on Pinterest. Don't forget to sign up to our newsletter & stay up to date with our latest recipes 😉