Eggplant Tomato Caprese Stacks is a lovely low-carb and gluten-free vegetarian dinner, perfect for summer night entertaining!
Hope you're all having a wonderful Summer and enjoying your holidays! We are awaiting our own time off and in the meantime remembering the wonderful Italian holidays we had last year.
And this recipe is inspired by that holiday.
The real Italian Caprese salad is named for the island of Capri, where the salad originates and is designed to resemble the Italian flag: red tomato, white mozzarella, and green fresh basil. On the side note, we actually visited Capri while visiting Italy, and if you can, go check it out! It's a lovely posh Italian island, well worth a day visit.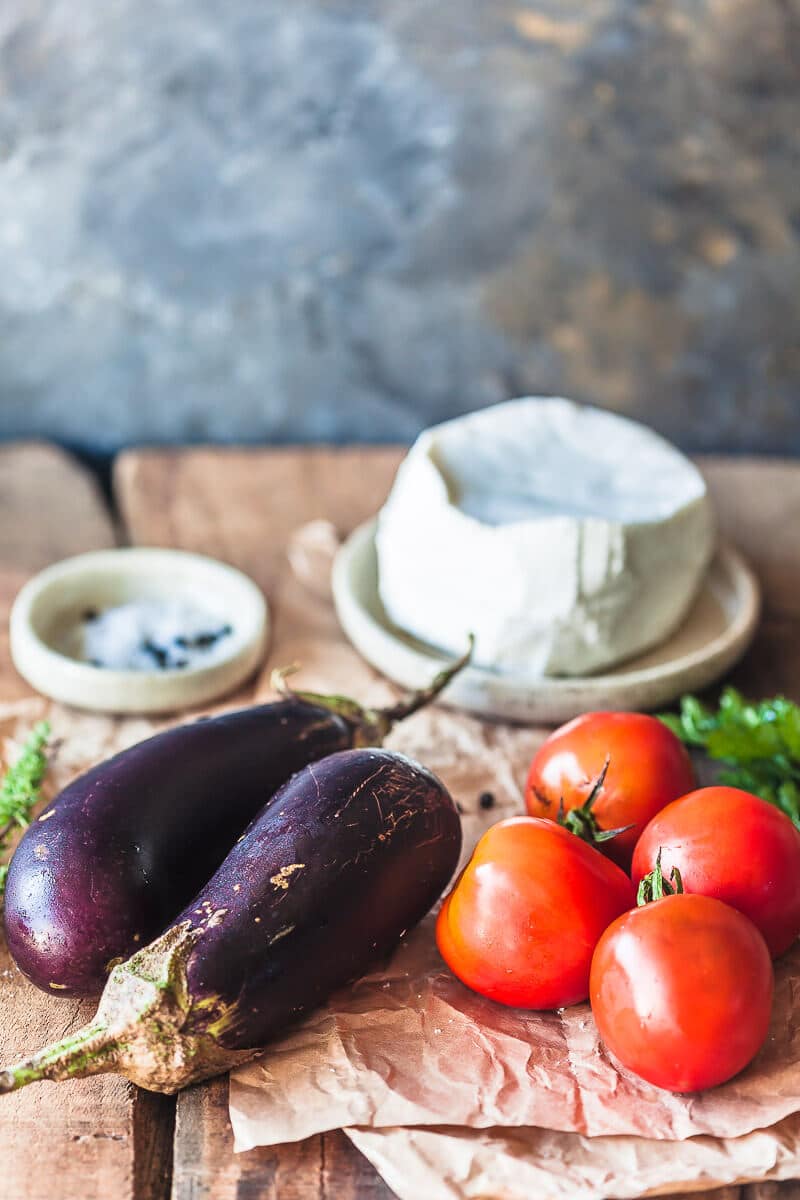 The Caprese salad is meant to be served as an antipasto (appetizer), but with a little imagination, we can easily adapt the salad to reflect our local climate and seasonal ingredients.
Our Eggplant Tomato Caprese Stacks are made with eggplants, tomatoes, and local goat cheese (produced by Kmetija Pustotnik), and is served in stacks that have been baked slightly for the cheese to melt. This is a simple and light vegetarian dinner, that can also be served as an appetizer or a side.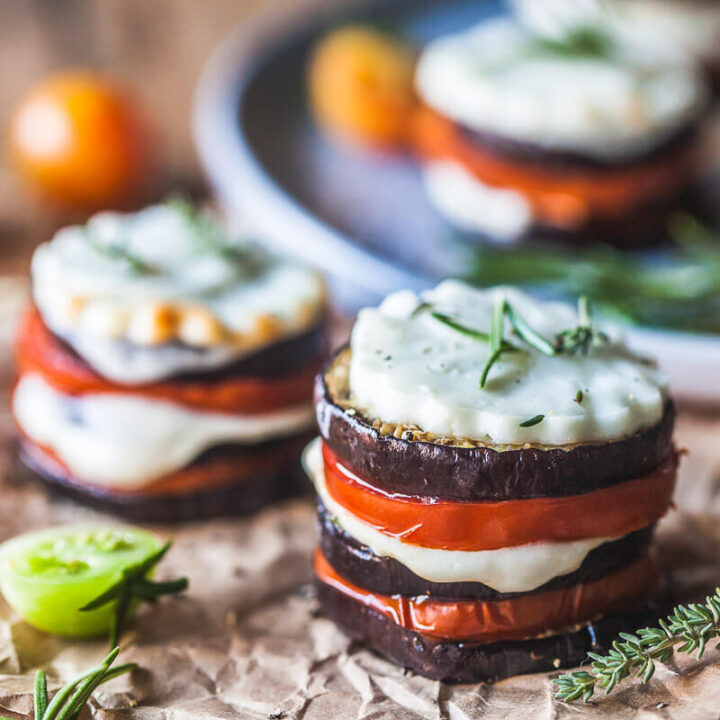 Eggplant Tomato Caprese Stacks
Eggplant Tomato Caprese Stacks is a lovely low-carb and gluten-free vegetarian dinner, perfect for summer night entertaining!
Ingredients
2 long eggplants
4-5 medium tomatoes
12-14 slices goat cheese
olive oil
salt, pepper
fresh herbs: basil, thyme, rosemary
Instructions
Wash and dry vegetables and herbs. Cut eggplants into thick slices, season with salt and let rest for about half an hour, for the eggplants to emit the bitter water.
Cut tomatoes in slices that in size resemble the eggplant slices. Cut goat cheese in round slices with the help of a cookie cutter.
Place a pan on stove and heat to medium. Add a teaspoon of olive oil. Pat-dry eggplant slices with paper towels to remove bitter water. Then, place eggplant slices into the heated pan and fry on medium for about 5 minutes on both sides, until the eggplants soften and turn lightly brown. Remove from pan and set aside. Continue frying eggplant until all slices are used.
Preheat oven to 160°C / 320°F. Place baking paper in a small baking tray.
Assemble your eggplant caprese stacks. Place a fried eggplant slice on baking tray. Top with a tomato slice. Then put on another eggplant slice and top with a goat cheese slice. Add on top a tomato slice, an eggplant slice and finish with a goat cheese slice. You can assemble the stacks any way you want, just make sure to start with an eggplant slice, that will help to better keep the stack form. Sprinkle some chopped fresh herbs on top of your stack and then repeat until you've used up your ingredients.
Place baking tray with eggplant caprese stacks in your preheated oven and bake 10-15 minutes at 160° / 320°F until the goat cheese melts slightly and turn golden-brown on the edges.
Remove baking tray from oven and carefully place eggplant stacks on plates and serve.
Notes
For the stacks to keep their form, stick a thyme or rosemary twig straight into the stack. The herbs will also add a flavorful aroma!
Nutrition Information:
Amount Per Serving:
Calories:

171.4
Total Fat:

11.1g
Saturated Fat:

5g
Sodium:

105.1mg
Carbohydrates:

13g
Fiber:

3.7g
Sugar:

6g
Protein:

7g
More vegetarian recipe ideas here >
This recipe is sponsored by Kmetija Pustotnik. They offer a great selection of high-quality dairy products, such as delicious homemade butter, prized aged cheeses, and goat's milk products. Be sure to check it out!
You can connect with us on our Instagram and Facebook or on Pinterest. We share many behind-the-scenes photos and step-by-step recipes in our Instagram Stories, so be sure to check it out!
If you like this recipe, you can let us know in the comments below or on social media using #vibrantplate and tag us @vibrantplate. We're always happy to read your feedback and LOVE seeing your take on our recipes.