This is a basic recipe to make a delicious vegan chia pudding. 5 minute prep time, perfect for meal-prep!
Are you on the chia pudding wagon already?
We've been making chia puddings for months now. It's such an easy, tasty and healthy breakfast that literally takes 5 minutes to make, that it only seems logical to incorporate it into our weekly meal plan.
We especially like how versatile chia seeds are to use. Chia pudding, sure. But try also adding them to smoothies, fruit-infused water, bread, porridge and plenty more for an instant nutrient boost!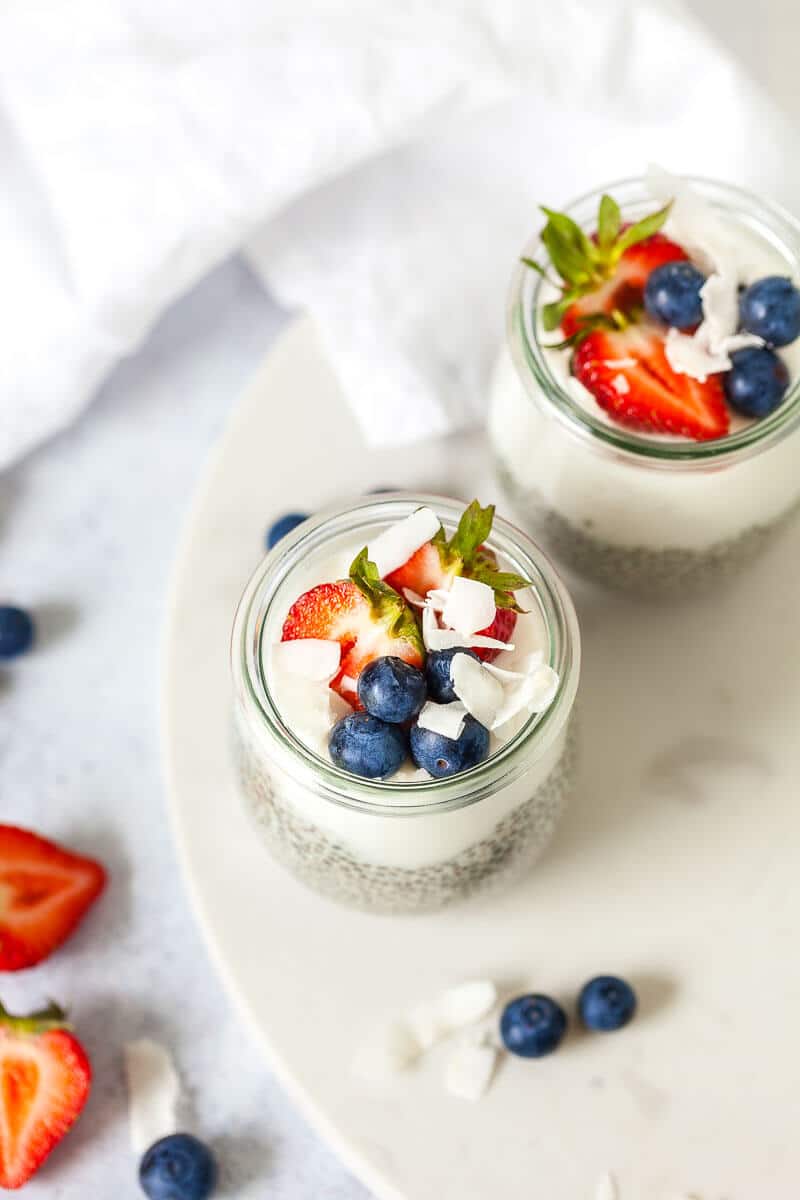 How to make a Basic Vegan Chia Pudding
After sharing more "elaborated" versions of this pudding, we're now sharing a Basic Vegan Chia Pudding Recipe. This can be your go-to for those days when you do not feel like making an effort.
Because this Basic Vegan Chia Pudding takes like 5 minutes or less to make, searching for a jar included.
All you need is chia seeds and some kind of milk (we recommend plant-based). All the rest is optional. So you start by adding 3 tablespoons of chia seeds into a container, or a jar, or a bowl. Add about 1 cup of plant-based milk. Stir. Close jar and let sit for about 2 hours (or refrigerate overnight). And that's it!
But, if you do feel like giving it a light twist, do as we recommend in the recipe: add a drop of vanilla extract in the milk, stir, refrigerate… and then top with some delicious coconut yogurt, berries and coconut flakes for extra flair!
Why Chia Pudding is good for you
Chia pudding is made with chia seeds, which have several health benefits. The tiny seeds have a long history in human consumption, but only recently have had their moment as a superfood in food trends.
Although small in size, these seeds pack a ton of healthy nutrients: fiber, calcium, manganese, magnesium, protein which are essential for bone health. They also contain decent amounts of zinc, vitamin B3 (niacin), potassium, vitamin B1 (thiamine) and vitamin B2.
Chia seeds are also high in quality protein, compared to other plant sources. Their protein and fiber content may aid weight loss.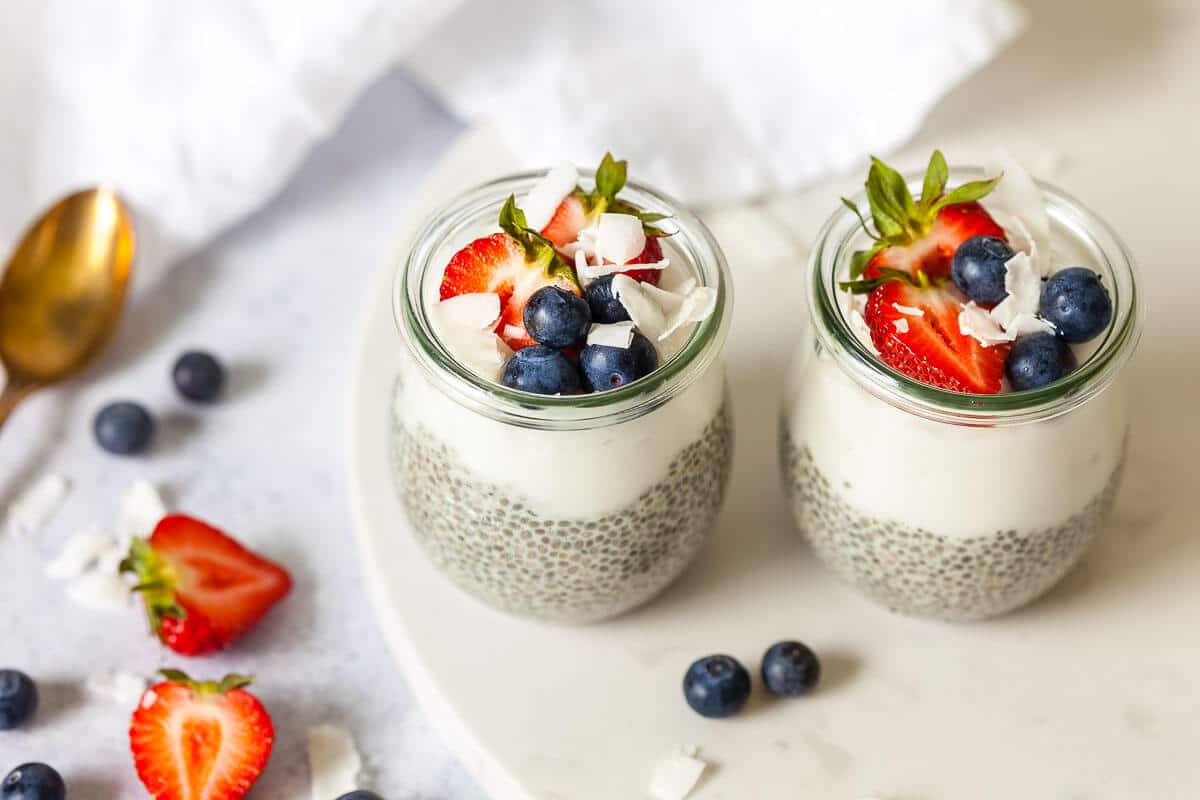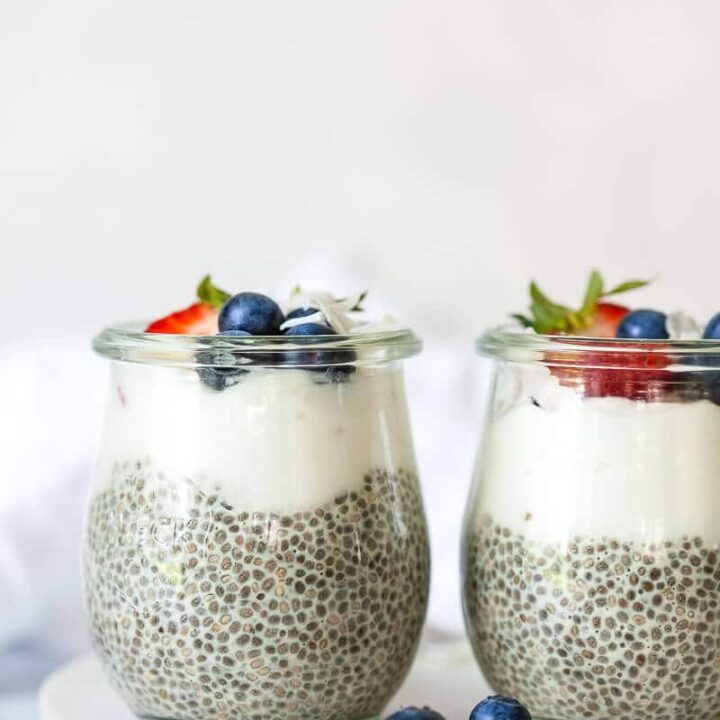 Basic Vegan Chia Pudding Recipe
Total Time:
2 hours
5 minutes
A delicious Basic Vegan Chia Pudding Recipe. 5 minute prep time, perfect for meal-prep!
Ingredients
3 tbs chia seeds
1 cup soy milk (or other plant-based milk)
1 tsp vanilla extract
6 tbsp coconut yogurt
1 handful berries
1 tsp coconut flakes
Instructions
Place chia seeds in a large jar, add plant-based milk and a teaspoon of vanilla extract. Stir repeatedly for about a minute for the seeds to combine with the milk, then close the jar with a lid and refrigerate for at least 2 hours or overnight.
In the morning, transfer the chia pudding into two smaller jars or glasses, top with coconut yogurt and some berries. Sprinkle coconut flakes on top.
Serve or keep in fridge for up to 3 days.
Nutrition Information:
Yield:

2
Serving Size:

1
Amount Per Serving:
Calories:

201
Total Fat:

8g
Saturated Fat:

1g
Trans Fat:

0g
Unsaturated Fat:

5g
Cholesterol:

1mg
Sodium:

90mg
Carbohydrates:

23g
Fiber:

8g
Sugar:

13g
Protein:

9g
Nutrition data is automatically calculated using Nutritionix and may not be accurate.
This recipe is sponsored by Hofer Slovenija (you may also know it as Aldi). It is our favorite grocery store and we love their products. If you are from Slovenia, do head over to Hofer's Instagram account for even more delicious recipes!
If you like this recipe, you can let us know in the comments below or on social media using #vibrantplate and tag us @vibrantplate. We're always happy to read your feedback and LOVE seeing your take on our recipes.
Don't forget to subscribe to our Newsletter – you'll be notified when we post new recipes, plus you get a free gift from us 💚 A 15-recipe free e-book with our most beloved recipes!
You can connect with us on our Instagram, Facebook or on Pinterest. We share many behind-the-scenes photos and step-by-step recipes in our Instagram Stories, so be sure to check it out!