Baked Peanut Butter Banana Donuts are Vegan, glazed with Dark Chocolate and made in just 30 minutes using simple healthy ingredients.
We can't believe is the last day of 2019 already. I mean, time flew by this year. As we reflect back on days past and things we accomplished, we can't help but feeling an immense sense of gratitude. To say we are blessed is an understatement.
We are grateful for the times we live in, for the opportunity to share our passion with you all. To be able to connect with a click or tap of the finger with people all over the world.
And for the support we have received during those days when things were harder. Sometimes being online, sharing and constantly creating is exhausting. We have big plans for the weeks and months to come for this blog as well, but getting there and achieving our goals has been a bit bumpy. We still believe we can achieve anything we want if we put our minds to it, but have accepted the fact that it may take longer than previously thought.
We hope you bear with us and keep liking our recipes and content!
So to celebrate the end of a successful year (and decade), we share a new favorite recipe for Baked Peanut Butter Banana Donuts!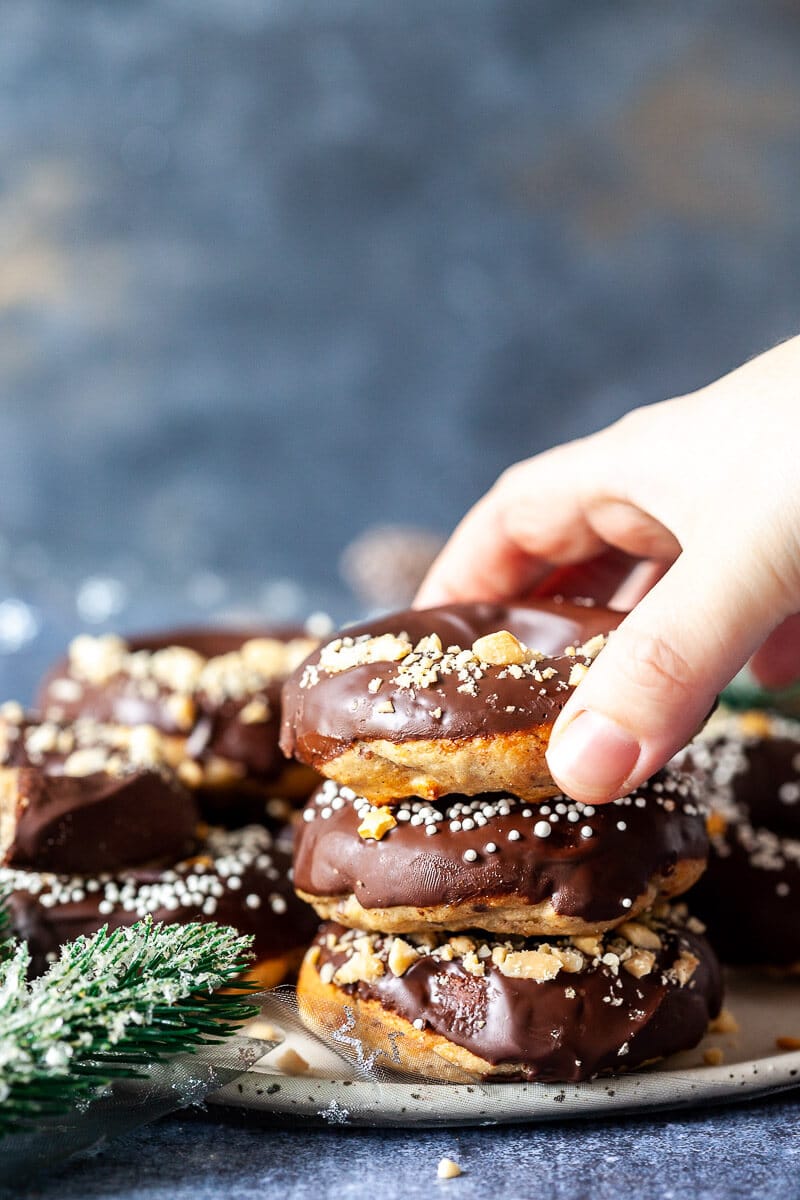 Since getting a donut pan, baking donuts has been really easy and we do prefer them to the old muffins. Donuts are just fun! Plus we bake them, not fry them, and use plenty of healthy ingredients in the dough, making them somewhat healthier than your regular fried donut.
How to make Baked Peanut Butter Banana Donuts
The whole recipe centers around overripe bananas. We all have them from time to time, and I'm always finding ways to use them up (like this banana bread or banana blender pancakes). Mash bananas and mix them with some peanut butter, maple syrup, and rice milk. Then, add in the dried ingredients: we used almond flour, oat flour, roasted hazelnuts, plain flour, baking powder, and salt. You can also use other types of nuts if you are out of roasted hazelnuts, like almonds, pistachios or pecan nuts. Add the binder of soaked ground flaxseeds and combine them with the rest of the ingredients. Then, just pipe the dough in the baking tin and stick in preheated oven to bake! Once baked and cooled feel free to decorate as you wish – we chose a simple glaze of dark chocolate and a sprinkle of salted peanuts!
Are these donuts vegan?
Yes! These Peanut Butter Banana Donuts are vegan! There are no eggs, dairy or other animal derivates in the ingredients and you can safely make these donuts if you're allergic or following a plant-based diet. There is a flaxseed binder instead of the egg and plant-based milk instead of dairy. We chose rice milk for this recipe but other plant-based kinds of milk will work just as well!
Are these donuts gluten-free?
No, these donuts are not gluten-free as plain flour is used in the recipe.
How long will the donuts keep?
You can store the baked donuts in an airtight container on the counter or in the fridge for up to 4 days. So you can have them as a snack for the week and you can easily meal-prep them in advance! They are best consumed on days 1 and 2, though.
With that, we thank you for an amazing 2019 and wish you all the best in the New Year 2020!
Lots of love,
Kristina, Mitja & Gingi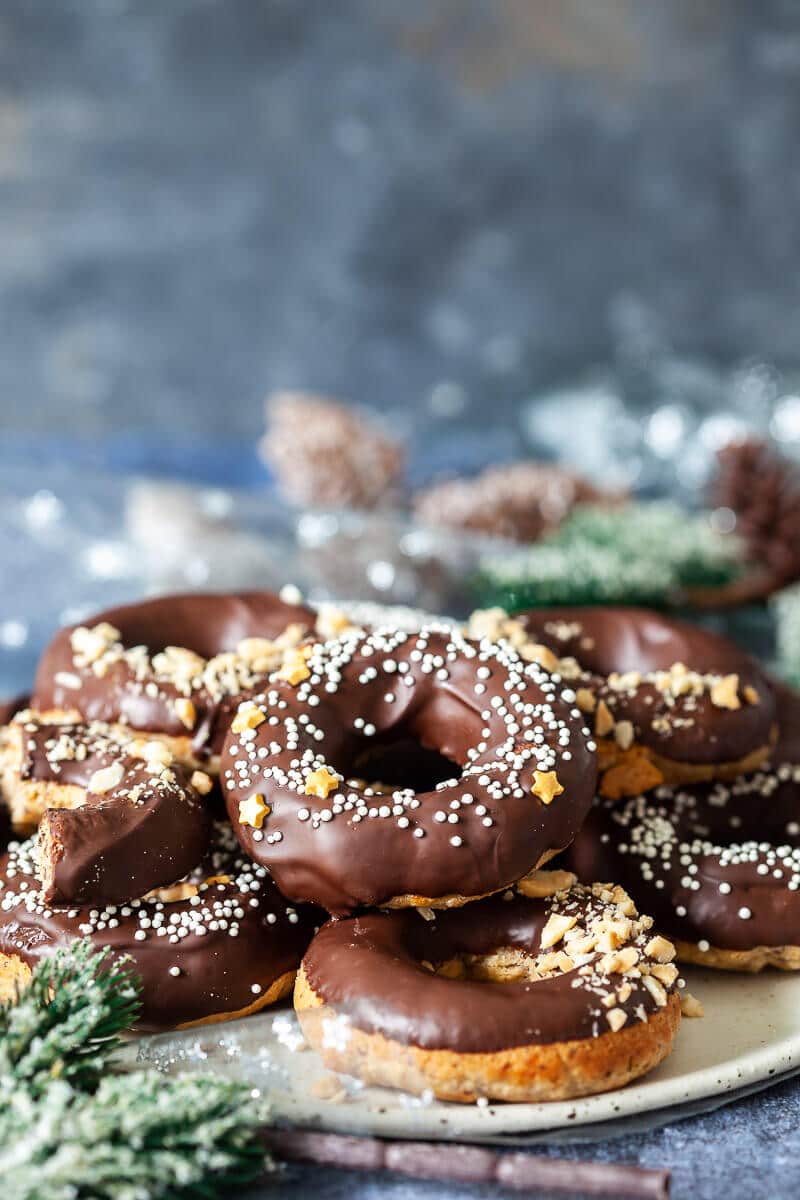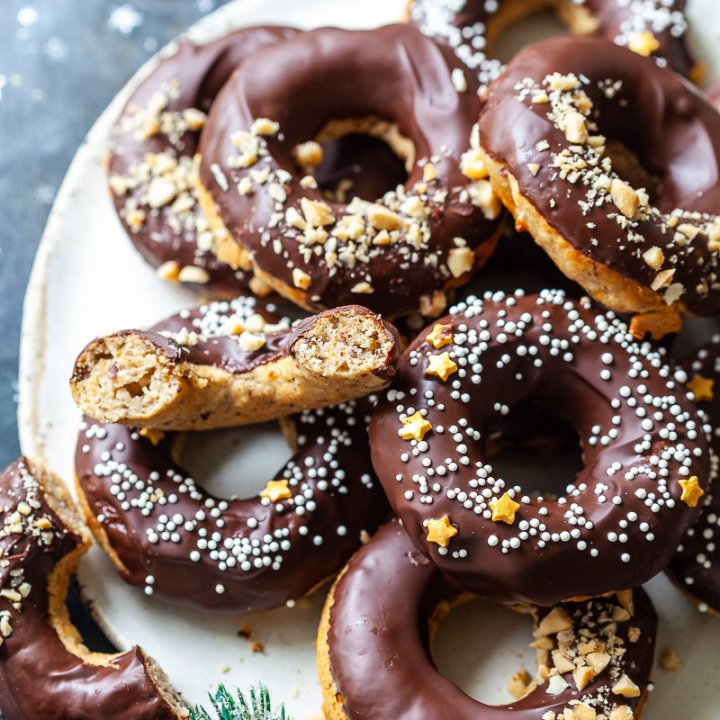 Baked Peanut Butter Banana Donuts
Additional Time:
15 minutes
Baked Peanut Butter Banana Donuts are Vegan, glazed with Dark Chocolate and made in just 30 minutes using simple healthy ingredients.
Ingredients
Wet ingredients:
3 tbsp flaxseeds, ground
6 tbsp water
2 bananas, ripe
3 tbsp peanut butter
2 tbsp maple syrup
1/2 cup rice milk
Dry ingredients:
1/2 cup almond flour
1/2 cup oat flour
1/2 cup roasted hazelnuts, finely chopped
1 cup flour
1 tsp baking powder
1 pinch of salt
Decoration:
1 cup dark chocolate chips
3 tsp salted peanuts
Instructions
Preheat oven to 160°C / 320°F. Lightly grease a donut baking tin with oil.
Mix ground flaxseed with water and let soak for 5 minutes.
Mash bananas with a fork until smooth. Add peanut butter, maple syrup, and rice milk and mix well to combine.
In a separate bowl mix dry ingredients: almond flour, oat flour, chopped roasted hazelnuts, flour, baking powder, and salt.
Add dry ingredients to wet ingredients. Fold in soaked flaxseeds and mix until just combined (don't overmix).
Pour the dough into a dressing bag and fill in the donut baking tin.
Place in preheated oven and bake for 15 minutes at 160°C / 320°F. Once baked, remove from oven, let cool for a couple of minutes, then turn over a cooling rack and let cool completely.
Once cooled, decorate your donuts with a glaze of dark chocolate: melt dark chocolate chips over a hot water bath. Once the chocolate is melted and smooth, deep the donuts in the chocolate and then return on the cooling rack. Sprinkle with chopped salted peanuts or other decorations of your choice and let cool until the chocolate becomes firm.
Store in an airtight container for up to 4 days.
Nutrition Information:
Yield:

12
Serving Size:

1
Amount Per Serving:
Calories:

233
Total Fat:

11g
Saturated Fat:

3g
Trans Fat:

0g
Unsaturated Fat:

7g
Cholesterol:

1mg
Sodium:

83mg
Carbohydrates:

30g
Fiber:

3g
Sugar:

12g
Protein:

5g
Nutrition data is automatically calculated using Nutritionix and may not be accurate.
More donut recipes here!
This recipe is sponsored by Hofer Slovenija. If you are from Slovenia, do head over to Hofer's Instagram account for even more delicious recipes!
If you like this recipe, you can let us know in the comments below or on social media using #vibrantplate and tag us @vibrantplate. We're always happy to read your feedback and LOVE seeing your take on our recipes.
Don't forget to subscribe to our Newsletter – you'll be notified when we post new recipes, plus you get a free gift from us 💚 A 15-recipe free e-book with our most beloved recipes!
You can connect with us on our Instagram, Facebook or on Pinterest. We share many behind-the-scenes photos and step-by-step recipes in our Instagram Stories, so be sure to check it out!