This vibrant Vegan Purple Cauliflower Salad is a delicious & easy vegan salad with Cauliflower, Broccoli, Beans and a drizzle of Citrus Vinaigrette.
If anyone else is – like us – already fed up with fattening fried foods (FFF), this cute little salad will be perfect for you! It's an easy cauliflower salad, that is actually tasty and pretty to look at!
I mean, just look at that purple cauliflower head!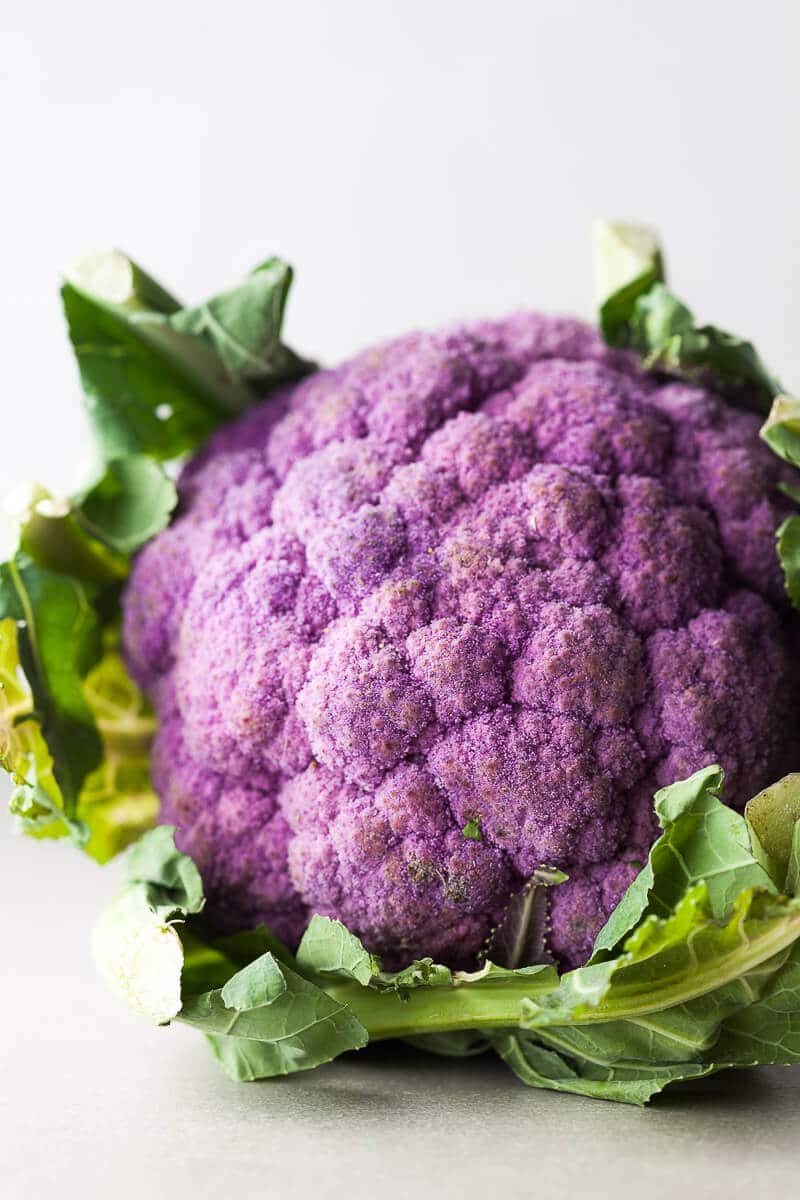 We got this purple cauliflower from our special Sicilian supplier whom we also buy oranges, lemons, and peanuts from every winter. He gets the produce straight from his native Sicily and only speaks Italian, but always sells the best oranges. And sometimes he also offers other fun items, like purple cauliflower or artichokes.
Purple cauliflower behaves a bit like purple cabbage when you cook it. Meaning, it always needs a bit of acid to keep the vibrant purple color. When you cook it or roast it, the color will fade into a blue-ish tint, but just add a bit of acid at the end to revive the lovely purple hues.
So when we got our oranges and this purple beauty, we knew we had to combine them in a delicious recipe.
This Vegan Purple Cauliflower Salad is topped with a citrus dressing, that ads acids and a bright taste to the vegetables. We mixed purple and white cauliflower, some broccoli, red kidney beans and slivered almonds, drizzled the citrus dressing over it, and topped it all with a few mint leaves, just because!
Give this Cauliflower Salad a go while the vegetable is still in season!
But don't worry, if you cannot find purple cauliflower, just use the regular white cauliflower instead.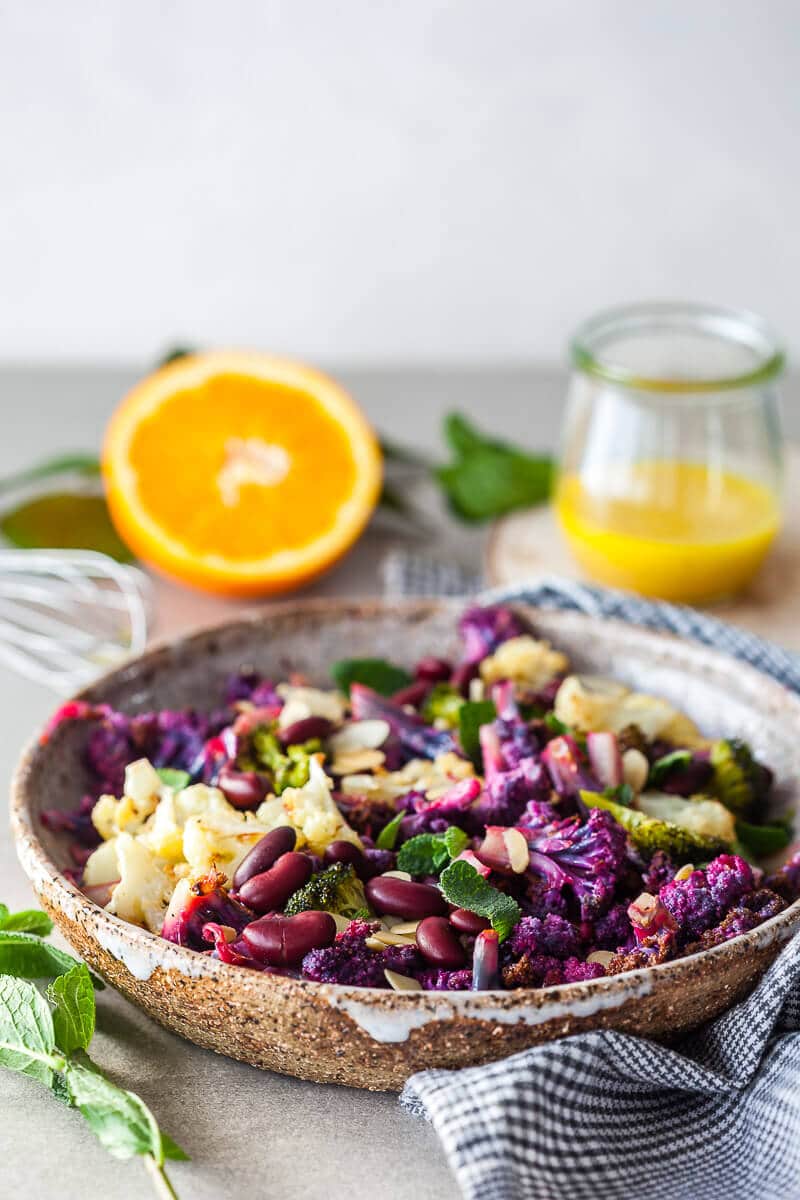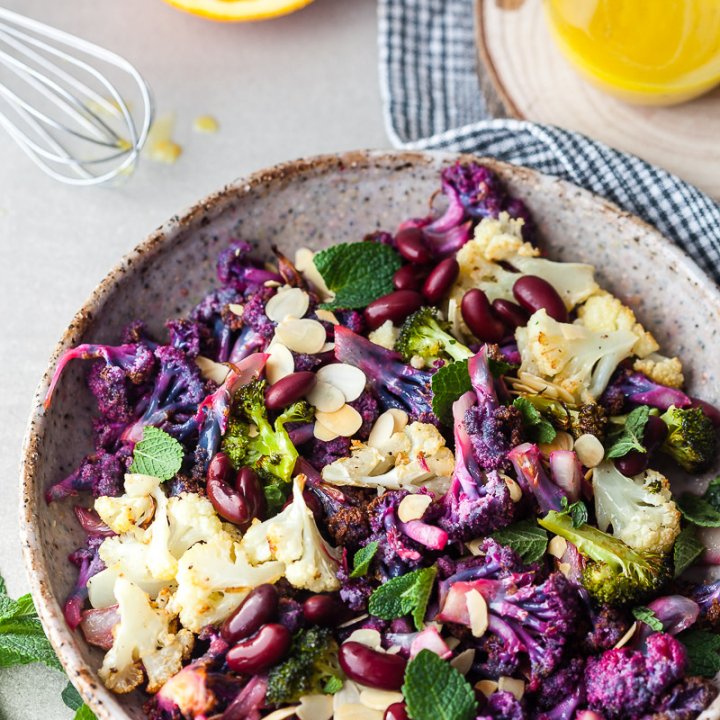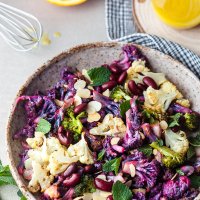 Vegan Purple Cauliflower Salad
This vibrant Vegan Purple Cauliflower Salad is a delicious & easy vegan salad with Cauliflower, Broccoli and Beans.
Ingredients
For the salad:
1 head purple cauliflower
1/4 head cauliflower
1/4 head broccoli
2 tbs canned red kidney beans
1 tbs slivered almonds
1 tbs olive oil
pinch of salt
dash of black pepper
For the dressing:
1/2 orange, juice
1 lemon, juice
1/2 orange, zest
2 tbs olive oil
pinch of salt
dash of black pepper
Instructions
Preheat oven to 160°C / 320°F
Cut cauliflower and broccoli into florets and add them to a baking tray. Drizzle the veggies with olive oil, season with salt and pepper and place into preheated oven to roast for about 15 minutes. Stir the vegetables and roast for another 5-10 minutes until fork-tender and golden brown. Remove from oven and set aside to cool.
Prepare the dressing: add orange juice, lemon juice, orange zest, olive oil, salt and pepper into a jar, cover with a lid and give it a good shake until it combines.
Drizzle the dressing over the roasted vegetables and toss around to combine. The acid in the dressing will turn the purple cauliflower back to a vibrant color.
In a pan, dry-roast slivered almonds and add to the vegetables.
Serve the salad with red kidney beans and a few mint leaves.
Nutrition Information:
Yield:

4
Serving Size:

1
Amount Per Serving:
Calories:

162
Total Fat:

12g
Saturated Fat:

2g
Trans Fat:

0g
Unsaturated Fat:

10g
Cholesterol:

0mg
Sodium:

95mg
Carbohydrates:

13g
Fiber:

5g
Sugar:

6g
Protein:

4g
Nutrition data is automatically calculated using Nutritionix and may not be accurate.
If you like this recipe, let us know in the comments below or on social media using #vibrantplate and tag us @vibrantplate. We're always happy to read your feedback and LOVE seeing your take on our recipes.
You can connect with us on our Instagram, Facebook or on Pinterest. We share many behind-the-scenes photos and step-by-step recipes in our Instagram Stories, so be sure to check it out!
Also, don't forget to subscribe to our Newsletter – you'll be notified when we post new recipes, plus you get a free gift from us 💚 A 15-recipe free e-book with our most beloved recipes!