A delicious Vegan Coconut Panna Cotta Recipe with Strawberry Sauce that is super easy to make in minutes and tastes amazing!
We are getting ready for the longest night of the year and our New Year's Eve dessert this year will be this easy and delicious Vegan Coconut Panna Cotta!
Making this panna cotta is super simple and easy! There are just 3 steps:
cook the panna cotta ingredients
chill
make the strawberry sauce to serve!
And that's all! You can make this in 10 minutes prep-time, then place to chill it for a couple of hours and be ready to serve for your new year's eve dinner.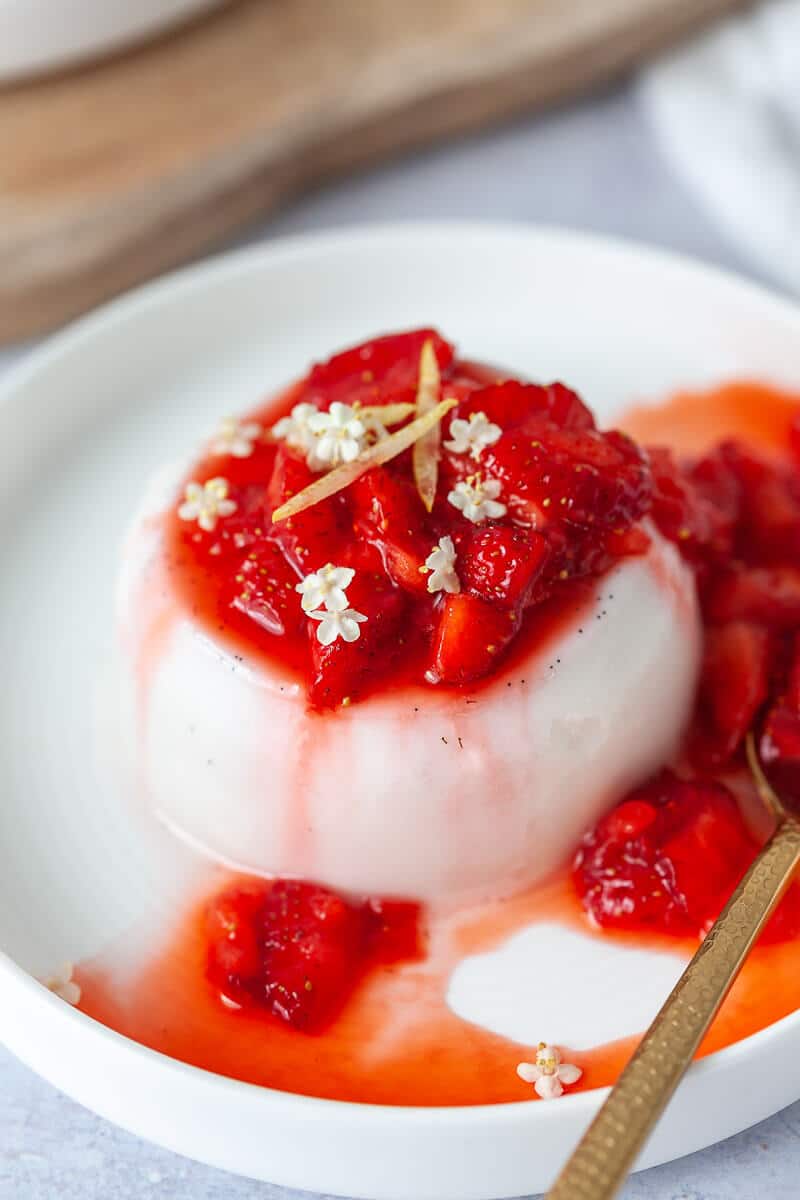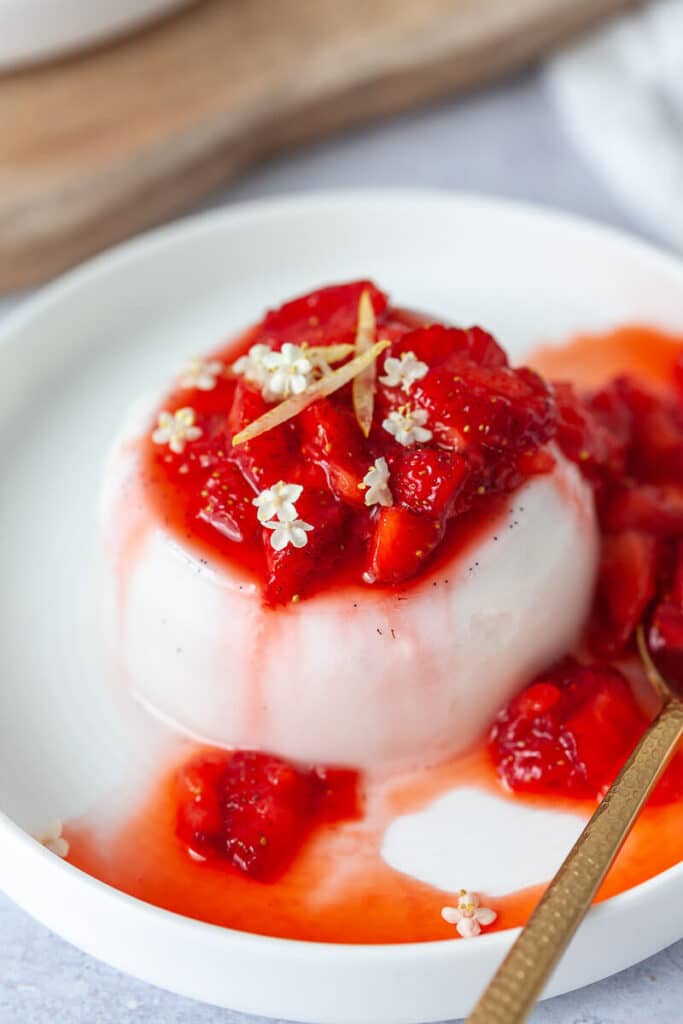 How to make the vegan coconut panna cotta?
To make this coconut panna cotta, add coconut milk, vanilla paste, sugar, and agar agar to a saucepan.
Slowly bring to a simmer while whisking to dissolve the ingredients, then let cook on low (just a light simmer) for about 3 minutes. Remove from heat and pour into prepared jars or molds.
Let cool down slightly on your countertop, then place in the fridge to chill (overnight is best).
If your panna cotta starts to separate while chilling (you can see it as a lighter cream in the bottom, and a thicker cream on the top of the jars), just give it a quick stir about 15 minutes into the chilling.
How to make the strawberry sauce:
To make the strawberry sauce just clean and dice your fresh strawberries, mix with icing sugar and some lemon peel and then mash with a fork. Let rest for 10 minutes, this will make the strawberries release their juice.
You can also use frozen strawberries, that you thaw beforehand. If using frozen, we recommend adding the ingredients to a saucepan and let bring to a light simmer for a minute or two, then cool down.
How to serve the coconut panna cotta:
When you are ready to serve, take the panna cotta out of the fridge. If using wide jars or silicone molds, you can top it over a serving dish so the panna cotta slides out of the jar. Then, drizzle some strawberry sauce on top to serve.
You can also serve the panna cotta straight in the jars, just drizzle the strawberry sauce on top.
How do I store this panna cotta:
This Vegan Coconut Panna Cotta will keep refrigerated for up to 5 days. Just make sure to store it air-tight. The sauce will keep up to 3 days, so maybe make a fresh batch if you'll be storing the panna cotta longer.
Substitutions:
If you are not vegan, you can use gelatin to thicken your panna cotta.
Instead of strawberries, you can use other berries as well, fresh or frozen! Try it with a blueberry, raspberry, or blackberry sauce.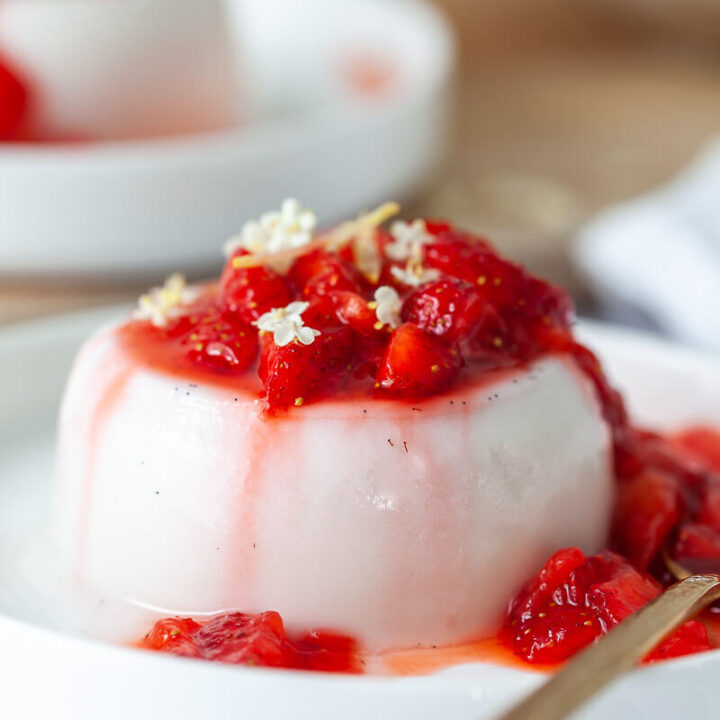 Vegan Coconut Panna Cotta with Strawberry Sauce
A delicious Vegan Coconut Panna Cotta Recipe with Strawberry Sauce that is super easy to make in minutes and tastes amazing!
Ingredients
Panna cotta:
1 can coconut milk
2 tsp vanilla paste
2 tbsp sugar
1/2 tsp agar agar
Strawbery sauce:
1 cup strawberries (fresh or frozen)
1 tsp icing sugar
1 tsp lemon peel
Instructions
To a saucepan, add 1 can coconut milk, 2 tsp vanilla paste, 2 tbsp sugar, and 1/2 tsp agar agar.
Slowly bring to a boil, then reduce the heat and simmer for about 3 minutes while whisking, until the ingredients are completely dissolved and the milk starts to thicken, then remove from heat.
Pour the hot mixture into heat resistant jars or other molds and let cool down on the countertop.
When the cream starts to solidify, cover the jars, and transfer them into the fridge. Refrigerate for at least 3 hours, or overnight.
Prepare the strawberry sauce: Dice 1 cup strawberries (you can use fresh or frozen and thawed). Add 1 tsp icing sugar and 1/2 tsp lemon peel. Mash with a fork into a puree. Let rest 10 minutes so the strawberries release their juice.
Remove the panna cotta from the fridge for serving and top them onto small dishes (you can also serve straight in the jars). Top with strawberry sauce and some more lemon peel and serve.
Nutrition Information:
Yield:

4
Serving Size:

1
Amount Per Serving:
Calories:

242
Total Fat:

21g
Saturated Fat:

19g
Trans Fat:

0g
Unsaturated Fat:

1g
Cholesterol:

0mg
Sodium:

14mg
Carbohydrates:

13g
Fiber:

1g
Sugar:

9g
Protein:

2g
Nutrition data is automatically calculated using Nutritionix and may not be accurate.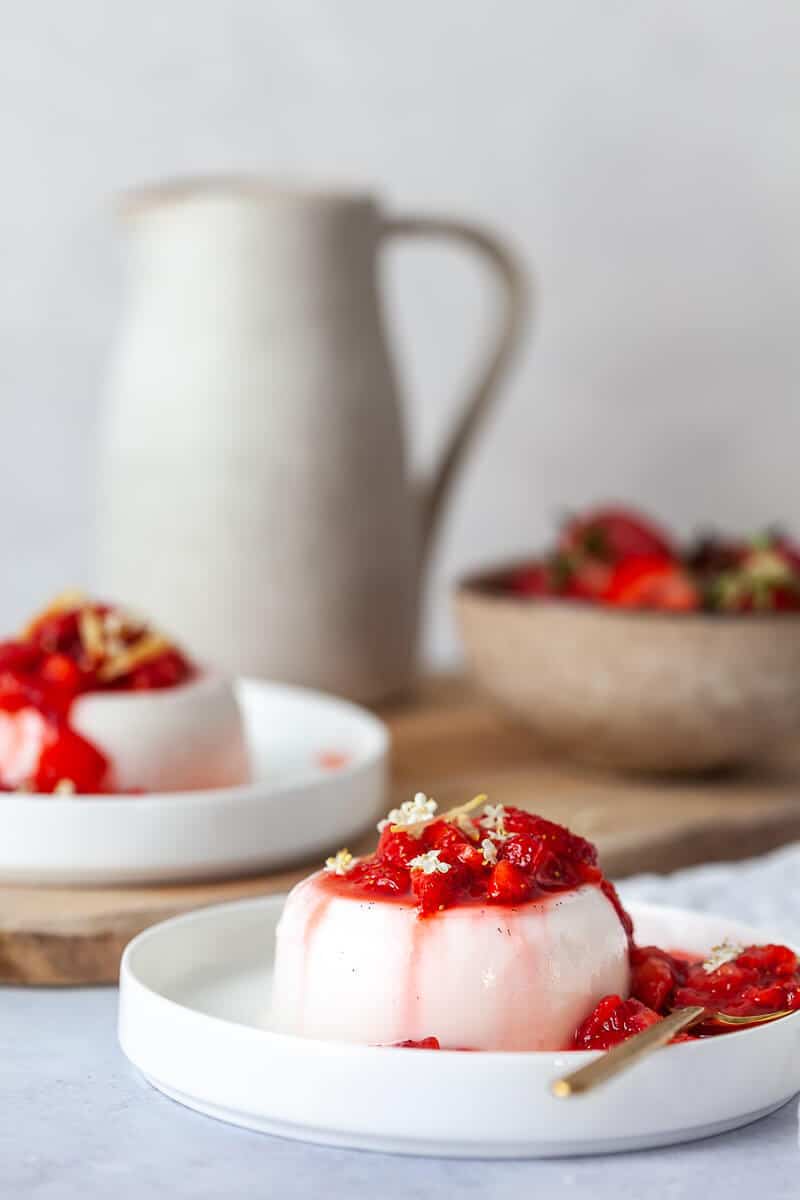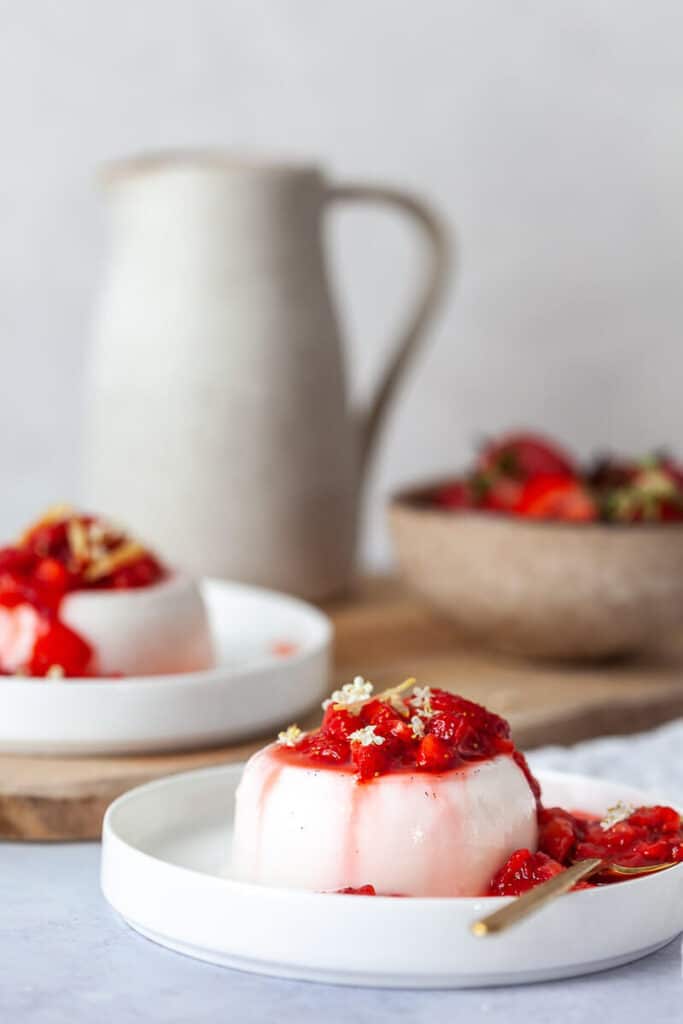 This recipe is brought to you by Hofer Slovenija.
Find more dessert recipes here.
Did you make this recipe? Let us know in the comments below or on social media by using #vibrantplate and tag us @vibrantplate. We're always happy to read your feedback and LOVE seeing your take on our recipes.
Don't forget to connect with us on Instagram, Facebook, or Pinterest. We share many behind-the-scenes photos and step-by-step recipes in our Instagram Stories, so be sure to check it out!