Homemade pasta? This Smoked Ricotta Ravioli in Sage Butter Sauce is a breeze to make, vegetarian and delicious!
Are you excited for Christmas yet? We sure are! And although we don't have any real plans for the upcoming holidays yet, aside from visiting family, we do intend to enjoy a couple of days off. But, if you are a foodie like we are, you are probably already thinking menus. And might we just say, there is nothing more comforting than homemade pasta, like these pretty ravioli.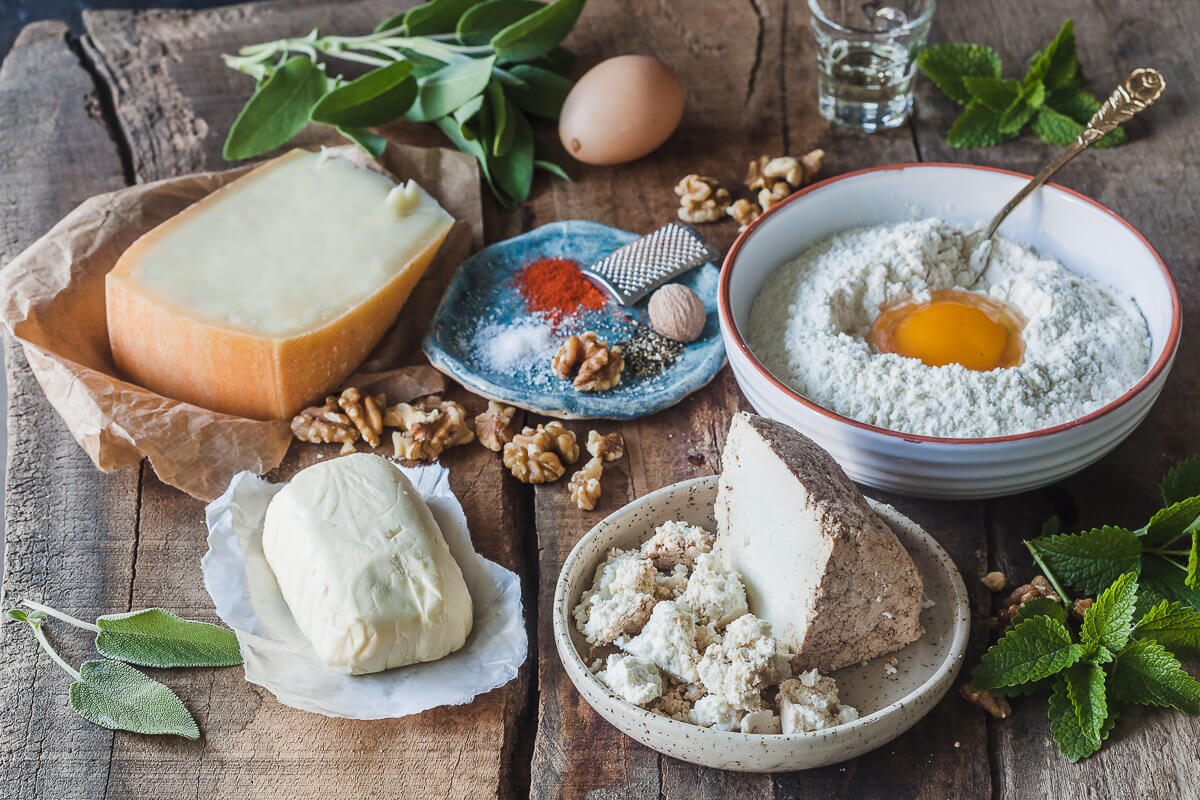 But if you believe homemade pasta takes too much work or time to make, we humbly disagree. Cook smart and use a simple old-fashioned pasta maker that will help you roll the dough out in no time at all. Then, use a glass or cookie cutter to cut out round ravioli shapes and fill with a simple and quick smoked sheep ricotta filling. These Smoked Ricotta Ravioli in Sage Butter Sauce take only 4 minutes to cook and they are ready to be tossed in a delicious butter sauce with crispy sage. Shape any leftover pasta dough into noodles and let it dry, or freeze extra ravioli for another quick lunch.
A simple and delicious homemade pasta dish done in just half an hour!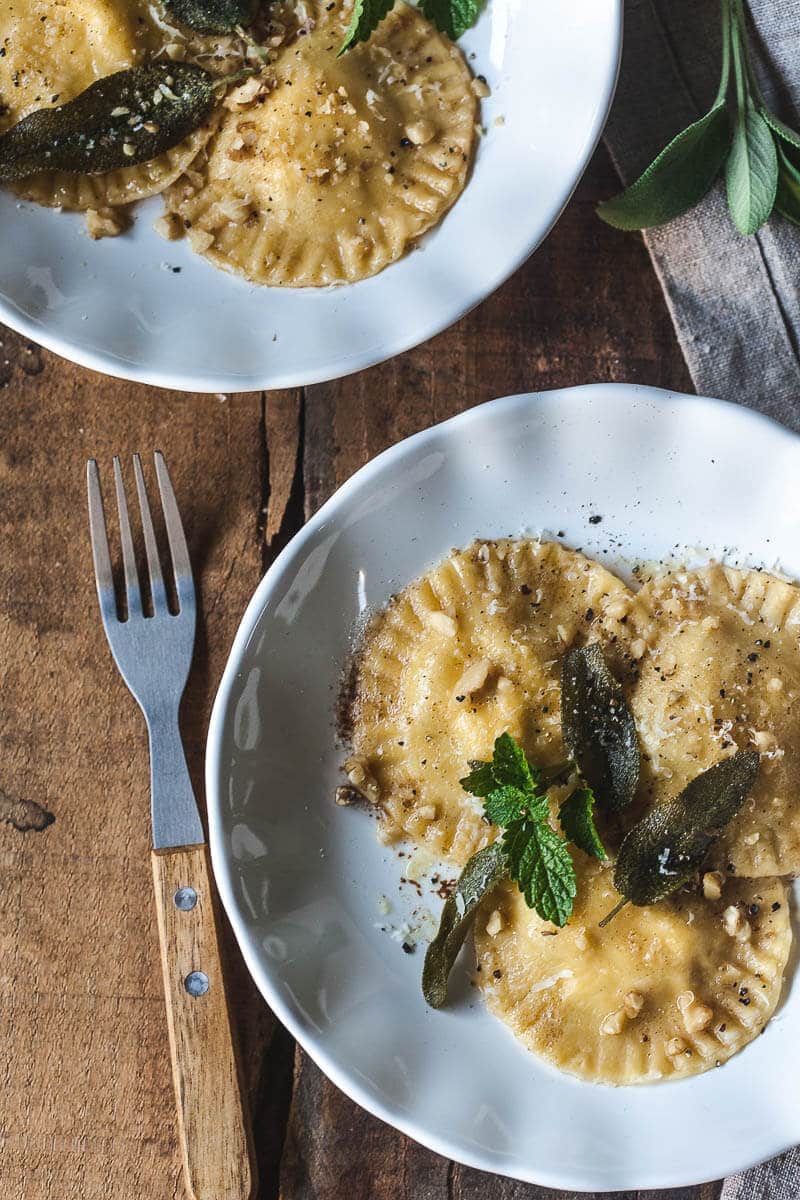 This recipe was created for Kmetija Pustotnik. They offer a great selection of high-quality dairy products, such as delicious homemade butter, prized aged cheeses, and goat's milk products. Be sure to check it out!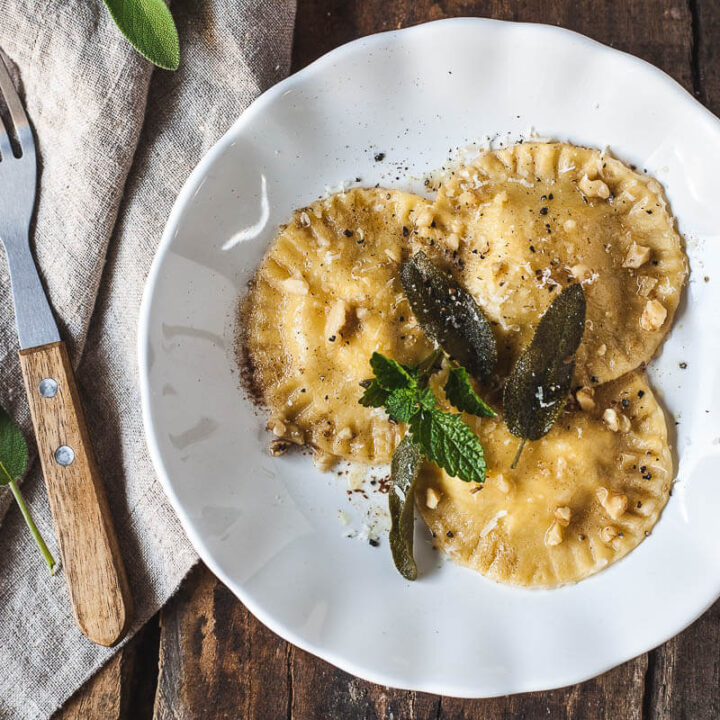 Smoked Ricotta Ravioli in Sage Butter Sauce
Homemade pasta? This Smoked Ricotta Ravioli in Sage Butter Sauce is a breeze to make, vegetarian and delicious!
Ingredients
PASTA DOUGH:
200 grams flour
2 eggs
1 ts oil
FILLING:
½ cup smoked sheep ricotta or other smoked ricotta
1 egg
2 ts sour cream
season to taste with salt, black pepper, red paprika, nutmeg
BUTTER SAUCE:
100 grams butter
sage leaves
a handful walnuts or pecans
grated aged Pustotnik cheese – can be swaped with parmesan
Instructions
For the pasta dough: put flour in a bowl, make a well in the middle and crack in two eggs. Scramble the eggs with your fingers or a fork, add a tea spoon of oil and start adding flour into the eggs. Continue mixing the eggs and flour until well combined, then knead the dough and shape into a ball. Cover the dough with a napkin or foil and let rest for half an hour.
While the dough is resting, prepare the ricotta filling: in a bowl, crumble smoked sheep ricotta (or other smoked ricotta) and mash with a fork. In a separate bowl, crack open an egg, whisk well and then add about half of it to the ricotta. Add a tea spoon or two of sour cream and season to taste with salt, black pepper, red paprika and grated nutmeg. Combine well and put in the fridge.
Wash and thoroughly dry sage leaves. Roughly chop walnuts. Grate aged cheese or Parmesan.
Prepare the ravioli. Divide pasta dough into 6 pieces and roll out thinly, to about 2 mm thick. You can do that by hand or use an old fashioned pasta maker. With the help of a large round cookie cutter or a glass (about 8-10 cm wide) cut circles out of the pasta dough until you've used up all the dough. You will need 2 dough circles for each ravioli.
Take the ricotta filling and assemble your ravioli. Place a small-ish lump of the filling in the middle of a dough circle. Moisten the edge of the ravioli by sticking your finger in a glass of water and then rubbing it all around the edge of the ravioli. Then, take another dough circle and place on top of the circle with the filling. Press the ravioli edge well with your fingers and then with a fork to form the pattern. Continue assembling raviolis until you've used up all the dough.
Place a large pan on the stove and add butter. Heat it up on medium until it melts and then cook some more until it browns. Then, add in sage leaves and fry them up until they change color and stiffen, about a minute or two. Turn them over and fry on the other side for a few more seconds. Remove sage leaves from the pan and place on a plate lined with paper towels.
Place a large pot of water on the stove and bring to a boil. Season with salt, then carefully add the ravioli, reduce heat and cook on low for about 4 minutes, until the raviolis increase in size and are cooked al dente. When the raviolis are cooked, use a skimmer to carefully remove them from the pot and drain, and then immediately add them to the butter sauce. Toss with butter and place on a plate. Add crispy sage leaves on top, sprinkle with chopped walnuts and add some grated aged cheese. If needed, season with some salt and pepper and serve hot.
Nutrition Information:
Amount Per Serving:
Calories:

1046.03
Total Fat:

68.22g
Saturated Fat:

34.62g
Sodium:

153.76mg
Carbohydrates:

81.07g
Fiber:

3.85g
Sugar:

1.22g
Protein:

28.15g
Get more pasta recipes here >
If you like this recipe, you can let us know in the comments below or on social media using #vibrantplate and tag us @vibrantplate. We're always happy to read your feedback!
You can connect with us on our Instagram and Facebook or on Pinterest. We share many behind-the-scenes photos in our Instagram Stories, so be sure to check it out!