Roasted Stuffed Eggplants with ground beef are a Gluten-Free, Low-Carb & Keto meal-prep lunch with big flavor. Perfect comfort food!
Do you like eggplant? It is certainly not our favorite vegetable, but only because we had little experience preparing it so far. We only have a couple of eggplant recipes on the blog this far.
Since our summer holidays in Sardegna, Italy, we have been converted. The chef of a little trattoria changed out minds when he served us a tray of the most delicious oven-roasted vegetables (yes, including eggplants) with a drizzle of olive oil. Let me tell you, it was heaven. The Italians do know a thing or two about good food, that's for sure.
So coming back home, we immediately decided to try and cook with eggplants more.
These Roasted Stuffed Eggplants are topped with a minced meat filling and a sprinkle of grated cheese, melted and baked to perfection.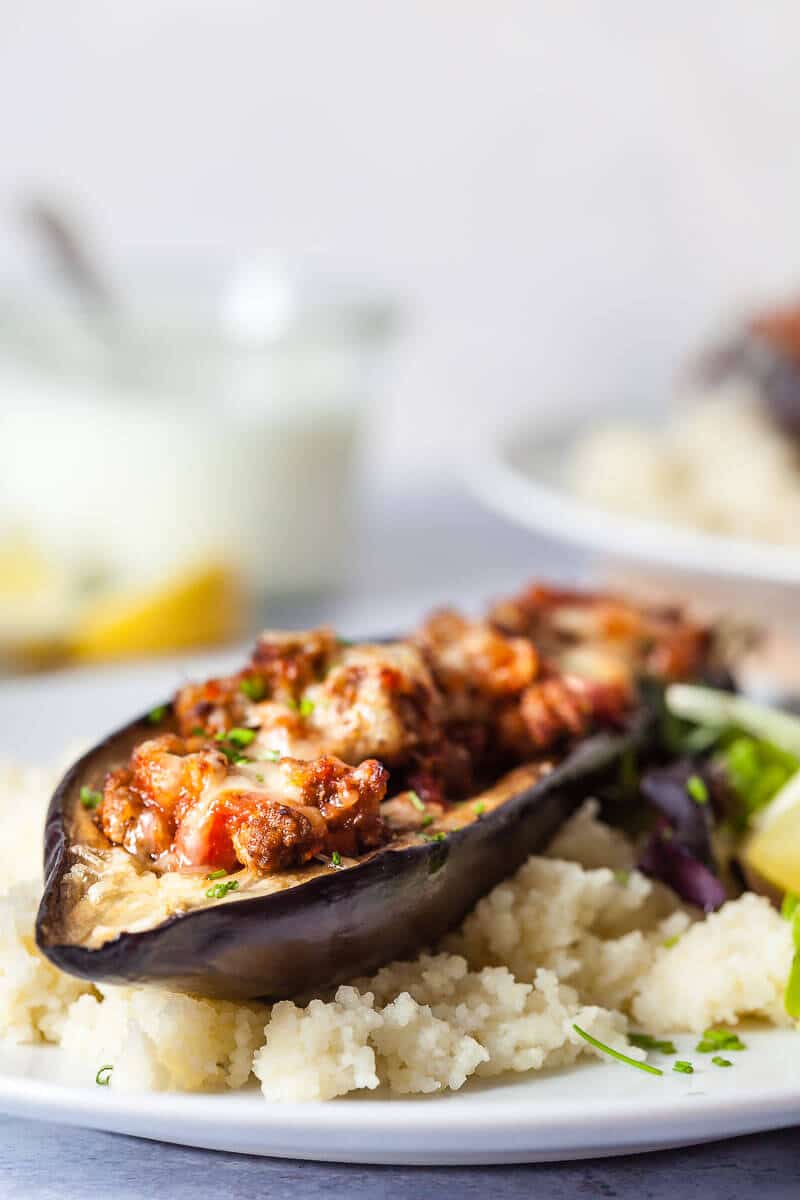 Now, we know we don't often share meat-based recipes on the blog, but sometimes a recipe is just worth it. Especially one that uses fresh and high-quality meat, such as this one.
These roasted stuffed eggplants will be the centerpiece of your table, be it for a Sunday lunch or a festive holiday family dinner.
Perhaps it will convert you to love eggplants, too.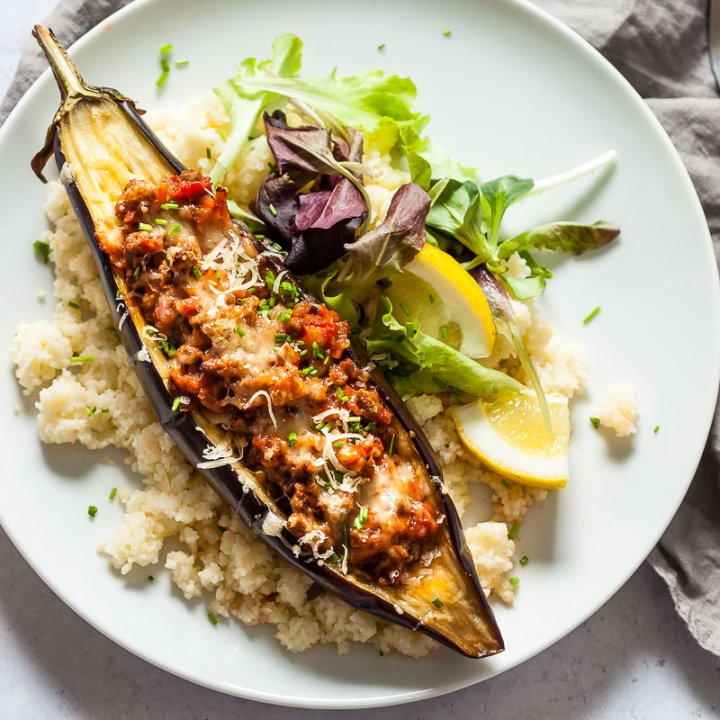 Roasted Stuffed Eggplants
Total Time:
1 hour
20 minutes
Roasted Stuffed Eggplants with ground beef are a Gluten-Free, Low-Carb & Keto meal-prep lunch with big flavor. Perfect comfort food!
Ingredients
4 eggplants
1 tbs olive oil
1 onion
1 carrot
1 small celery stem
2 cloves garlic
1 tbsp tomato paste
500 grams minced meat (mixed pork and beef, we used the brand Anton)
1 tbsp balsamic vinegar
400 grams diced tomatoes
water as needed
1 bay leaf
1 tsp oregano
pinch of salt
dash of black pepper
4 tbsp cheese, grated
1 tbsp chives, chopped
Instructions
Preheat oven to 180°C / 360°F.
Cut eggplants lengthwise, scoop out the meat to create boats. Season with salt and spread with some olive oil. Place eggplants on a baking tray covered with baking paper, cover with aluminum foil and place in the preheated oven.
Bake for about 30 minutes, or until eggplants soften. Bake uncovered for the last 10 minutes.
Chop the scooped-out eggplant meat. Finely chop onions, carrots, celery, and garlic.
Prepare the meat filling. Season the minced meat with salt and pepper and mix to combine.
In a large pan, heat a spoon of oil and toss in the minced meat and let cook, stirring occasionally, until brown and crispy. Once cooked, remove from the pan.
To the same pan, add chopped scooped out eggplant meat and sautee until soft. Remove from pan.
To the pan, add chopped onions, celery, and carrots and fry until the vegetables soften, and the onions turn translucent, or about 5 minutes. Then, add in chopped garlic and tomato paste, and stir it to combine.
To the pan, return the cooked minced meat and eggplant meat, add a bay leaf, a spoon of balsamic vinegar, season with salt and pepper, and pour in diced tomatoes and a splash of water.
Cook on low for about 20-30 minutes, stirring occasionally. Once done, remove the bay leaf.
Top the meat sauce on top of roasted eggplant boats. Sprinkle with grated cheese and return to the oven for another 5-10 minutes, so the cheese melts.
Serve with a sprinkle of chopped chives and a side of salad, potatoes or couscous.
Nutrition Information:
Yield:

4
Serving Size:

1
Amount Per Serving:
Calories:

641
Total Fat:

29g
Saturated Fat:

10g
Trans Fat:

1g
Unsaturated Fat:

15g
Cholesterol:

119mg
Sodium:

339mg
Carbohydrates:

59g
Fiber:

17g
Sugar:

24g
Protein:

42g
Nutrition data is automatically calculated using Nutritionix and may not be accurate.
This recipe is brought to you in collaboration with
Anton Meso Kamnik
. They are our local supplier of high-quality meat products that we generally buy when cooking with meat. Go check out their website for plenty more meat-based recipes!
If you like this recipe, you can let us know in the comments below or on social media using #vibrantplate and tag us @vibrantplate. We're always happy to read your feedback and LOVE seeing your take on our recipes.
You can connect with us on our Instagram, Facebook or on Pinterest. We share many behind-the-scenes photos and step-by-step recipes in our Instagram Stories, so be sure to check it out!
Also, don't forget to subscribe to our Newsletter – you'll be notified when we post new recipes, plus you get a free gift from us 💚 A 15-recipe free e-book with our most beloved recipes!