Crispy Tofu Tortilla Wraps are an easy Plant-Based lunch or dinner Recipe. Suitable for meal-prep, and ready in just 30 minutes!
The past few days it feels Summer is slowly coming to a close. Mornings turned misty and have a chill to them. This morning it was only 12°C (53.6°F). The tomatoes are almost done, which is surprisingly fast, as usually we'd have tomatoes riping into September. The birds have started gathering, which is also uncommonly soon. Even the cat eats more as if preparing for winter.
I hope I am mistaken, but it just feels like fall is rushing in, and way too soon, too. I don't want Summer to be over yet.
We've been enjoying our summer produce and meals a lot, just eating off the garden. It's a joy to be able to walk a couple of steps, pick whatever is ripe, and cook with it. And as our garden is not large by any means, that means it produces just enough for the two of us.
One of our favorite Summer meals to eat is tortilla wraps, as they are versatile and you can just toss in whatever you have.
So, having a tomato, some lettuce, and bell pepper, we wrapped that up along with some fried tofu and avocado to enjoy some Crispy Tofu Tortilla Wraps.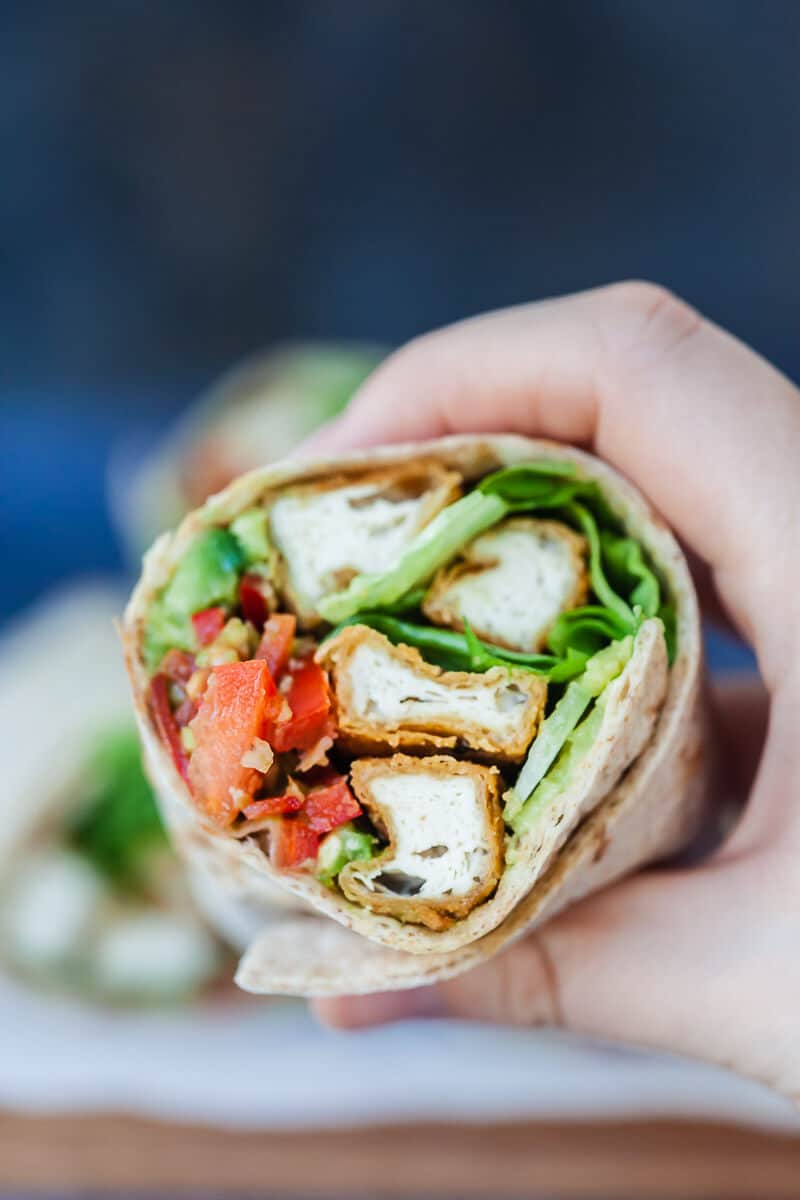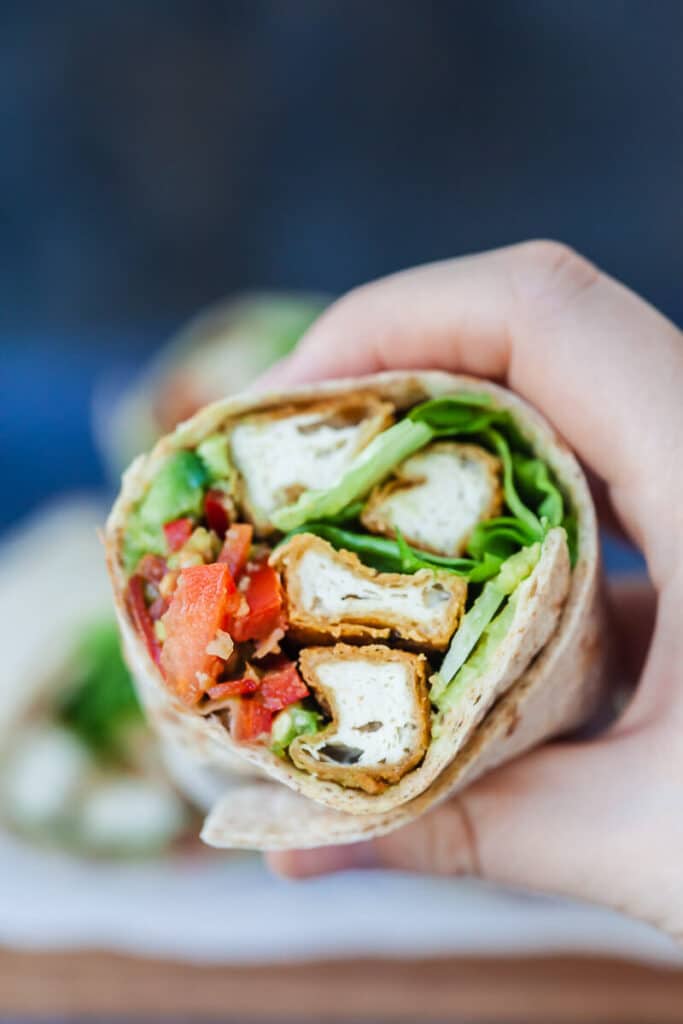 As I mentioned, wraps are easy and fun to make, taste delicious, and are ready to eat in minutes.
To make these Crispy Tofu Tortilla Wraps you start with prepping your tofu. We used extra-firm tofu that is ready to use as-is, but if you don't have extra-firm tofu, you may want to press it first, to drain out excess liquids.
Next, we sliced the tofu, seasoned it (don't forget to season it as otherwise, it will taste bland!) and tossed it in chickpea flour, then we pan-fried it until golden in color and crispy.
We sliced up a tomato, a bell pepper, a red onion, shredded some lettuce, and mashed one avocado.
The last step is to heat up your tortillas lightly, so they are easily to fold and work with.
All that remains at this point is to assemble your wraps!
Spread the mashed avocado over a tortilla, top with vegetables and tofu, then fold it in a wrap. We like to first close in the sides, then we pull the side closer to us over the toppings and roll it in until we have a nice, firm wrap. Lastly, we cut the tortillas in half to expose the fillings and make it easier to eat by hand, but you can even toast the whole wrap up and then just eat it with utensils as civilized people do.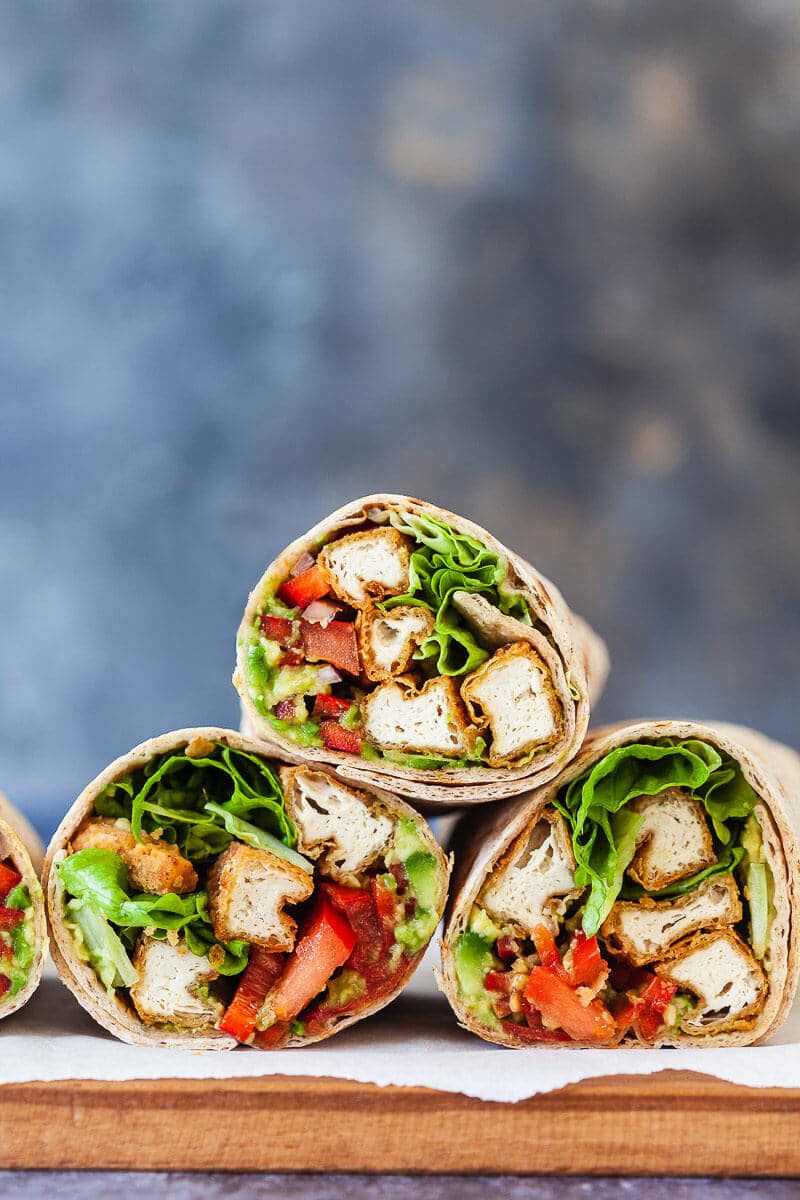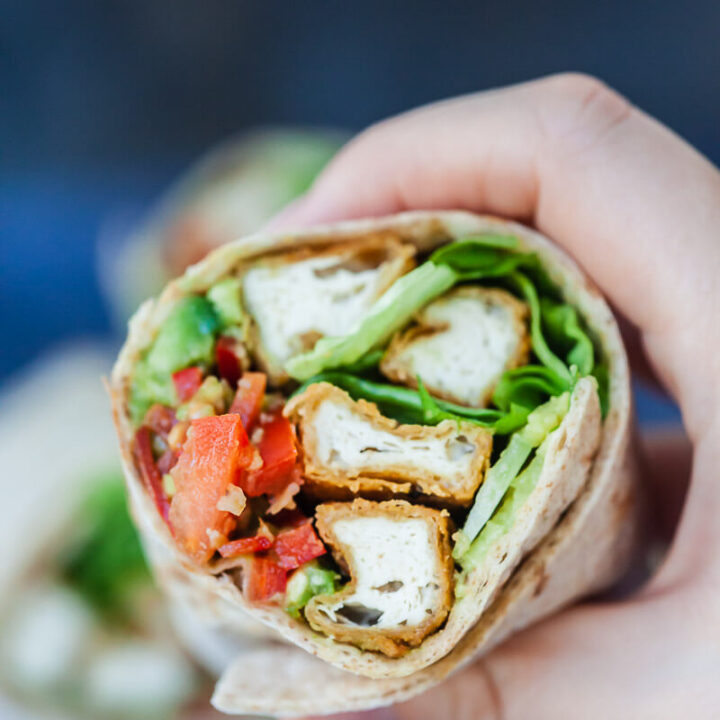 Crispy Tofu Tortilla Wraps
Crispy Tofu Tortilla Wraps are an easy Plant-Based lunch or dinner recipe. Suitable for meal-prep, and ready in just 30 minutes!
Ingredients
120 grams firm tofu
2 tbsp chickpea flour
pinch of salt
dash of black pepper
1/4 tsp smoked paprika
1 tomato
1 red bell pepper
1 avocado
2 cups lettuce
1/2 red onion
3 tortillas
1 tbsp lemon juice
1 tbsp vegetable oil
Instructions
Drain the tofu, pat dry, and cut into slices. Season with salt, pepper, and smoked paprika.
Add chickpea flour to a plate and then toss the seasoned tofu in the flour until coated. Heat vegetable oil in a pan, add tofu, and pan-fry until golden brown. Remove from pan and set aside on a plate lined with a paper towel to drain excess fat.
Slice tomato, bell pepper, and red onion, and shred lettuce. Cut avocado in half, scoop out the meat and transfer it to a bowl. Season with salt, pepper, and a drizzle of lemon juice and mash with a fork.
In a dry pan, heat up tortillas, flipping them over mid-way.
Assemble wraps: Spread the mashed avocado over the tortilla, then top with peppers, tomato, fried tofu, red onion, and lettuce. Wrap the tortilla, cut in half, and serve immediately.
Nutrition Information:
Yield:

3
Serving Size:

1
Amount Per Serving:
Calories:

386
Total Fat:

20g
Saturated Fat:

3g
Trans Fat:

0g
Unsaturated Fat:

16g
Cholesterol:

0mg
Sodium:

294mg
Carbohydrates:

43g
Fiber:

9g
Sugar:

5g
Protein:

12g
Nutrition data is automatically calculated using Nutritionix and may not be accurate.
This recipe is brought to you by
Hofer Slovenija
.
Did you make this recipe? Let us know in the comments below or on social media by using #vibrantplate and tag us @vibrantplate. We're always happy to read your feedback and LOVE seeing your take on our recipes.
Don't forget to connect with us on Instagram, Facebook, or Pinterest. We share many behind-the-scenes photos and step-by-step recipes in our Instagram Stories, so be sure to check it out!