Delicious Vegan Chocolate Glazed Baked Donuts are your perfect healthy breakfast or dessert. Dairy-free, Egg-Free, and Oil-Free!
Happy Valentine's Day! Hope you are spending it with your loved ones, maybe enjoying a good meal or a nice dinner. Mitja and I shared burgers for lunch today, which was special because on regular workdays we don't get to eat lunch together.
And now we're sharing a healthy sweet treat with you all – these tasty and pretty Vegan Chocolate Glazed Baked Donuts.
I mean, how cute are these donuts?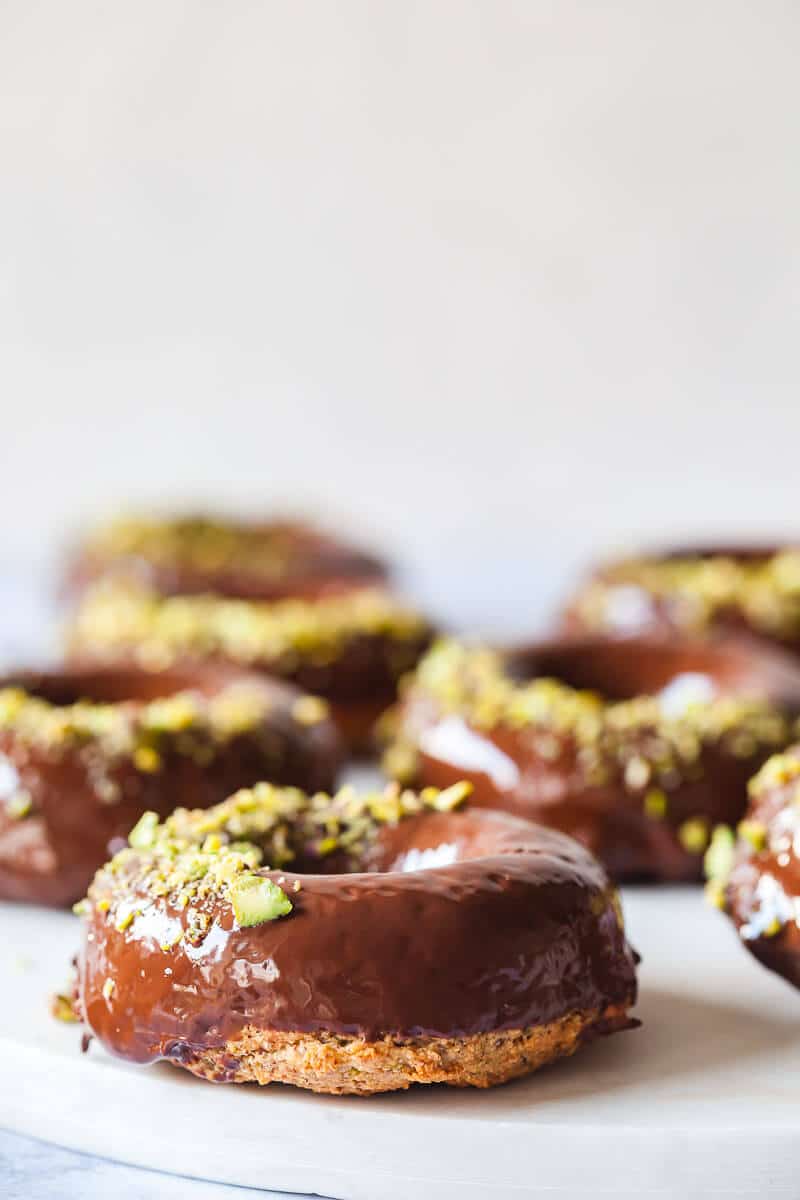 I have contemplated long about buying a donut pan. Do I really need it? I mean, of course, I do not need it. But I've been watching pretty donuts all over Instagram and Pinterest and well, why have a food blog, if I cannot buy a donut pan and bake me some donuts, right?
This being a somewhat healthy and mostly plant-based recipe blog, I knew I wanted my donuts baked, not fried. And dairy-free, because of allergies. And might as well make them vegan, too, right?
So I went and made these Vegan Baked Donuts that consist of almond flour, coconut flour, ground pistachios, spelt flour, almond butter, bananas, and flaxseed "egg", along with some more goodies.
I threw them together while waiting for a couple of potatoes to boil, and that's how quick these donuts are done!
Once these vegan donuts are baked, you simply cool them off a bit, melt some dark chocolate, dip them in and sprinkle with some chopped pistachios.
The hardest part of this recipe? Waiting for the chocolate to cool down and firm up in order to be able to eat!… and you can always speed the process by sticking the chocolate glazed donuts in the fridge for an hour or so!
Happy baking, we're off making another batch of these to enjoy on this special day ❤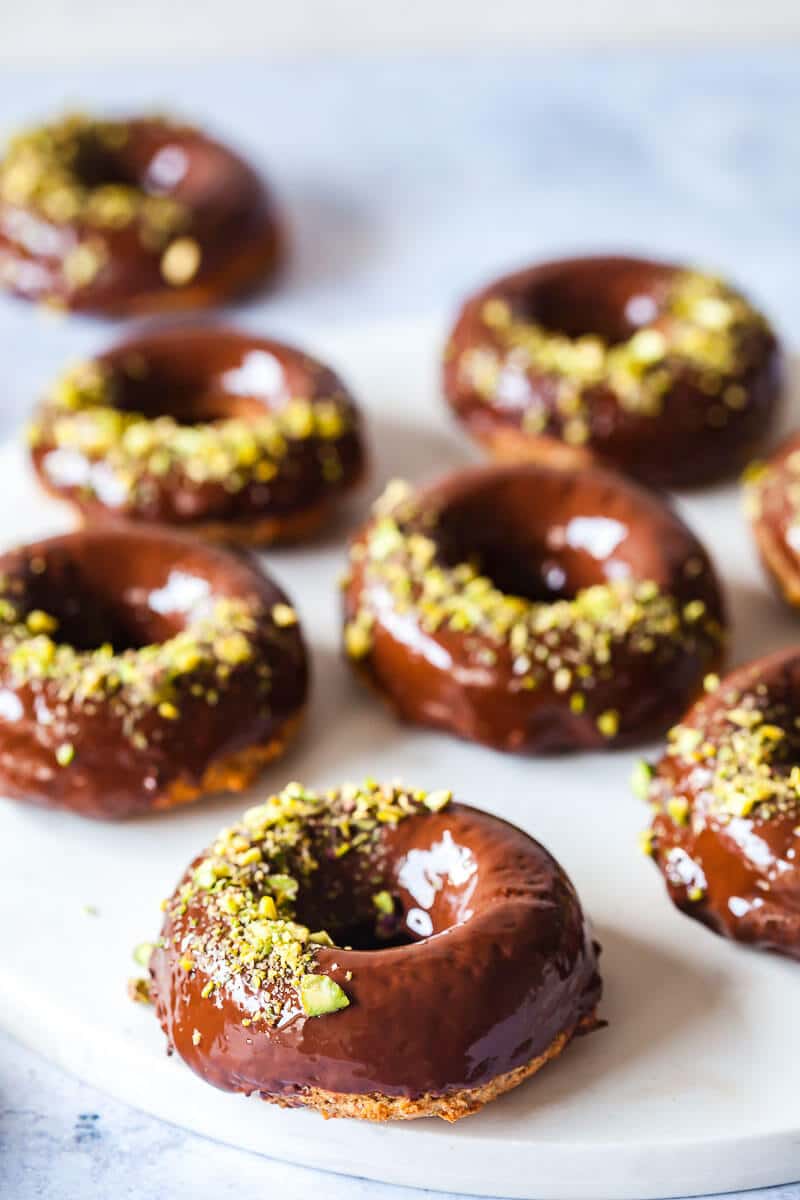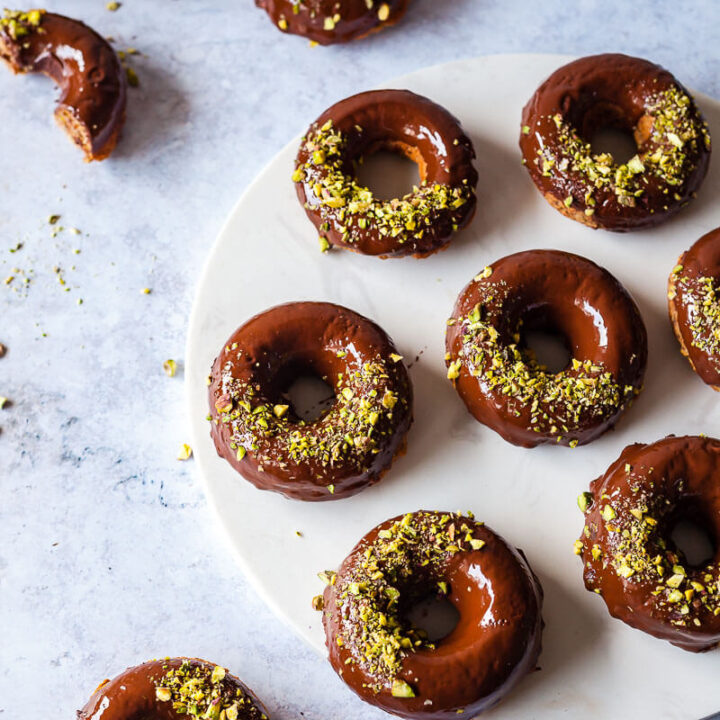 Vegan Chocolate Glazed Baked Donuts
Delicious Vegan Chocolate Glazed Baked Donuts are your perfect healthy breakfast or dessert. Dairy-free, Egg-Free and Oil-Free!
Ingredients
3 tbs ground flax seeds
7 tbs water
2 ripe bananas
2 tbs almond butter
2 tbs maple syrup
1/2 cup oat milk
1/2 cup almond flour
1/2 cup ground pistachios
1/2 cup fine coconut flour
1 cup spelt flour
1 tsp baking soda
1 tsp baking powder
1 cup dark chocolate chips
1 tsp coconut oil
2 tbs chopped pistachios
Instructions
Preheat oven to 170°C / 340°F. Lightly grease a donut baking pan.
Mix ground flax seeds with water and let rest for about 5 minutes, so the seeds soak up the water.
In a large bowl, mash peeled bananas. Add almond butter, maple syrup and plant-based milk, such as oat milk, almond milk or soy milk.
In a separate bowl mix the dry ingredients: almond flour, ground pistachios, coconut flour, spelt flour, baking soda and baking powder.
Add soaked flax seeds to the wet ingredients and mix to combine.
Add dry ingredients to wet ingredients and combine with a spatula.
Pour the mixture in a pastry bag or a plain plastic bag, cut a corner off with scissors and squeeze the mixture into the baking tray molds.
Place baking tray into the preheated oven and bake 15 minutes at 170°C / 340°F until they rise and become golden-brown. Test with a tooth pick when the donuts are baked.
Remove donuts from the oven and let them cool in the baking tray for a minute or two, then just tap the tray against the counter to loosen the donuts and turn them upside down over a cooling rack. The donuts should just fall out of the baking tray. Leave to cool completely.
Prepare the chocolate glaze: place dark chocolate chips in a bowl and heat over a water bath (bain-marie), add a teaspoon of coconut oil and once melted, stir with a spoon to combine. Dip each donut into the melted chocolate and return on the cooling rack. Sprinkle the chocolate glazed donuts with some finely chopped pistachios and leave for the chocolate to cool and set.
Notes
If you do not own a donut baking pan, you can also make this recipe in a muffin baking pan. In this case, lightly grease the pan or line with paper molds, pour in the mixture by the spoonful and bake for about 20-25 minutes.
Nutrition Information:
Yield:

10
Serving Size:

1
Amount Per Serving:
Calories:

278
Total Fat:

17g
Saturated Fat:

7g
Trans Fat:

0g
Unsaturated Fat:

9g
Cholesterol:

1mg
Sodium:

216mg
Carbohydrates:

28g
Fiber:

5g
Sugar:

16g
Protein:

6g
Nutrition data is automatically calculated using Nutritionix and may not be accurate.
This recipe is sponsored by Hofer Slovenija (you may also know it as Aldi). It is our favorite grocery store and we love their products. If you are from Slovenia, do head over to Hofer's Instagram account for even more delicious recipes 😉
If you like this recipe, you can let us know in the comments below or on social media using #vibrantplate and tag us @vibrantplate. We're always happy to read your feedback and LOVE seeing your take on our recipes.
You can connect with us on our Instagram, Facebook or on Pinterest. We share many behind-the-scenes photos and step-by-step recipes in our Instagram Stories, so be sure to check it out!
Also, don't forget to subscribe to our Newsletter – you'll be notified when we post new recipes, plus you get a free gift from us 💚 A 15-recipe free e-book with our most beloved recipes!