Hello, lovelies. It's summer here and my thoughts are drifting towards vacation, the sea, and good food. About this time last year, we were travelling the lovely island of Mallorca where we first came face to face with a dish that has captured my mind ever since - the paella.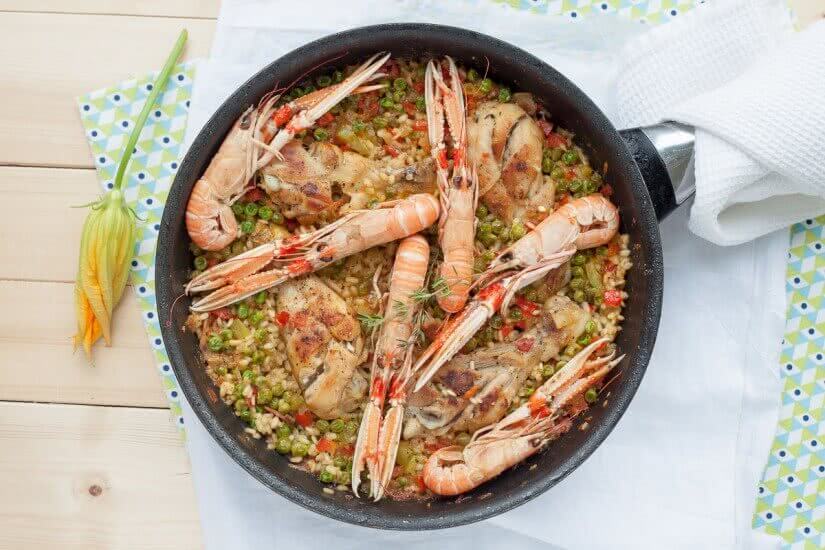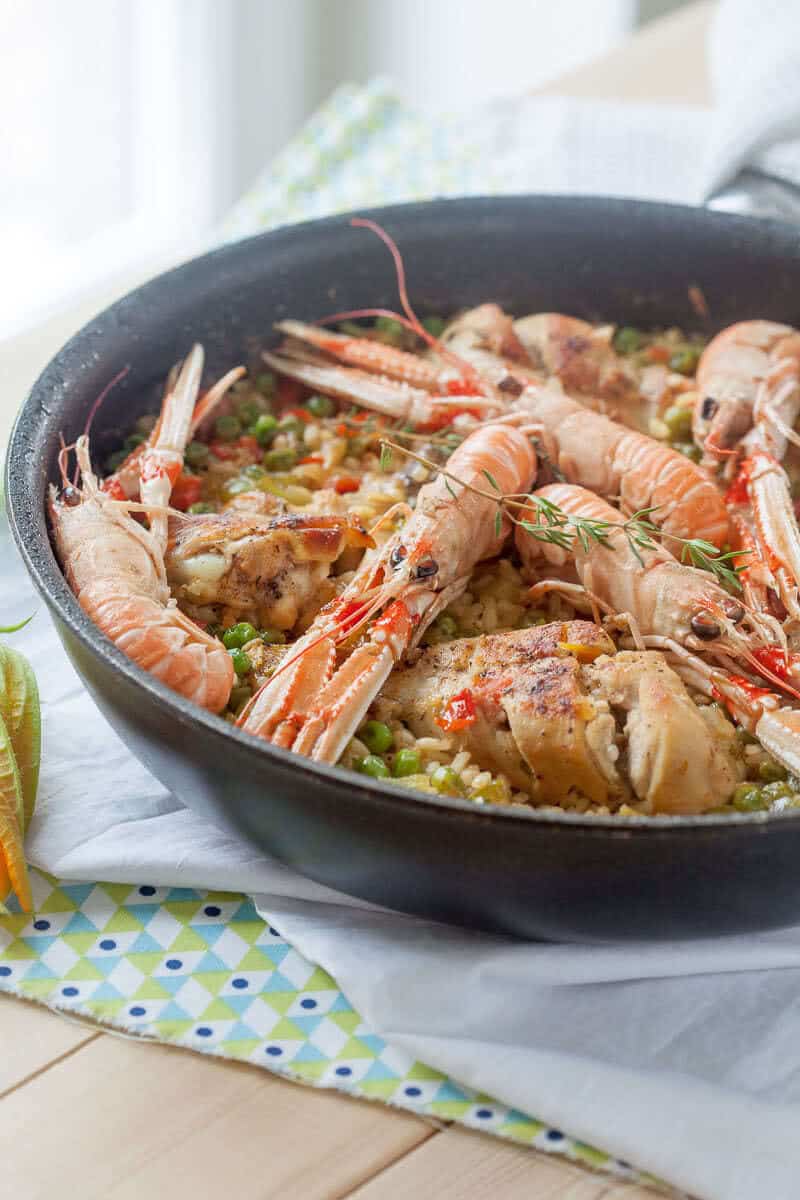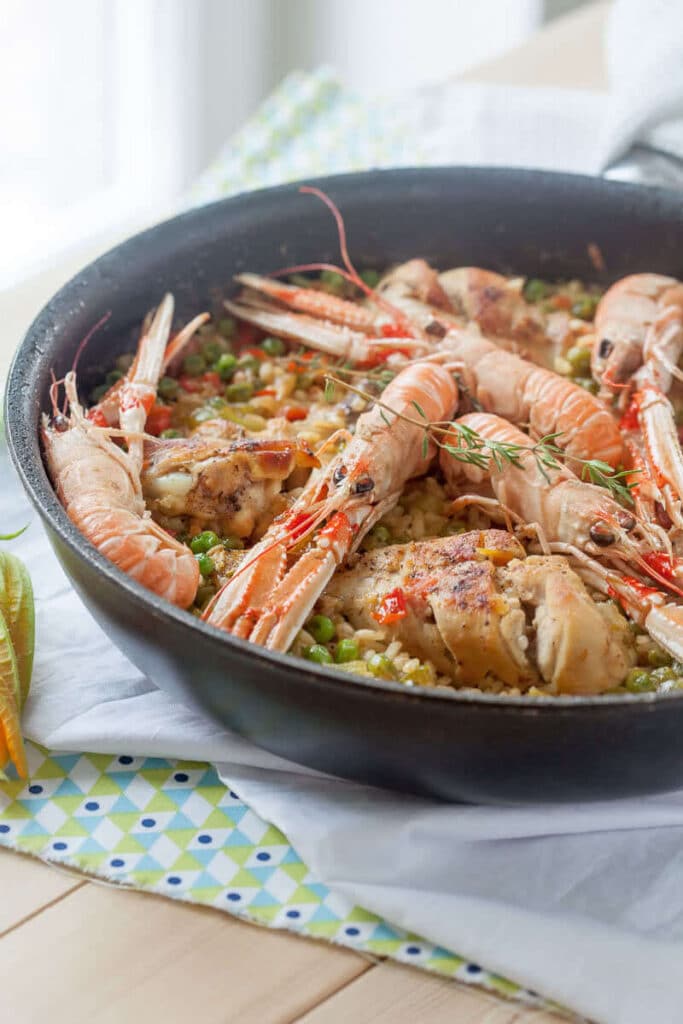 Now, bear in mind, I have never ever tasted paella before. But back then, in that small coastal town, in a rare Spanish restaurant, we were faced with one of the best dishes, like ever. I say rare Spanish restaurant, because – if you've been to Mallorca before – you'll know that the island is practically German, and finding this little authentic gem amongst the tourist restaurants was a revelation.
We ordered the mixed paella and some red wine and when the food came, we couldn't focus on anything else for like 10 minutes. It was just us, and that delicious paella.
And ever since we've returned home, I've been dreaming about it.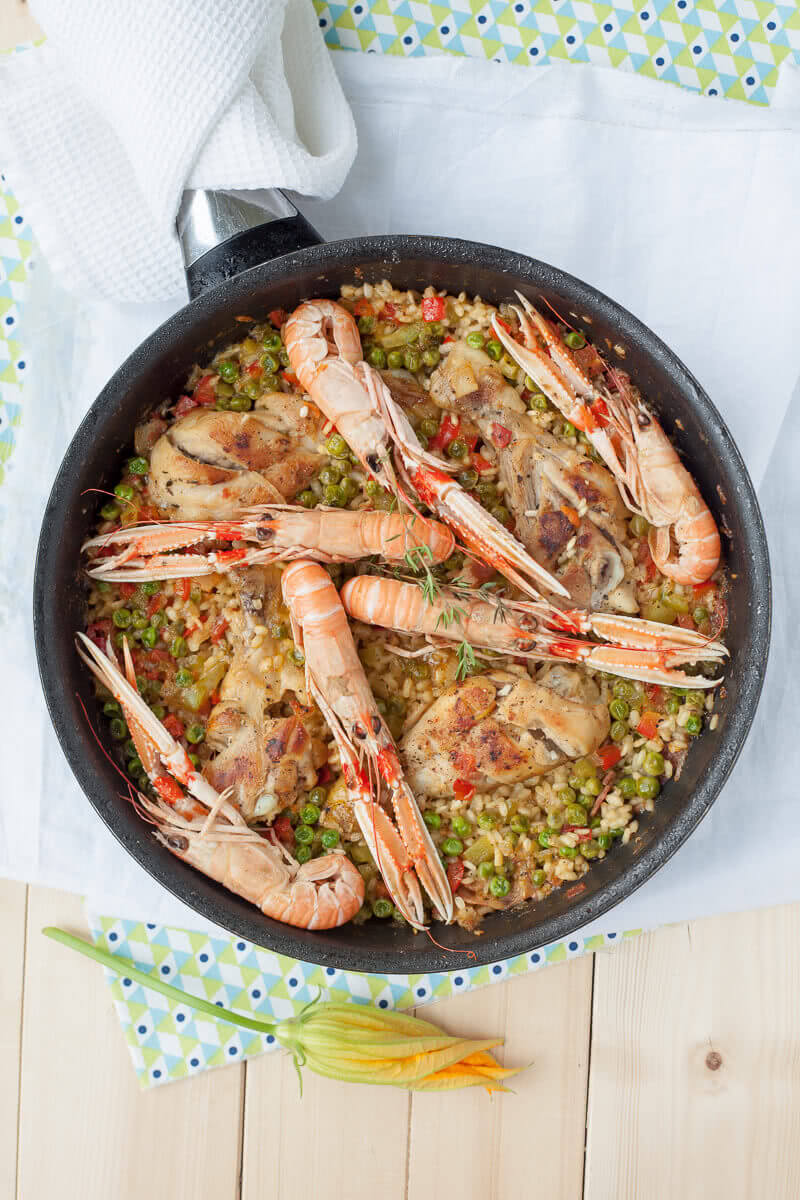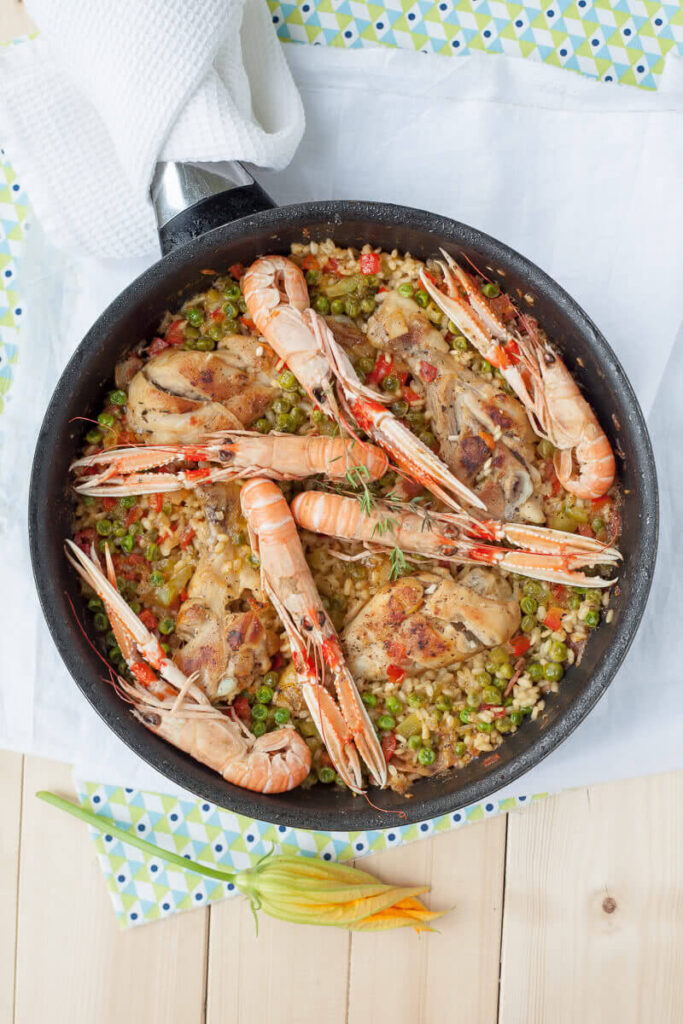 Now, at the time, I did not own a paella pan and by pure coincidence, I learnt that I need to use a special rice and – god forbid – must not cook it like I would a risotto. And that was probably the hardest part, to just let the rice cook without ever stirring it.
The secret to a good paella, besides excellent ingredients, cooking technique and experience (none of which I have) is to achieve a slightly crispy – but not burnt – bottom.
So, the first time I tried making paella, I used short-grained rice, a sad regular pan and was extra careful about the cooking. And almost nailed it. The flavour was ok, my rice could have been more yellow, and the bottom was a delicious crisp. But, alas, beginner's luck. The second time I almost burned the shit out of it. I have not yet attempted a third try.
I tried making the mixed paella with some langoustines and chicken, and funny enough, we learnt that Mitja just might have a slight problem with crustaceans. So mixed paella no more? We shall see.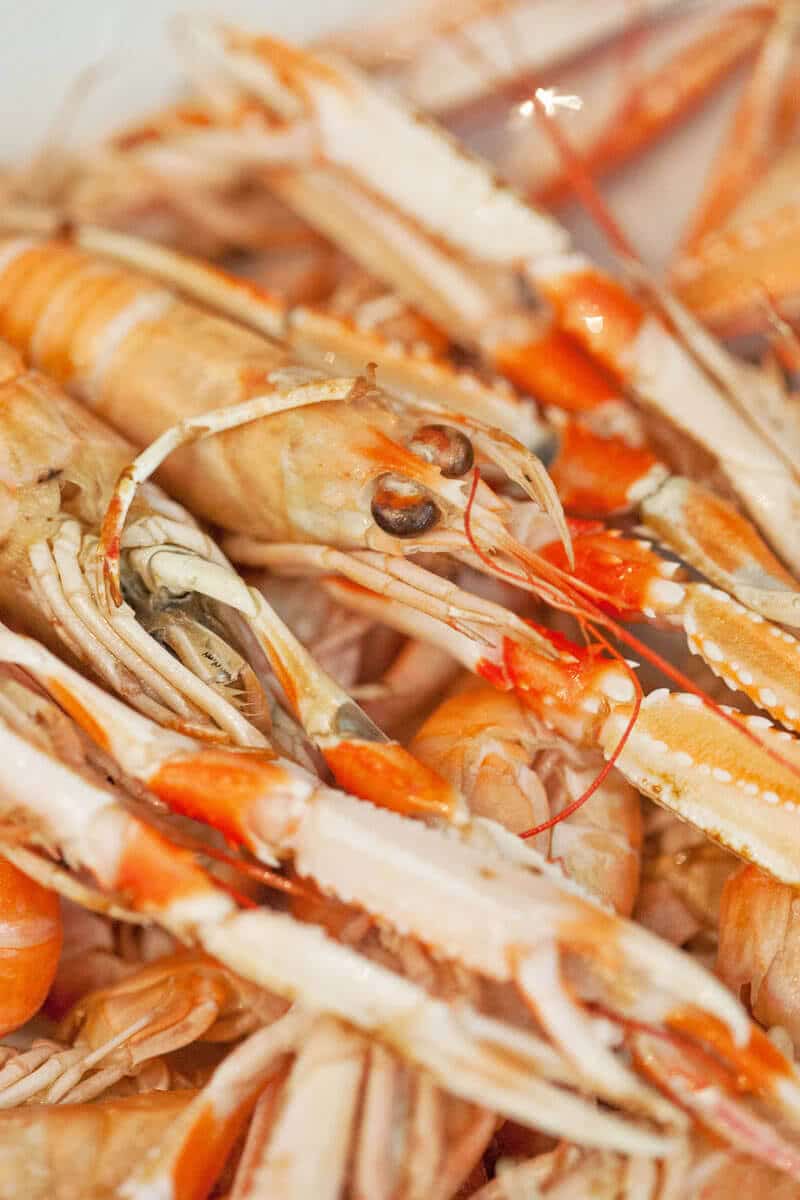 Also, I learnt that finding ingredients where I live is a pain. I could only find frozen langoustines in one grocery store, no mussels, no scallops. Luckily, I later (for my second attempt) found a fishmonger a few kilometres away.
Care to give it a try? Here's my recipe: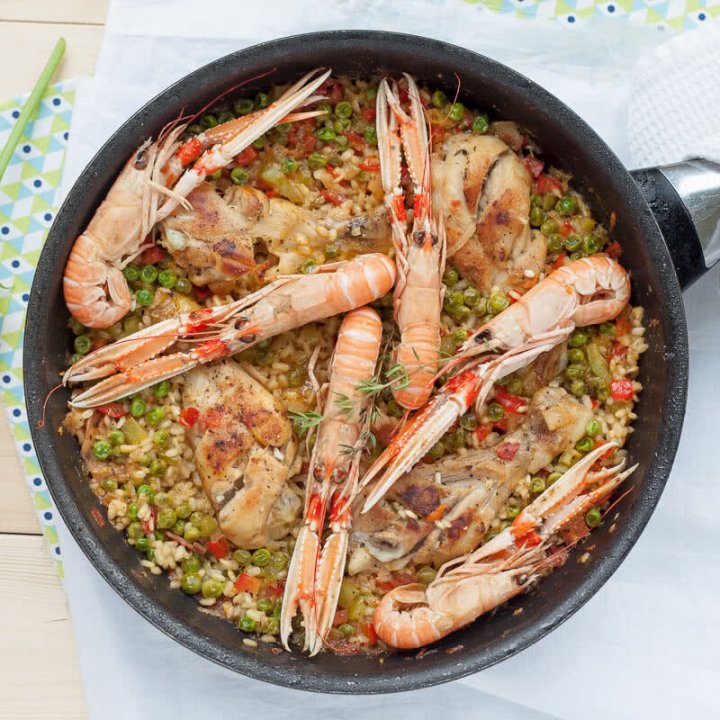 Take me Back to Spain Paella
About this time last year, we were travelling the lovely island of Mallorca where we first came face to face with a dish that has captured my mind ever since – the paella.
Ingredients
200 g short-grain rice
4 chicken thighs
8 langoustines
1 onion
2 cloves garlic
0,5 l vegetable stock
1 tomato
0,5 cup red or green bell pepper
a handful of peas, fresh or frozen
2 pinches of saffron
olive oil
salt, pepper to taste
thyme and paprika to taste
1 lemon
Instructions
Bring about 2 dcl of water to a boil and soak saffron in it for at least 5 minutes. Wash and dry chicken thighs, then season with salt, pepper, thyme and paprika.
Wash and dry your tomato, bell peppers and langoustines. Peel and dice your onion and garlic. Dice tomato and bell peppers.
Heat olive oil in a large pan and place langoustines. Fry on all sides for about 5 minutes, then remove. Add chicken thighs and fry for about 15 minutes on all sides, until the chicken develops a crust, then remove.
Without cleaning the pan, add diced onions and fry until translucent, stirring constantly. Try to pick up as much residue from the bottom of the pan as possible, then add garlic, tomato and bell peppers and fry for another minute. Add rice, mix it in with the sofritto, then pour in the stock. Season to taste, then replace the chicken thighs and bacon back in and let it cook on medium without stirring, until the rice is almost done.
By this time you should be hearing crackling from the pan, which means the water is evaporated and the rice on the bottom is becoming crispy. Lower your heat. If your rice is still underdone, just add a bit of water here and there and let it soak it up, but take care to not overflow it, as you need the crispy bottom (but not burnt!).
About 5 minutes before the rice is cooked, add in peas and langoustines and continue cooking on low, then remove and serve with sliced lemon.