Roast Duck with Vegetables is the perfect celebration of Autumn. With a crispy skin and delicious juicy meat is a great Thanksgiving roast.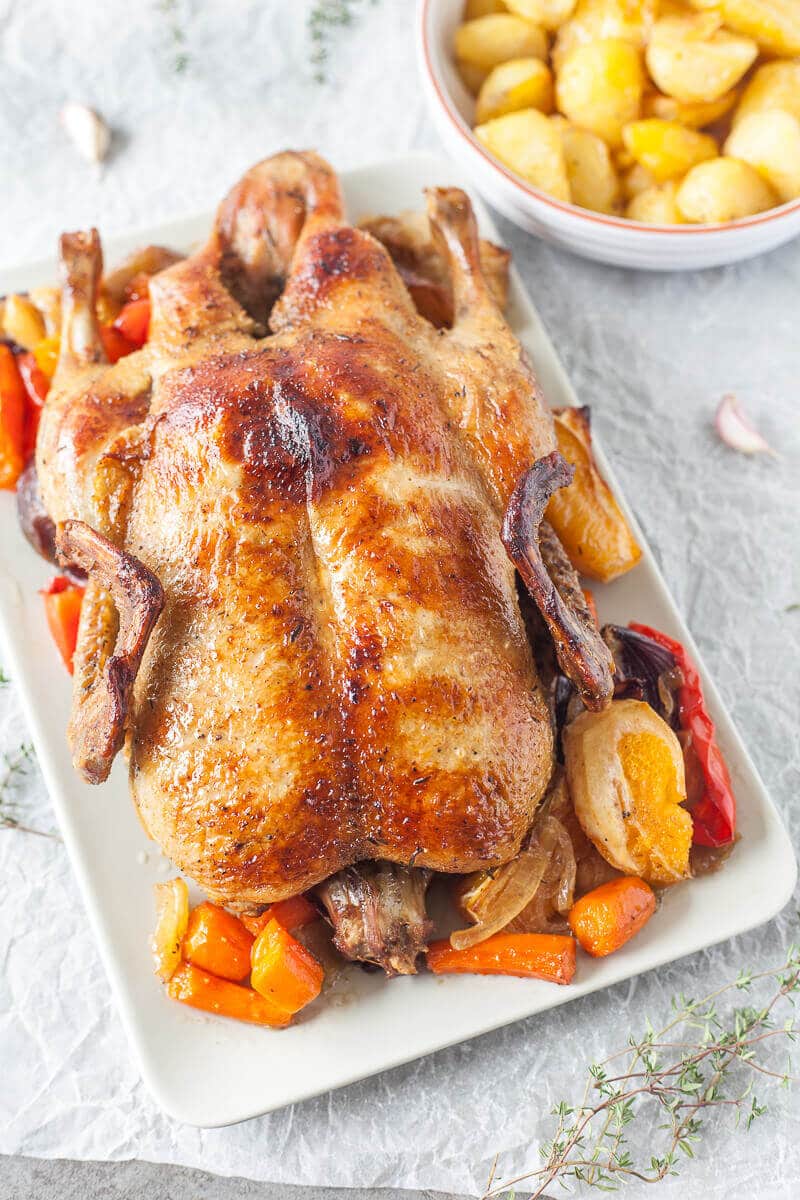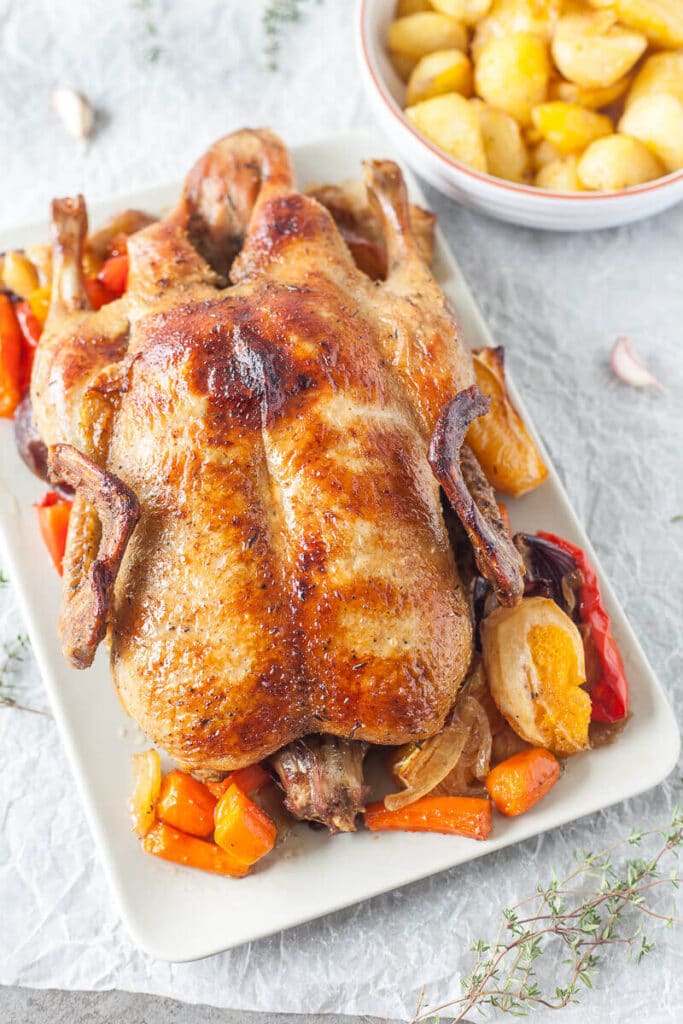 It's that time of year again when the air is crisp and fragrant, and the smell of snow is just around the corner.
Autumn is in full swing, Thanksgiving is almost here and we are celebrating our own holiday in Slovenia – St. Martin's Day when must turns into wine. This holiday is usually celebrated with a roast duck or goose and braised red cabbage. And, of course, the obligatory glass of wine.
In our household, we eat a reducetarian diet. Meat is not really the staple of our diet. That is, we mostly eat plant-based, vegetarian dishes, plenty of grains, hearty soups, and salads, but will consume meat & fish dishes from time to time.
So it's not every day that I prepare meat dishes, less even the times I make an actual roast. But there's something primal about seasoning and slowly roasting a bird for a couple of hours. And the moment you take the bird out of the oven with the utmost respect and place it on the dinner table. It's almost like… a ritual.
And as spectacular as the dish looks on the table, there really is nothing complicated to making a good roast bird. The challenge is to make it perfect. Now I am not saying this roast duck is perfect, but it is damn delicious! 🙂
I did not bother removing the least appealing parts, like wings and tail, so the bird may look a bit… rustic. It's the flavor that counts, right?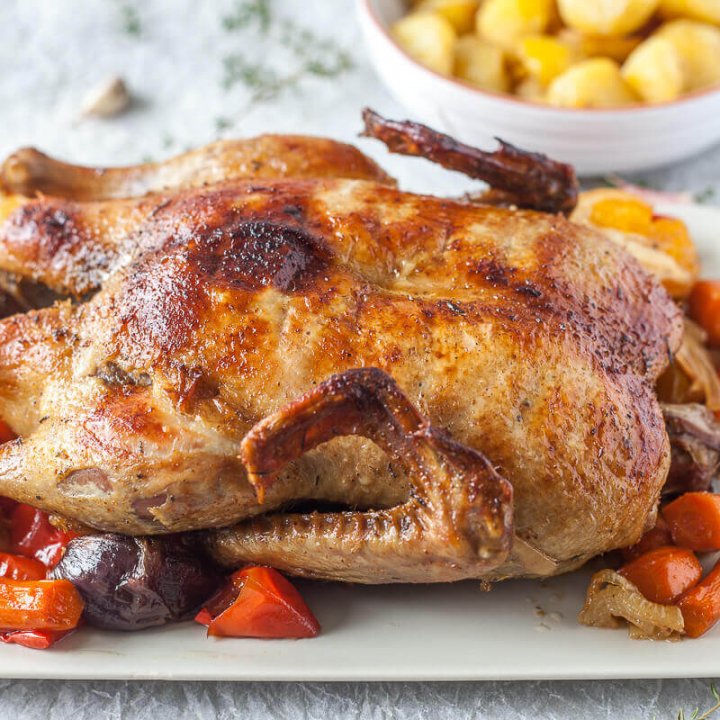 Roast Duck with Autumn Vegetables
Total Time:
3 hours
20 minutes
Roast Duck with Vegetables is the perfect celebration of Autumn. With a crispy skin and delicious juicy meat is a great Thanksgiving roast.
Ingredients
1 duck, entrails removed (about 2 kg)
3 tsp salt
1 tsp black pepper
1 tsp garlic
1 tsp red paprika
3 onions
4 cloves garlic
3 carrots
1 apple
1 orange
1 red bell pepper
2 bay leaves
2 dcl stock (vegetable or chicken)
1 dcl white wine
Instructions
The night before give the duck a good wash and then dry it with paper towels.
Prepare seasoning: in a small bowl put 3 teaspoons salt, 1 tsp ground black pepper, 1 tsp ground dry garlic, 1 tsp red paprika and mix well.
Gently rub the seasoning into the duck skin, covering every inch. Then, with a fork, poke a few holes into the breast skin (this will help air circulate and make the skin crisp).
Roughly chop an onion and a few garlic cloves, and place it under the duck in a bowl. Cover the duck and set in the fridge overnight.
The next day, preheat oven to 180°C. Get the duck out of the fridge, remove the cover and place duck onto a baking tray. Chop the remaining vegetables, the apple and orange into large chunks and place around the duck, add bay leaves and pour a dash of white wine and some stock over the bird and vegetables. Place the duck into the preheated oven to bake for about 2,5 hours.
While the bird is roasting, make sure to keep it moist by pouring over the juices from the baking tray every 15 minutes or so. Roast the bird until the skin is golden brown and crispy.
Nutrition Information:
Amount Per Serving:
Calories:

2711.58
Total Fat:

211.45g
Saturated Fat:

67.53g
Sodium:

2340.48mg
Carbohydrates:

32.16g
Fiber:

5.92g
Sugar:

17.08g
Protein:

129.65g
You can serve this lovely duck with some roasted potatoes and braised red cabbage. We made this duck for 2 people, so there were plenty leftovers that we used the next day in Roast Duck Tacos 🙂
Like this recipe? Let us know in the comments below or on social media using #vibrantplate and tag us @vibrantplate.
You can connect with us on our Instagram and Facebook account or on Pinterest. Don't forget to sign up to our newsletter & stay up to date with our latest recipes 😉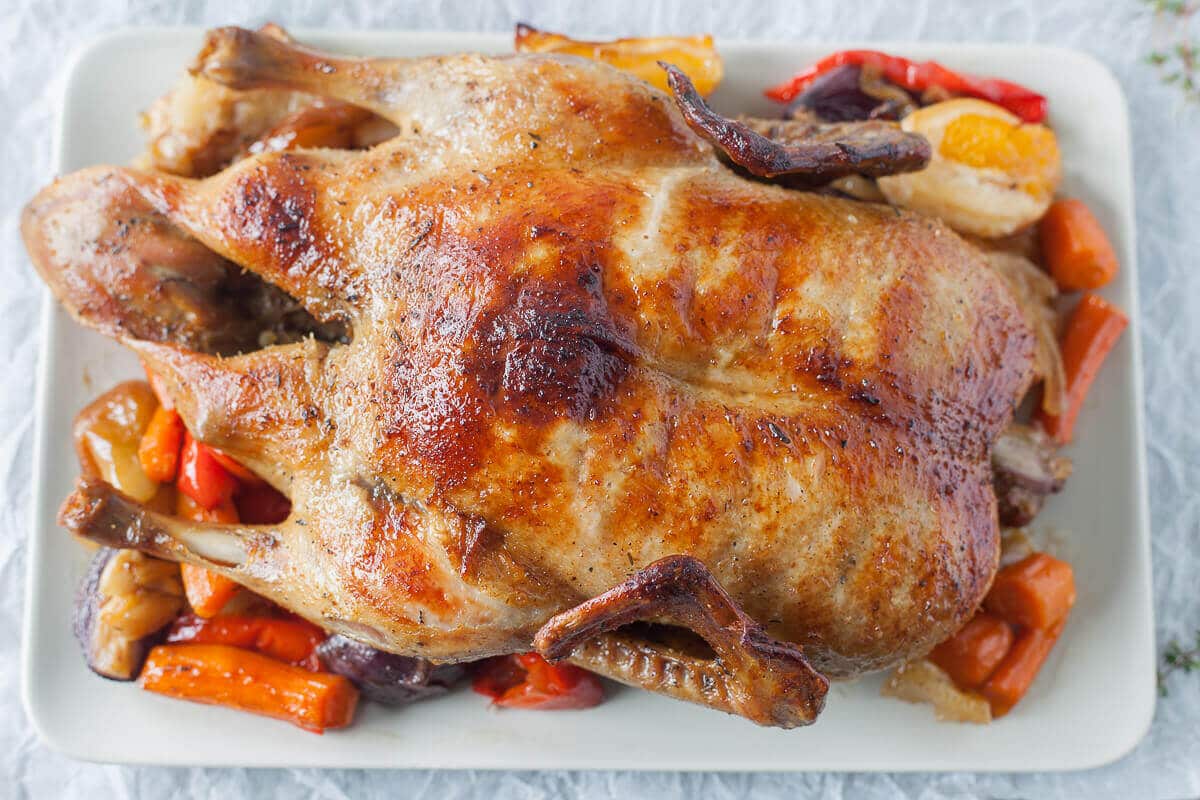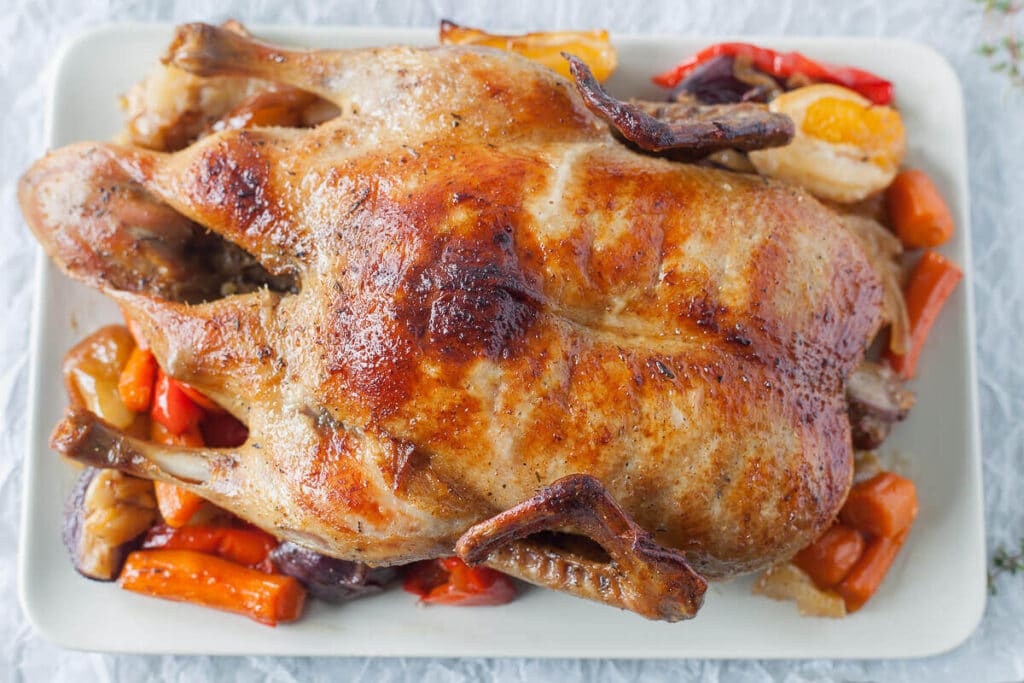 Roast Duck goes splendidly with: