These dairy-free hot dogs are a fun summer grill dish, served 2 ways - with beer braised onions and a side of no mayo coleslaw. Easy summer entertaining!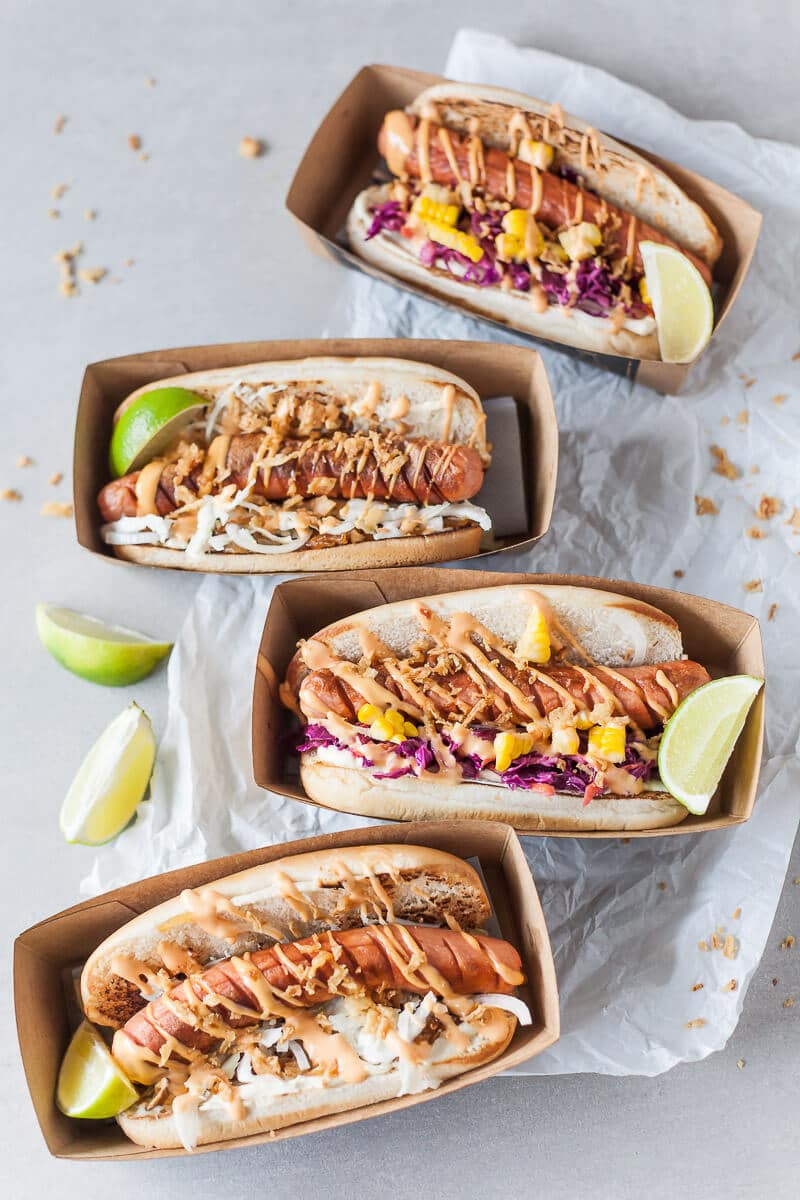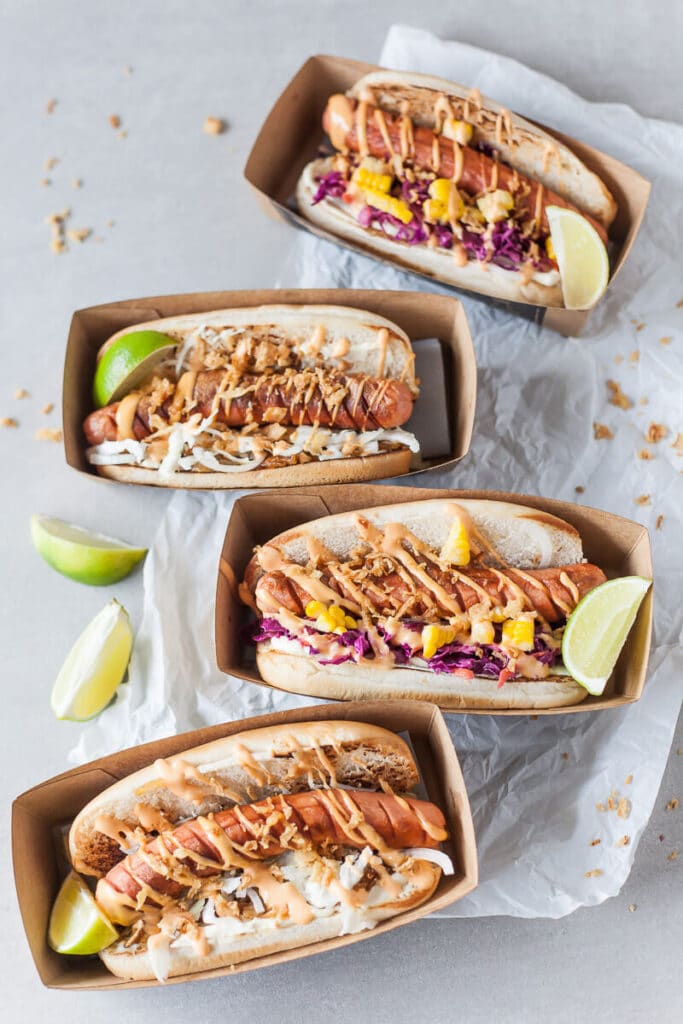 And now for something a little less healthy. We all should give in to "treats" from time to time to keep us sane, right? A meal where counting calories is not an option and when eating a bit of "junk" food is allowed, when taste buds sing, and guilt is nowhere in sight.
Yes, we made hot dogs.
Because we are human.
And occasionally we like to indulge.
As we have stated before, we are not vegan, not even vegetarian, but we do try to reduce the amount of meat we eat. So we are reducetarians. Kristina also has a mild dairy allergy, so she eats almost no dairy. Being dairy-free keeps her allergy at bay, and lets her enjoy the occasional slip without major consequences.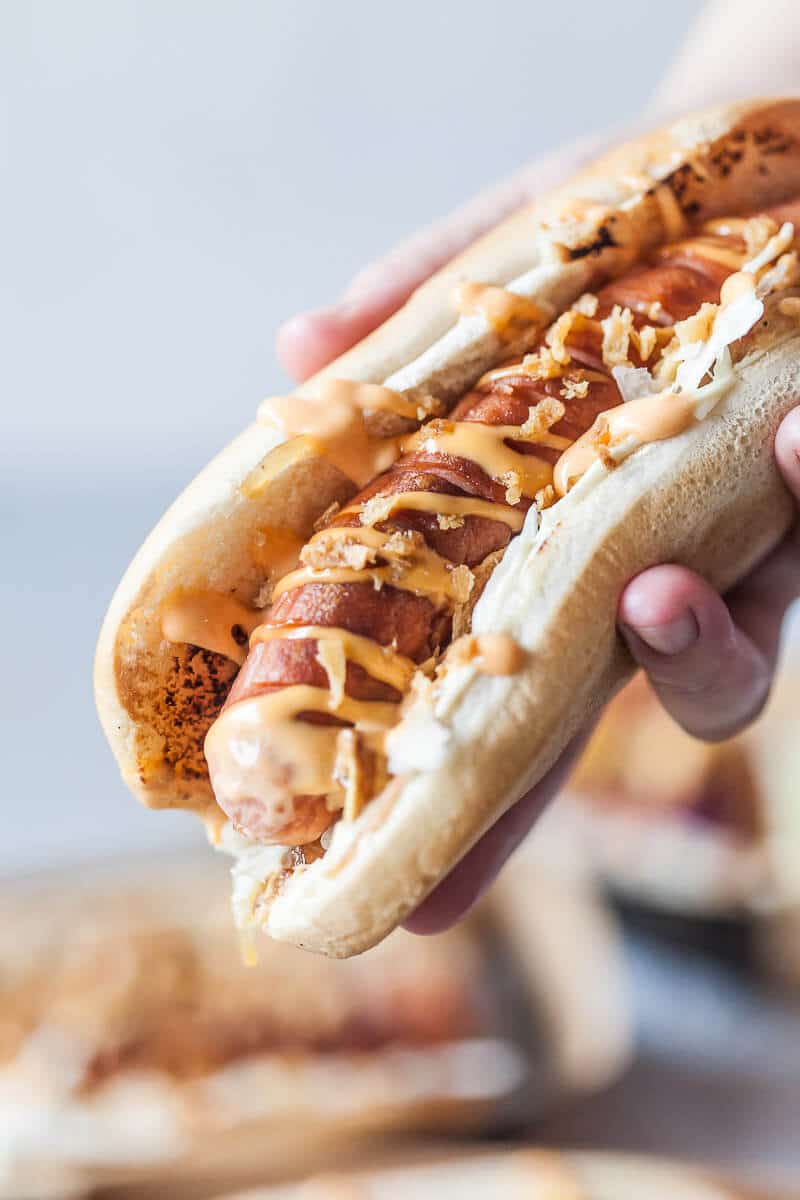 And so we made these super fun dairy-free hot dogs served 2 ways – with beer braised onions and a side of no mayo coleslaw. We chose dairy-free buns, dairy-free hot dogs, dairy-free cocktail sauce… you get the idea.
Now while both of these hot dog variations are delicious, there is no beating the beer braised onions topping! If you're only making one topping, we highly recommend the beer braised onions. BUT, if you're having a large party or would like to offer some variety, then go ahead and make the no-mayo coleslaw as well.
These dairy-free hot dogs will be the talk of the party!
And now we go back to eating healthy, we promise 🙂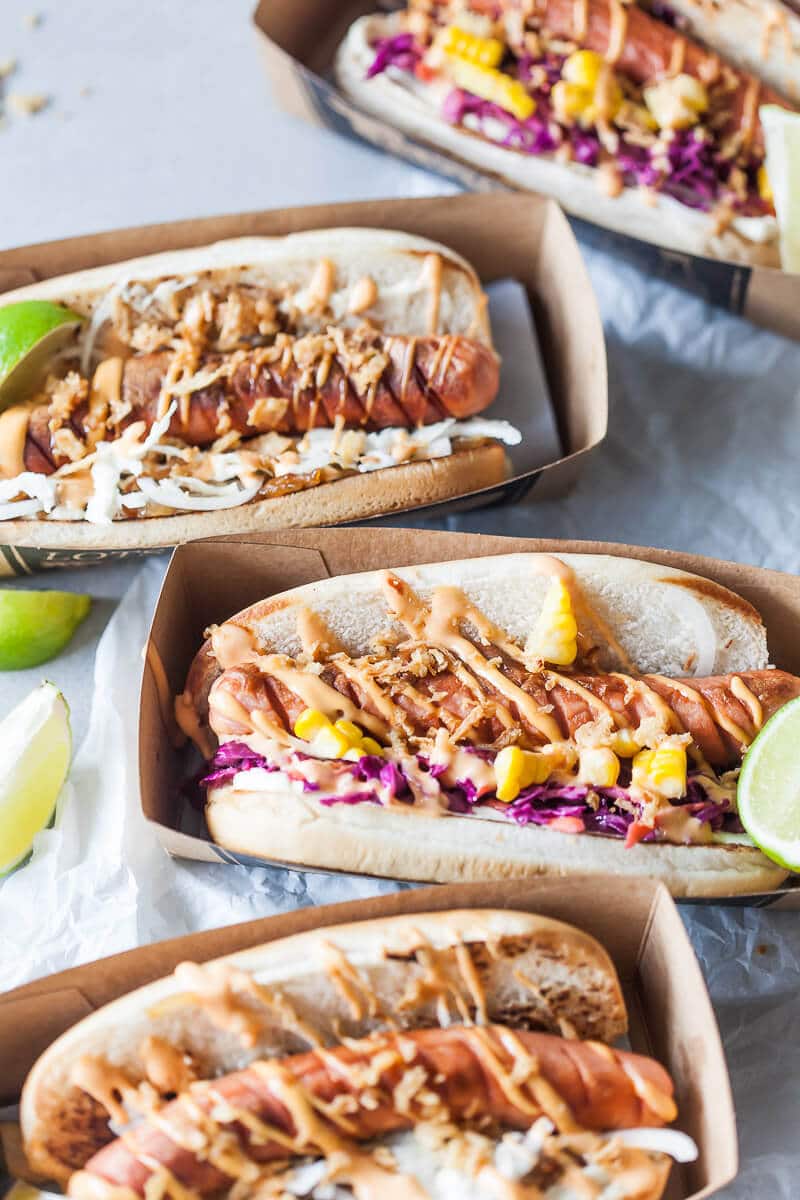 Fun Dairy-Free Hot Dogs 2 Ways
These dairy-free hot dogs are a fun summer grill dish, served 2 ways - with beer braised onions and a side of no mayo coleslaw.
Ingredients
4 hot dog buns (choose dairy-free)
4 hot dogs
4 tbs mayonaisse
4 ts mustard
cocktail sauce
1 yellow onion
4 ts fried onions (optional)
Beer braised onions topping:
5 yellow onions
0.5 cup beer
salt, pepper
1 cup shredded cabbage
No Mayo Coleslaw topping:
2 cup shredded red cabbage
1 carrot
juice of half a lemon
2 ts mustard
2 tbs white balsamic vinegar
3 tbs olive oil
salt, pepper
ear of corn (or canned)
Instructions
Prepare beer braised onions topping: peel and slice onions. Heat a large pan, add a tablespoon of oil and the sliced onion. Cook on medium, stirring regularly, until the onions soften and become translucent. Add salt and pepper to taste and continue cooking until the onions turn golden brown, then add about half a cup of beer in let it cook down. Once the liquids cook down and the onions turn golden brown, remove from pan and set aside.
Shred cabbage and get the rest of the ingredients ready. Place corn in a pot of salted water, bring to a boil and cook on medium for about 15 minutes, until the corn turns fork-soft. Remove from pot and cut away the corn kernels with a knife. Peel and finely slice onion.
Prepare no-mayo coleslaw topping: finely shred purple cabbage and grate carrot. Mix together the dressing by adding to a jar lemon juice, mustard, white balsamic vinegar, olive oil, salt and pepper. Close the jar with a lid and shake well for the ingredients to combine. Pour dressing over the purple cabbage and carrots and mix to combine.
Cut finely into the hot dogs just enough to break the surface. Add hot dogs to a heated pan and cook until golden brown, turning the hot dogs to cook on all sides. Once cooked, remove from pan and add in hot dog buns, open side down. Let fry for a minute, until the bread turns crispy brown, then remove from pan and set aside.
Assemble hot dogs: combine a couple of tablespoons of mayonnaise with a spoon of mustard and spread the mixture on top of the hot dog buns. On two buns, add the beer braised onions topping, some shredded white cabbage, a couple slices of onions and the hot dogs. On the other two buns, add no mayo coleslaw topping, some cooked corn, a couple slices of onion and hot dogs.
Drizzle the buns with some cocktail sauce and sprinkle with fried onions. Serve.
Notes
If you end up with some leftover toppings, like the no-mayo coleslaw, which we recommend eating as a side!

Also a note on fried onions: we usually buy our fried onions as a salad condiment in the spice isle in our supermarket. It is very versatile and we love it. But if you cannot get it, just skip this ingredient!
Nutrition Information:

Amount Per Serving: Calories: 505.1Total Fat: 24.6gSaturated Fat: 5.6gSodium: 1021.5mgCarbohydrates: 58gFiber: 6.3gSugar: 20.5gProtein: 14.1g

This recipe is brought to you in collaboration with Hofer Slovenija (you may also know it as Aldi). It is by far our favorite store for groceries and we love their products. If you are from Slovenia, do head over to Hofer's Instagram account for even more delicious recipes 😉
Get more party ideas here >
You can connect with us on our Instagram and Facebook or on Pinterest. We share many behind-the-scenes photos and step-by-step recipes in our Instagram Stories, so be sure to check it out!
If you like this recipe, you can let us know in the comments below or on social media using #vibrantplate and tag us @vibrantplate. We're always happy to read your feedback and LOVE seeing your take on our recipes.