Like burgers? Of course, you do. We all do. And the quest for the perfect burger may be a long one. What makes a burger - perfect? Is it the bun? The meat or protein? The condiments?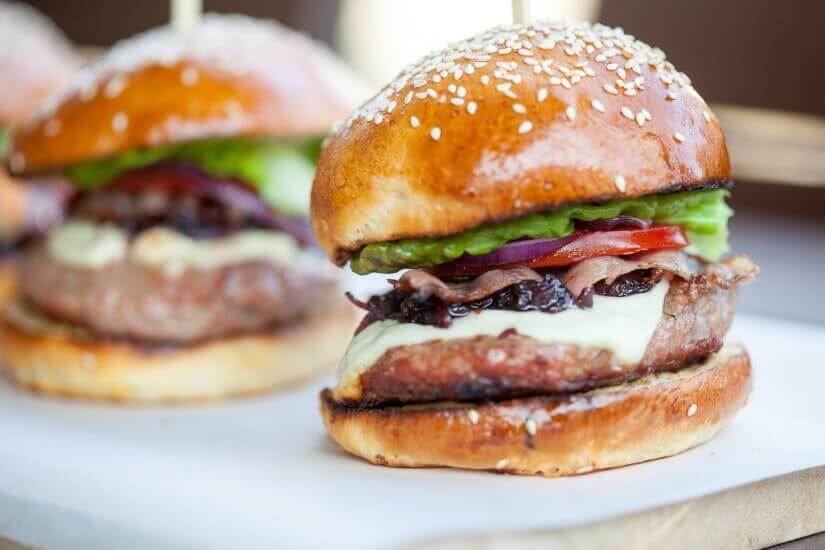 We say it is all of it, plus who and where and when you are having your burger with. And we all like our burger a bit differently.
Let's start with the bun. Where we live, it is nearly impossible to buy burger buns. So we may settle for regular buns or the soggy pre-packaged supermarket buns, but when you take a bit of time to make your own, you will never go back again.
The bun must be firm, yet soft and fluffy, not too sweet and not too bready. Must be golden brown and, preferably, topped with sesame seeds. We found a great recipe over at Jernej Kitchen and followed it to make our buns. We made half the batch and the recipe worked like a charm.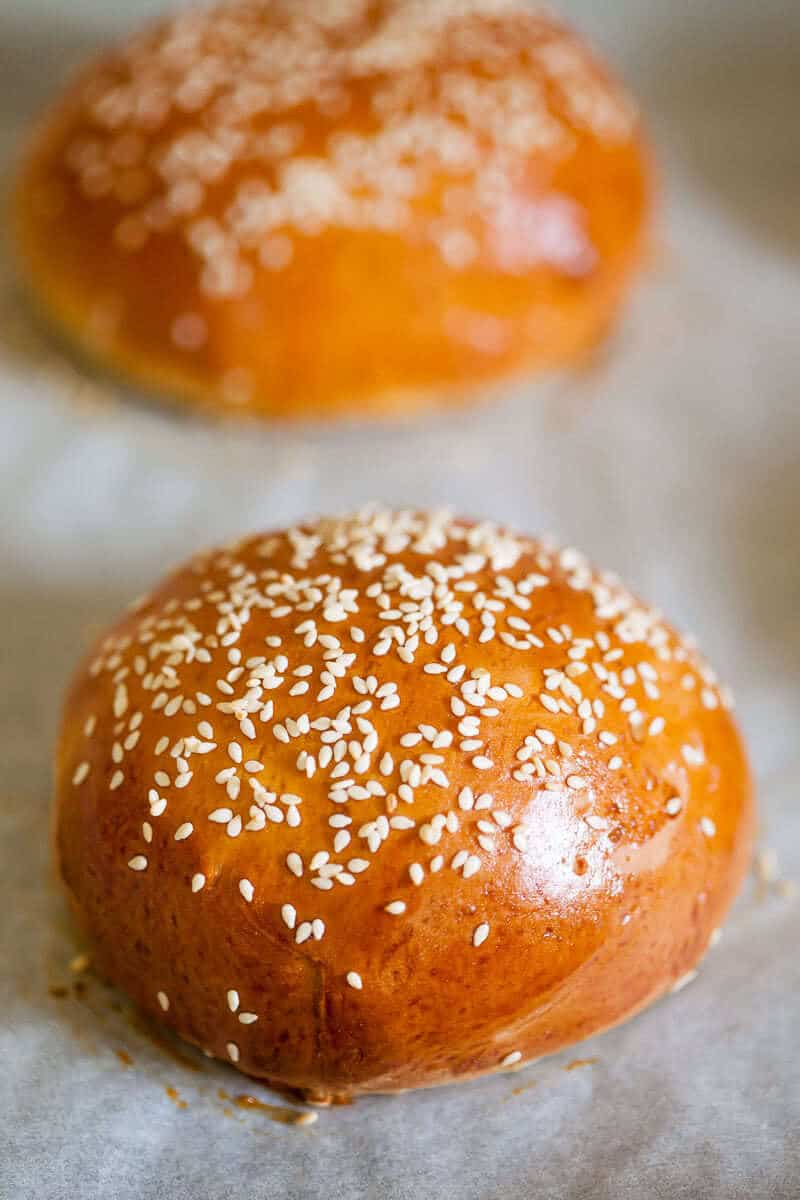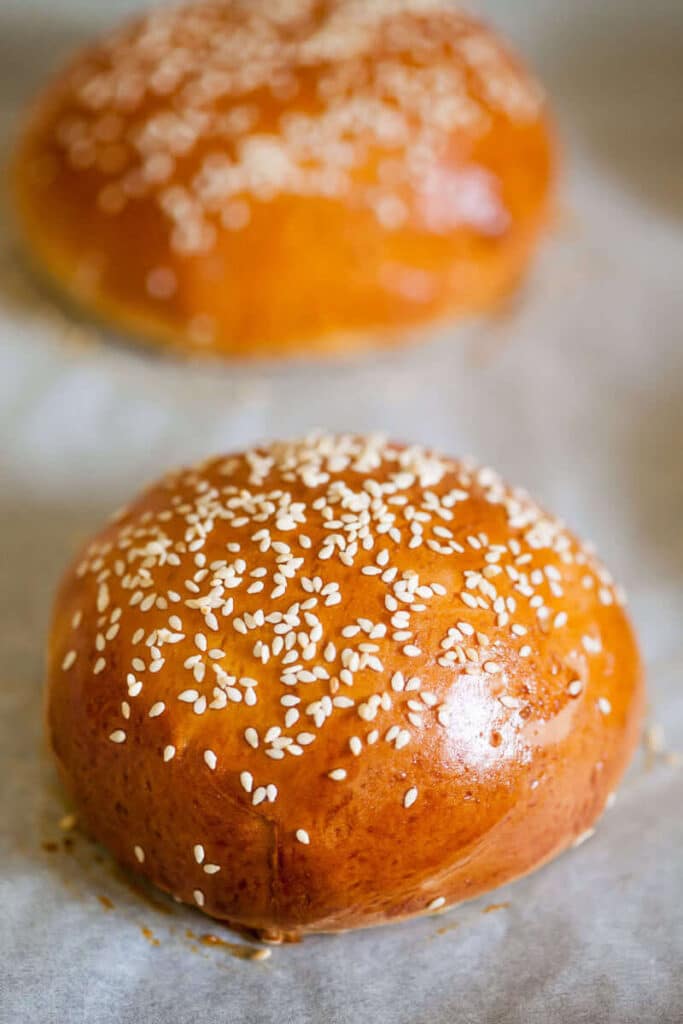 The next important burger part is – the grill. We have not been using the grill long and are certainly not masters. But we are able to grill a batch of meat patties, some bacon or some veggies. We are known to even roast our chestnuts on the grill (which, by the way, are delicious!).
For these burgers, we used regular meat patties, or pleskavice, made with pork and beef. We added a few strips of bacon, because bacon.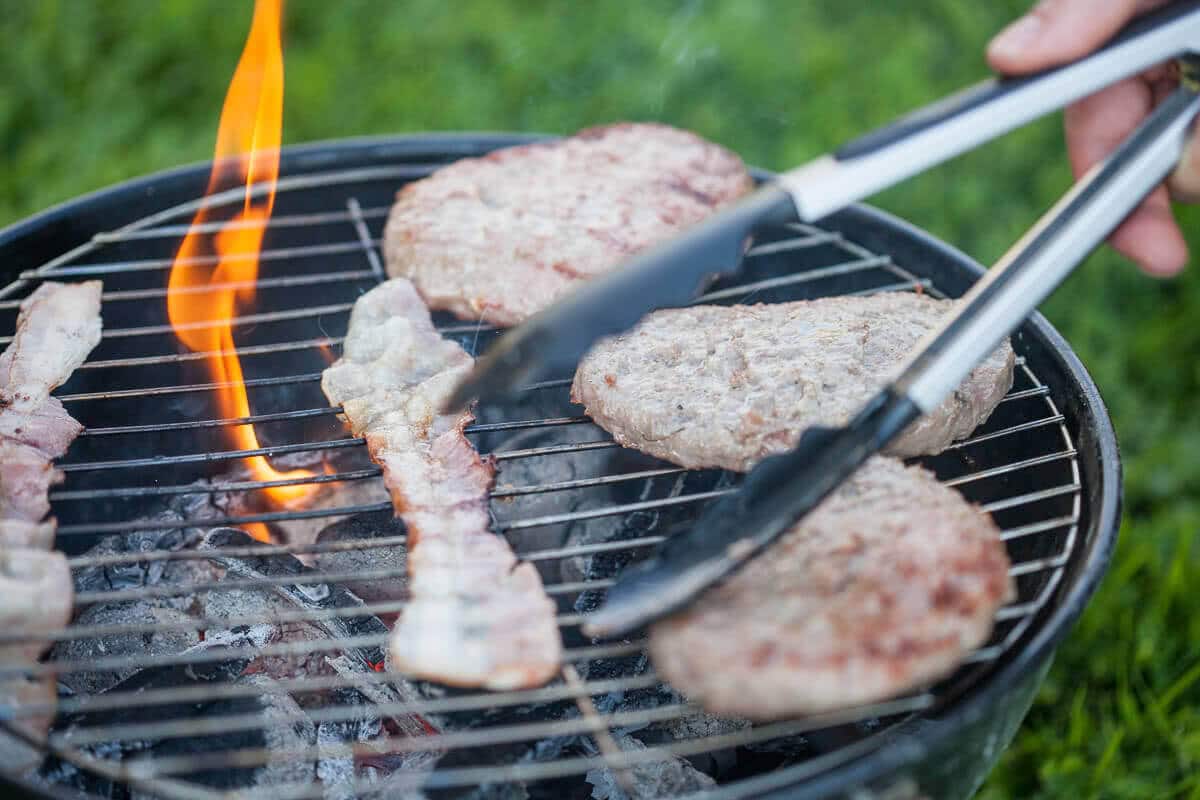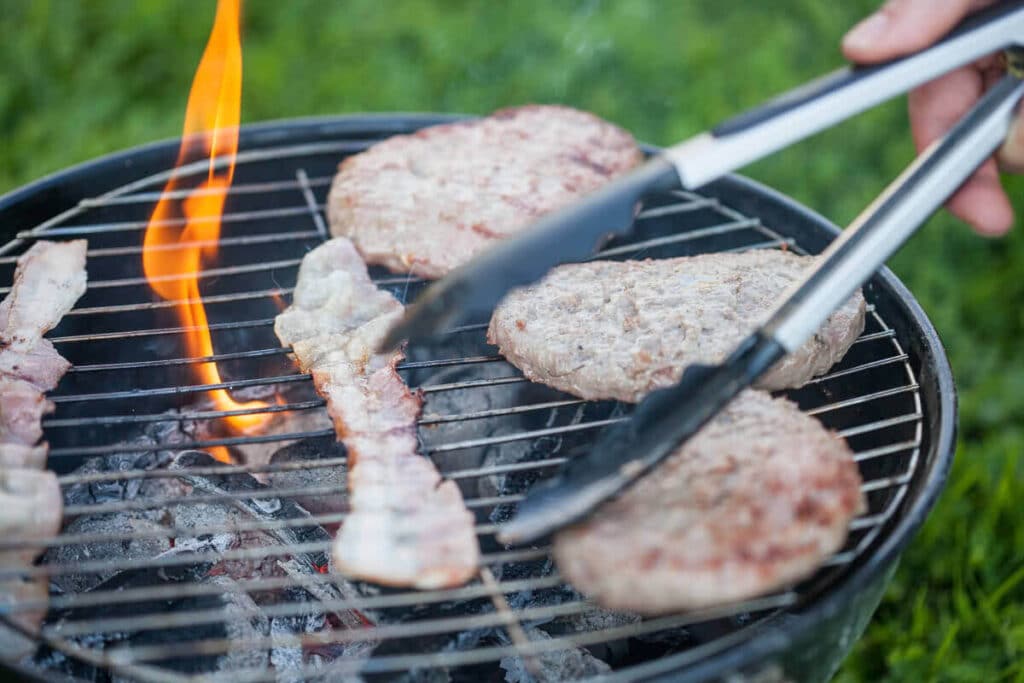 We topped our patties with some Tilziter cheese that we happened to have in the fridge (and that we like the taste of, and we find it melts well), sliced the buns and put them on the grill as well.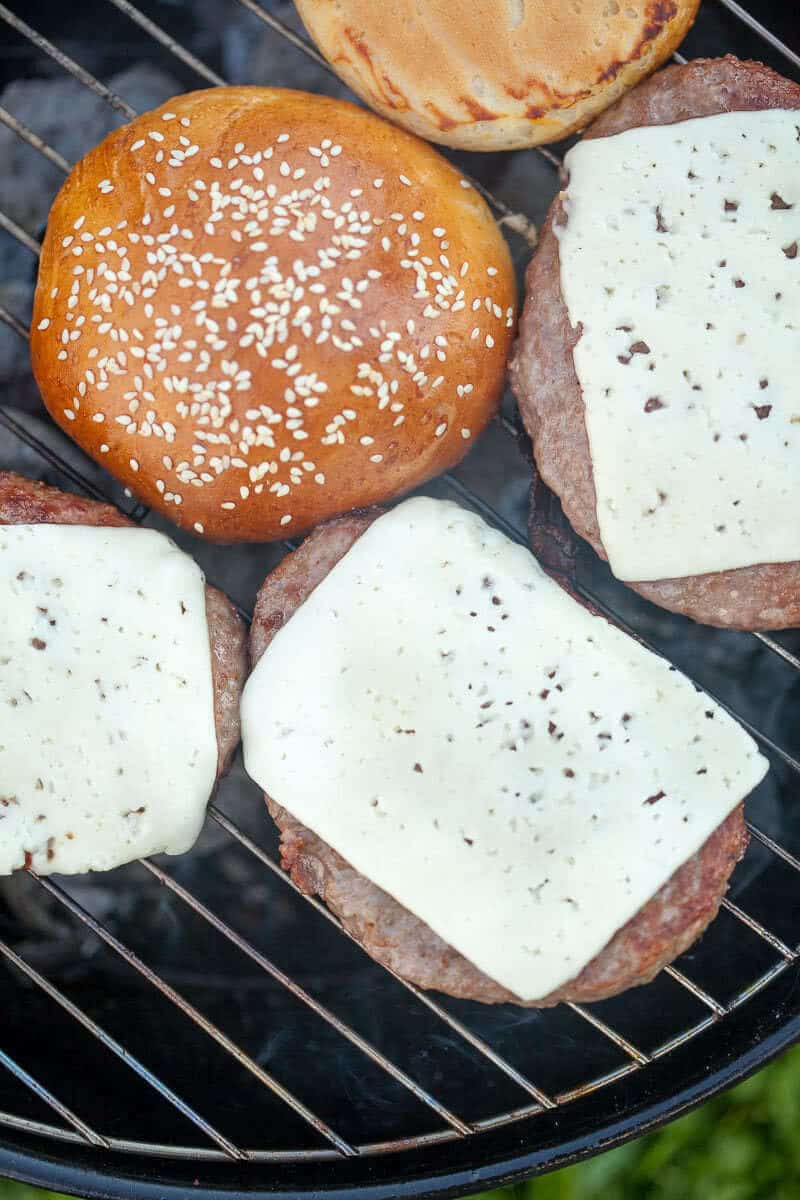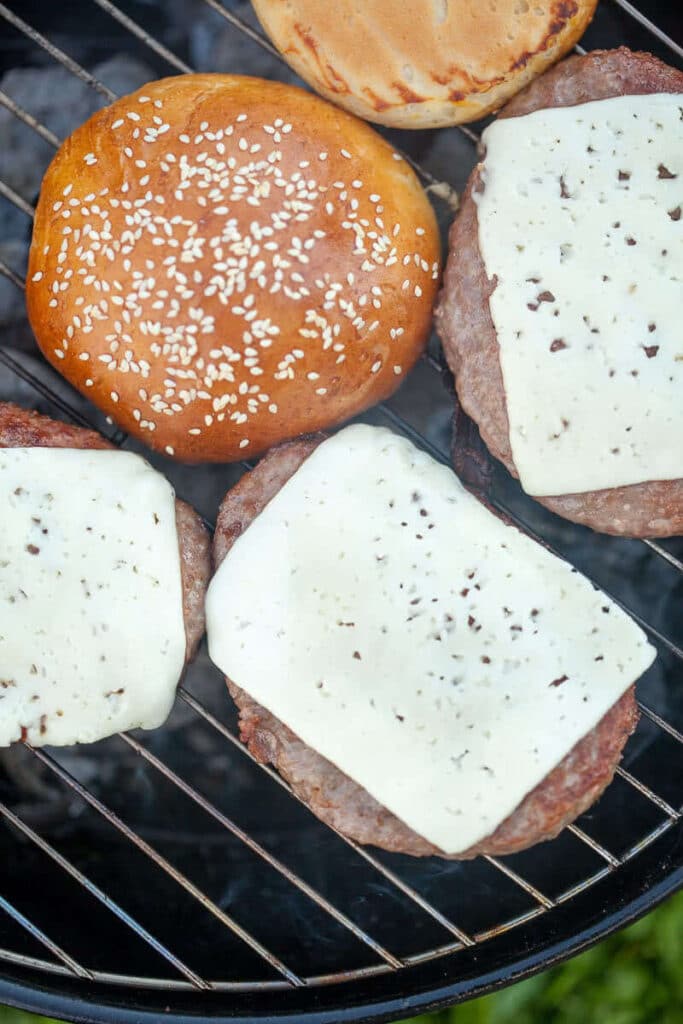 Then it was time to assemble the burgers. We spread some mustard on the bottom bun slice, added the meat patty and spread some super secret onion topping. You can play with the layers as you like, we then added bacon, tomato, red onion and lettuce from the garden. We put the top of the bun on top.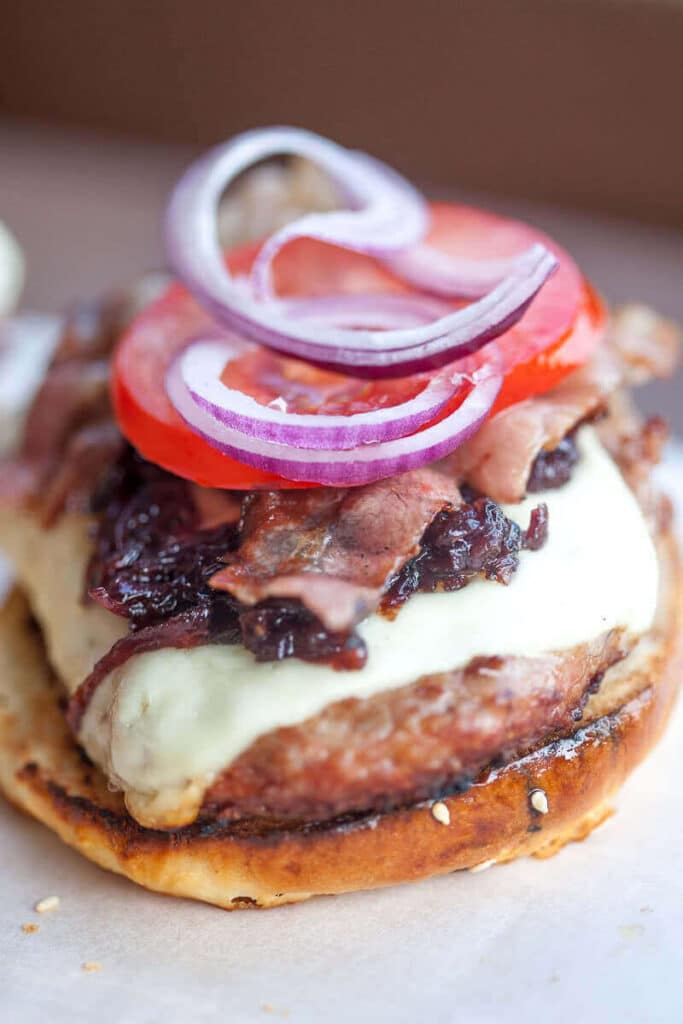 And there you go – our kind of burger perfection.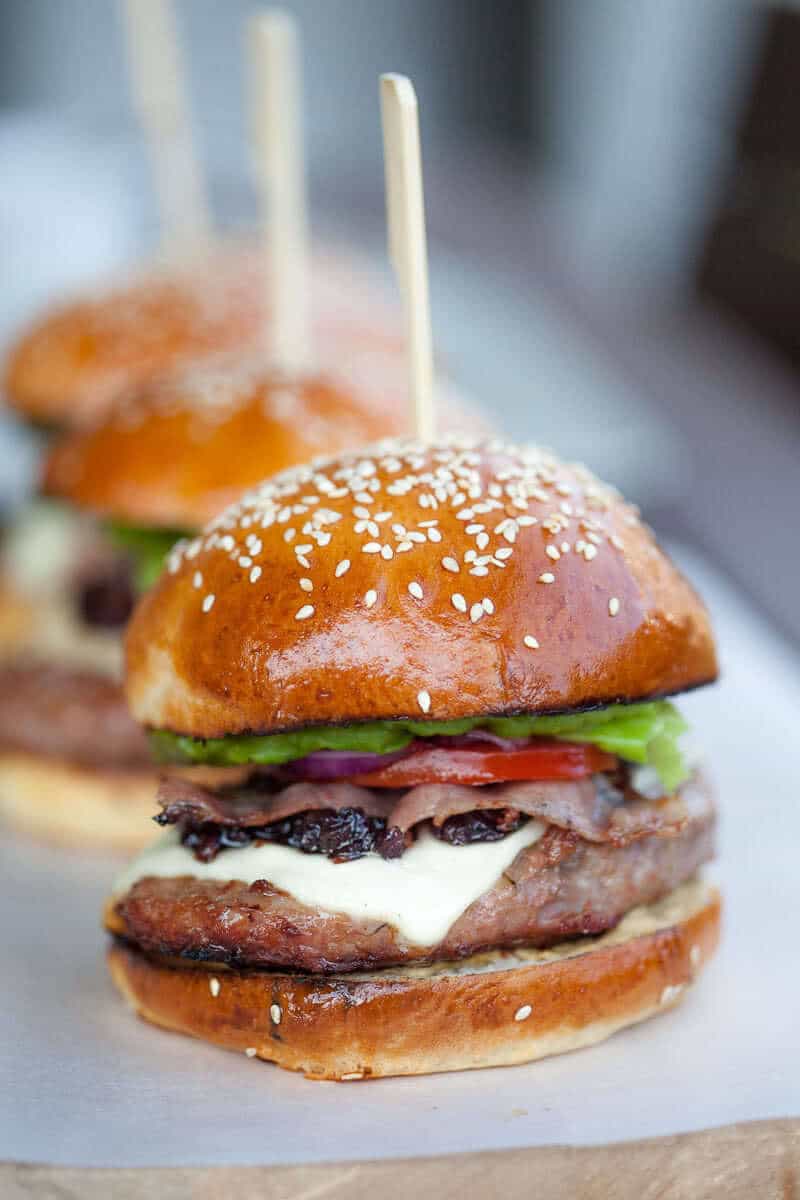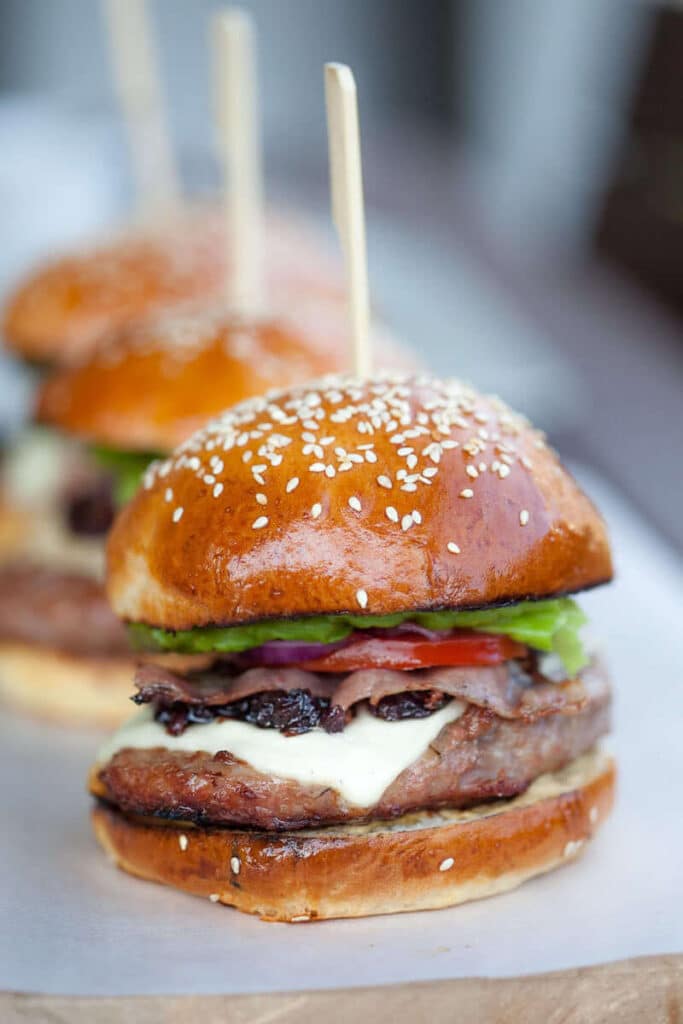 Bonus! Here is the recipe for the super secret onion topping! You'll need:
2 red onions
1 tbs olive oil
1 tsp sugar
2 tsp balsamic vinegar
In a pan, heat olive oil to medium. Peel and finely slice your red onions, then add to pan. Stir-fry gently until the onions become translucent, then lower the heat to low and sautee with the lid on for about 15 minutes, stirring occasionally. Make sure the onions do not brown. Then, add a teaspoon of sugar, stir, and cook for a minute or two, then add the balsamic vinegar. Stir and let it cook a couple more minutes, stirring occasionally until the balsamic is reduced. Remove from heat and set aside to cool.
This balsamic onion topping will really make your burgers stand out 😉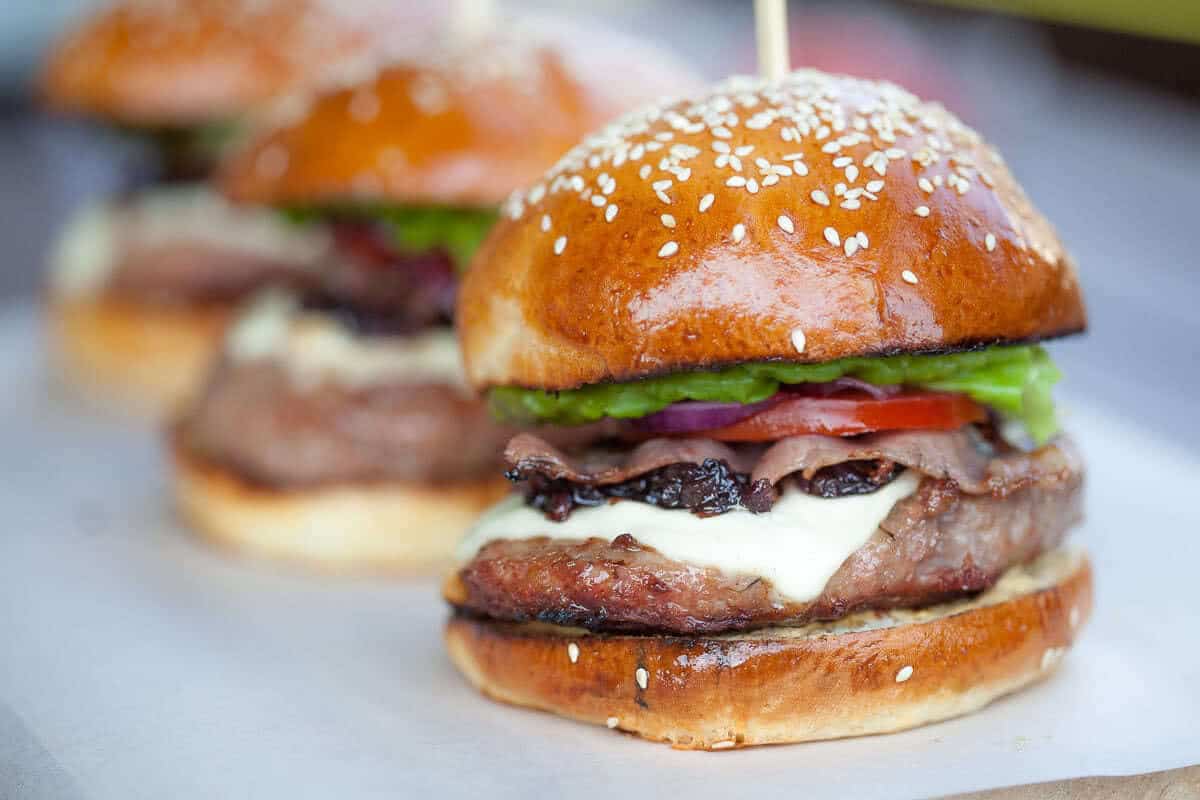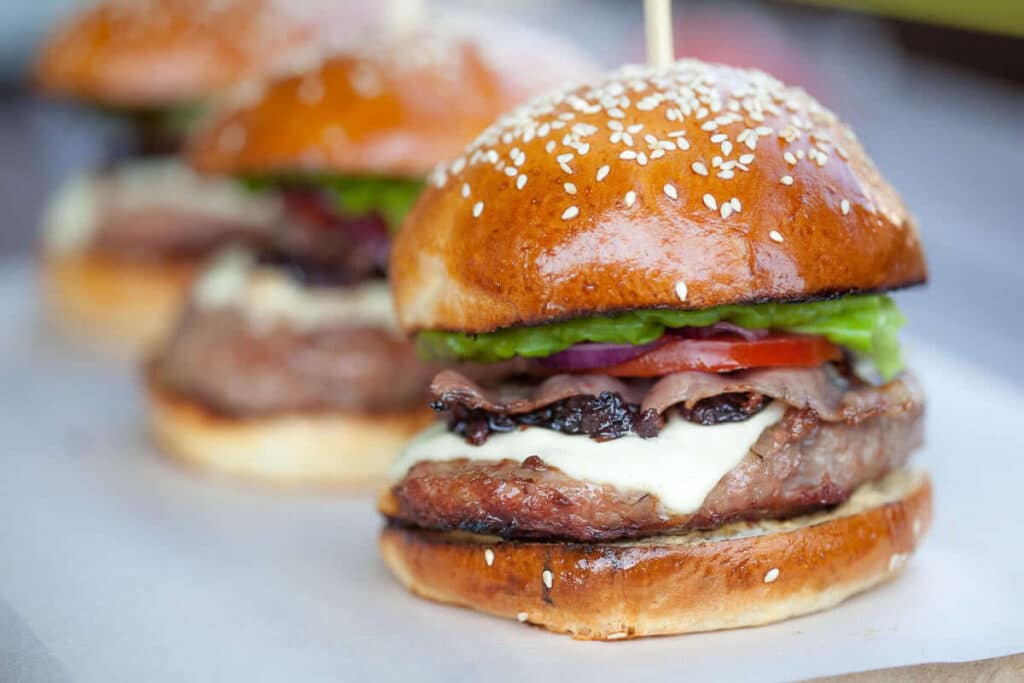 The burger possibilities are limitless. You can assemble it and top it any way you like. To find what you like best, just experiment!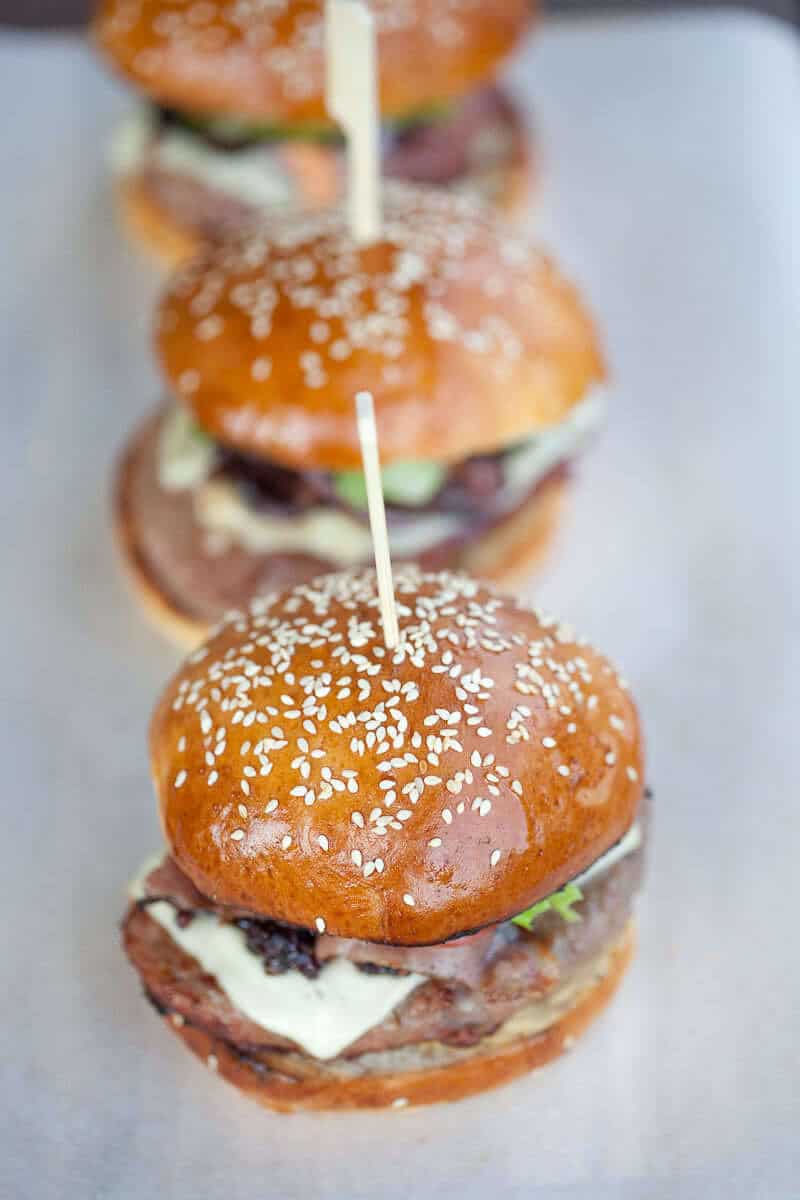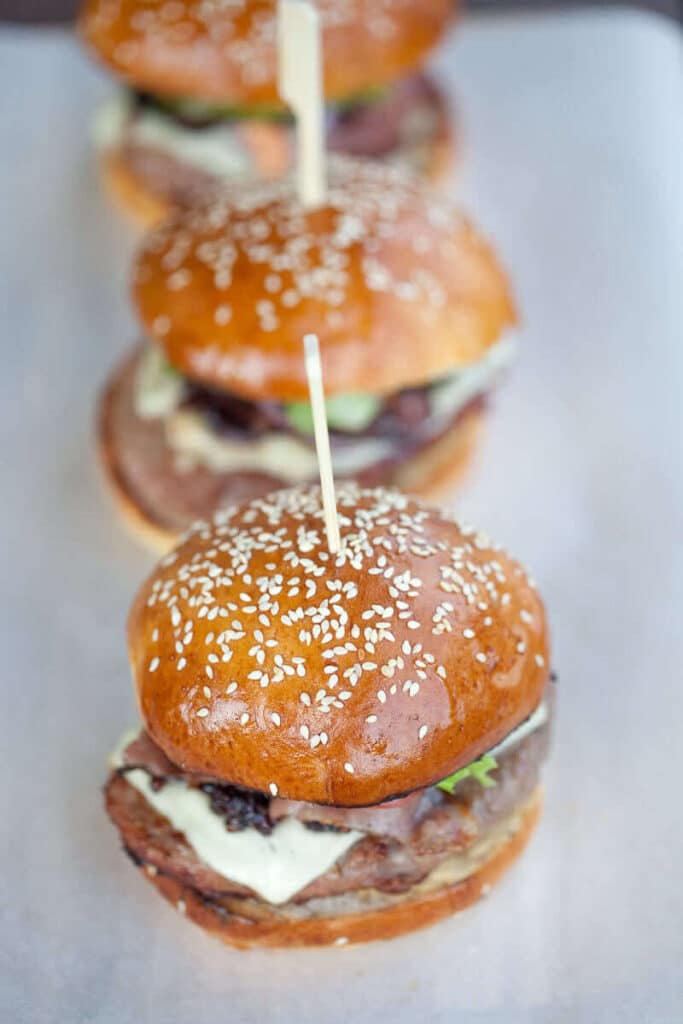 What better way to celebrate a sunny spring weekend in the garden? We definitely like it. Bon appetit!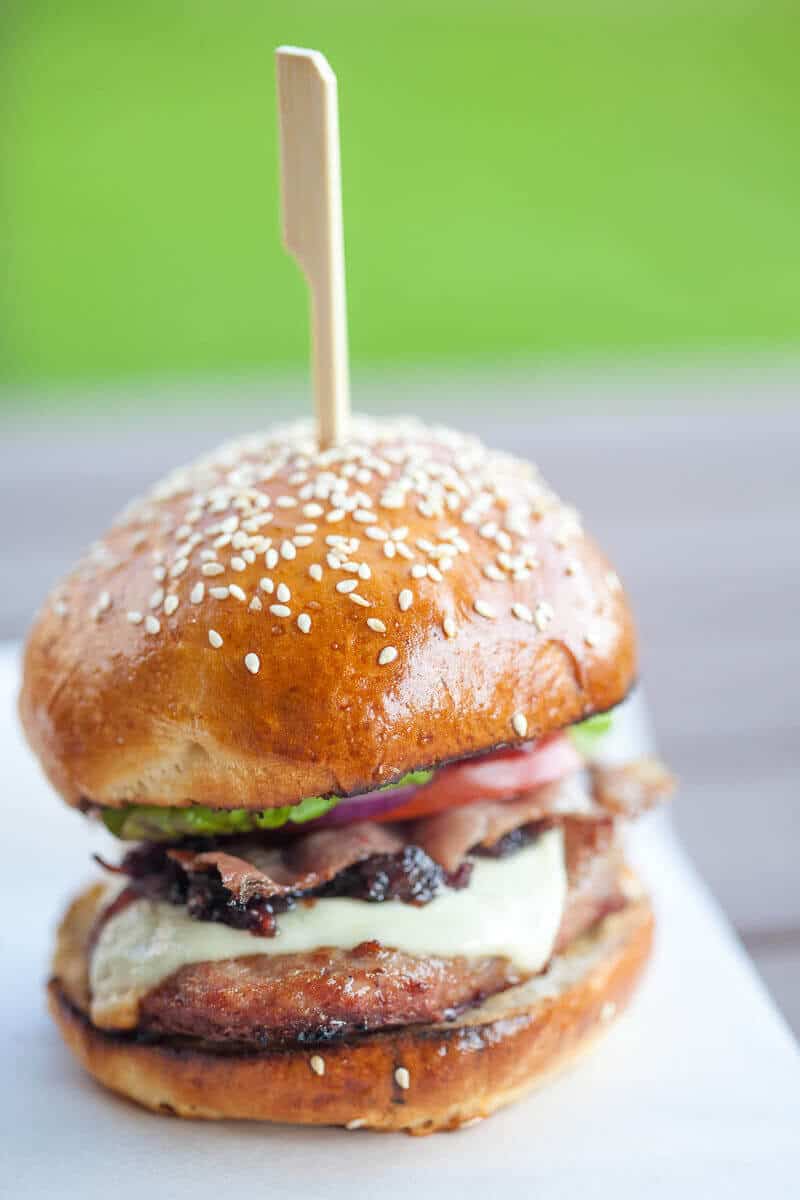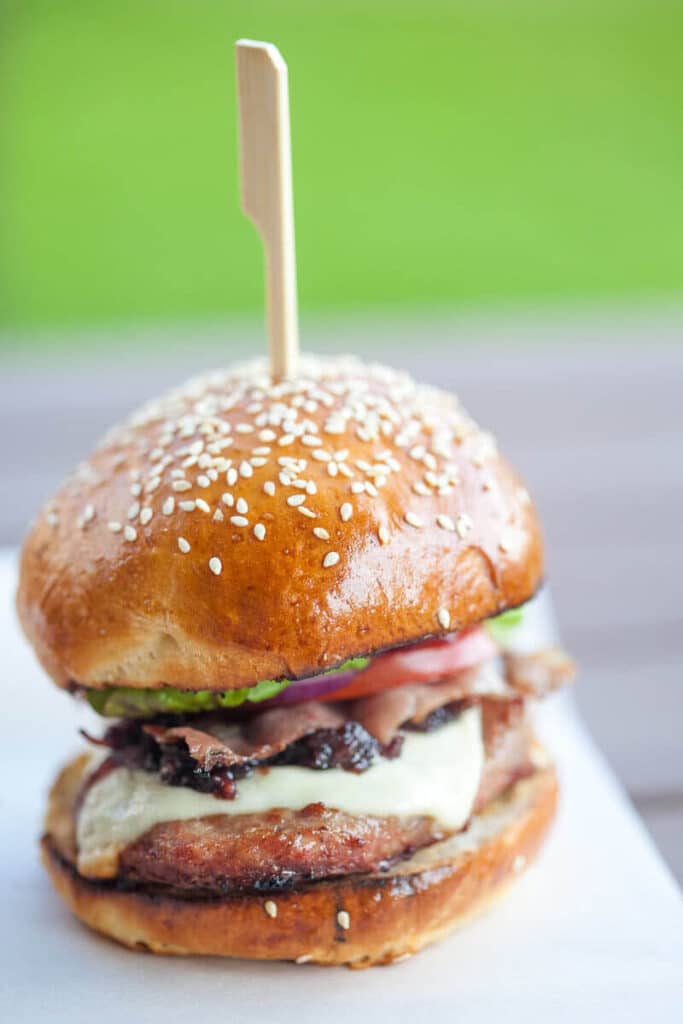 Like this post? Please, share it and let us know in the comments below your favourite burger! 😉