Beer Braised Onion Burgers are the perfect grill recipe! Topped with Crispy Onion Rings for extra crunch.
And now for something a bit different. I've only posted one burger recipe this far, about a year ago, and it wasn't even really a recipe. That said, and although we eat mostly plant-based, we do treat ourselves to a burger or great sandwich on occasion.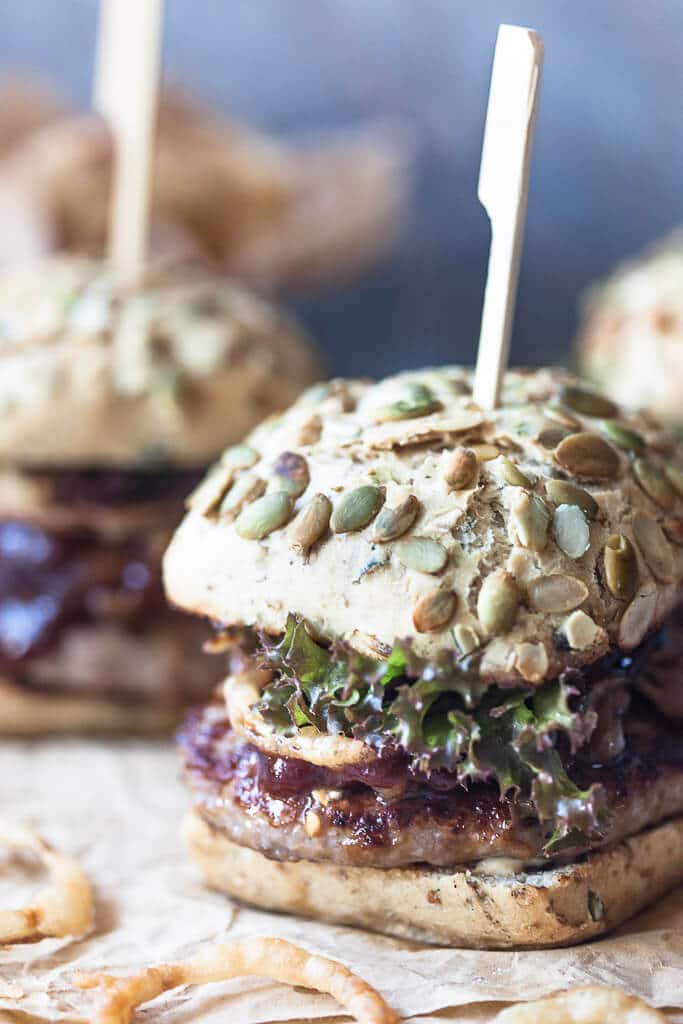 And when your burgers are these mighty Beer Braised Onion Burgers, there isn't really a choice. The meat in the burger could also be swapped for a vegetarian option, as the real flavor of these beauties lies in the Beer Braised Onions… and in the secret almost-hidden ingredient – Beer Batter Crispy Onion Rings.
Yap, that's right. We're going full onion here!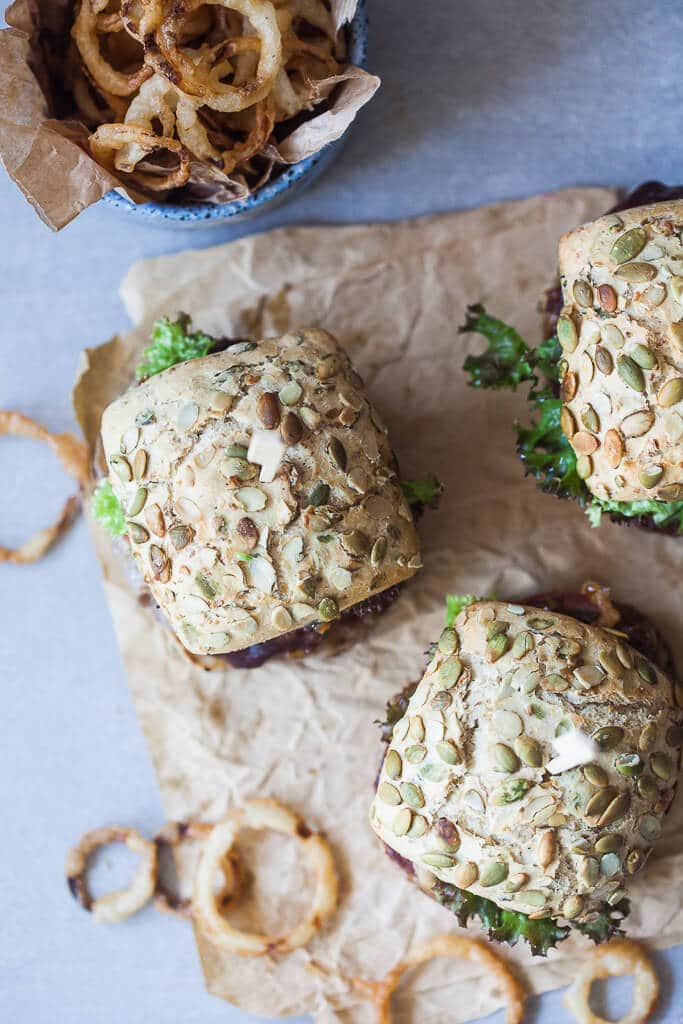 The length of ingredients is a bit unusual for our recipes, but I promise, it is fully worth the effort and we use some handy shortcuts that will cut prep time in half – as in store-bought buns (because it's too hot to bake), store-bought burger meat patties (a mix of beef and pork in our case) and store-bought barbecue sauce. So really, it's almost down to assembly.
You can even make the Beer Braised Onions a day ahead, store in the fridge and save yourself some cooking.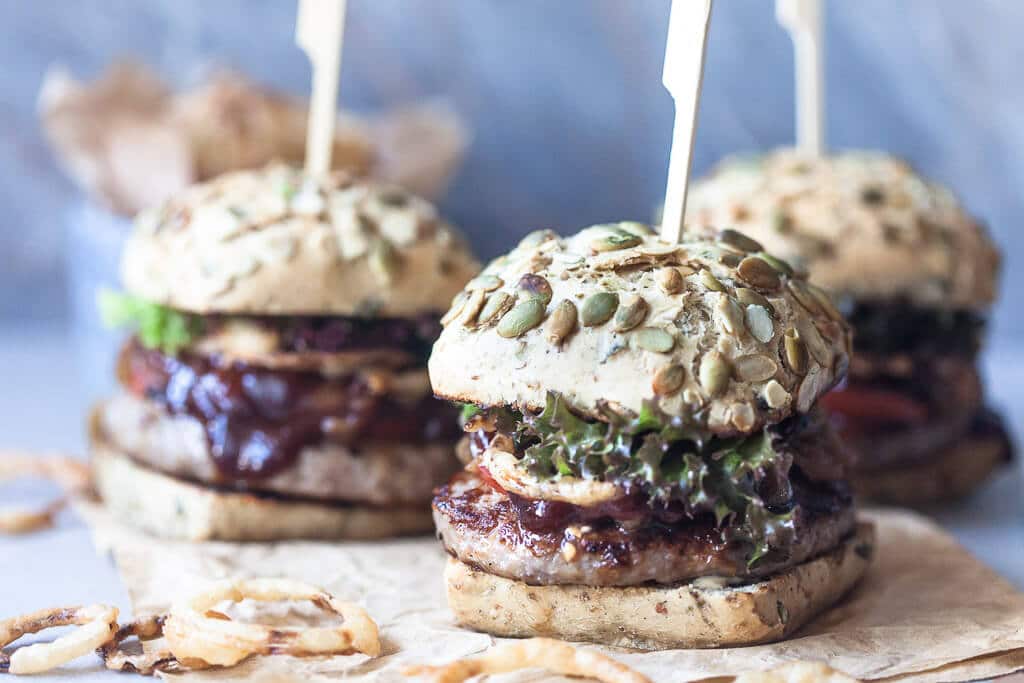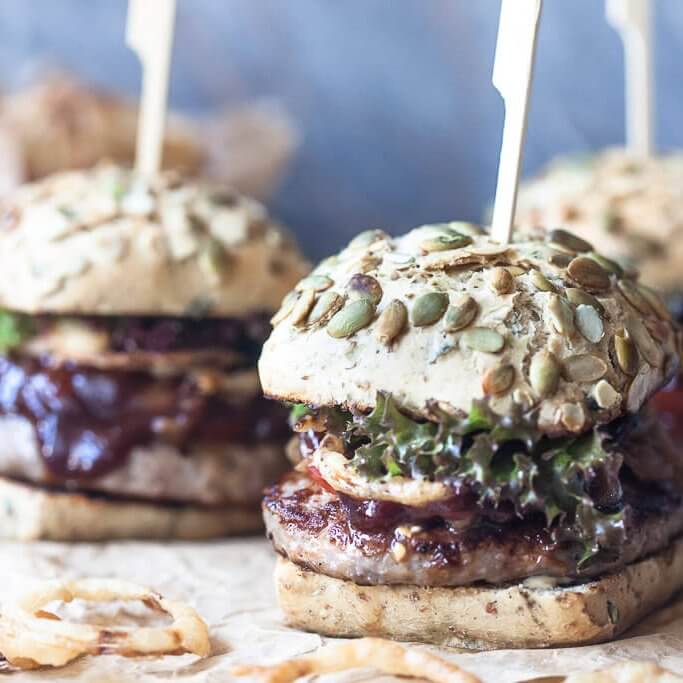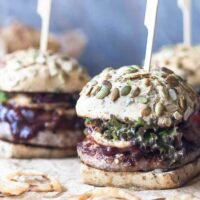 Beer Braised Onion Burgers
Beer Braised Onion Burgers are the perfect grill recipe! Topped with Crispy Onion Rings for extra crunch.
Ingredients
3 onions
10 oz beer (300 milliliters)
2 ts brown sugar
1 ts balsamic vinegar
3 burger patties
3 buns
1 tomato
1/2 cup shredded lettuce
3 ts barbecue sauce
2 ts mayonnaise
1 ts mustard
2-3 tbs flour
salt, pepper
oil for frying
Instructions
Peel and thinly slice 2 onions. Heat a tea spoon of oil in a pan to medium, then add onion slices and lightly fry until the onions are translucent. Add about 1/3 of beer and let it simmer until the beer has cooked down. Add brown sugar and balsamic vinegar, stir together, then add another 1/3 of beer and cook for 5-10 minutes, until the onions are soft, lightly brown and in a creamy sauce. Season with salt and pepper to taste. Remove from stove and set aside.
While the onions are cooking, prepare Beer Batter Crispy Onion Rings: mix together about 2-3 tbs of flour and about 1/3 of beer. Season the batter with salt and pepper. Peel an onion and cut into slices. I made thin slices, but you can make them wider. Add onion slices to the beer batter and stir in gently, making sure the onion slices are covered in batter. Heat up oil for frying, then add onion slices one by one. Make sure the onions have enough room to float around in oil. Fry for about a minute on each side, or until the onion rings and golden-brown and crispy, then remove from pan and set on a plate, covered with a paper towel.
Heat up the grill pan and rub with a bit of oil. Place burger patties on grill and cook about 4 minutes until golden brown, then turn around and grill another couple of minutes on the other side. Remove from pan and set aside. Cut buns in half and place them on the grill pan to grill for a couple of minutes. Remove from pan.
In a small bowl, mix together mayonnaise and mustard. Wash and dry tomato, then cut into slices.
Start assembling your burgers. Take the bottom bun slices and spread with the mayonnaise mix. Add burger patty on top and a tomato slice, then top with beer braised onions. Add about 1 ts of barbecue sauce (I used store-bought), then top with a few crispy onion rings and some lettuce. Finish the burger with the top bun slice and stick through with a bamboo stick or knife. Serve.
Nutrition Information:
Amount Per Serving:
Calories:

757.86
Total Fat:

57.91g
Saturated Fat:

4.91g
Sodium:

913.39mg
Carbohydrates:

47.86g
Fiber:

3.9g
Sugar:

13.36g
Protein:

7.26g
Like this recipe? Let us know in the comments below or on social media using #vibrantplate and tag us @vibrantplate.
You can connect with us on our Instagram and Facebook account or on Pinterest. Don't forget to sign up to our newsletter & stay up to date with our latest recipes 😉